Amazon Echo Buds 2021 has dynamic audio with cutting-edge active noise cancellation to deliver a premium listening experience. These small, lightweight earbuds are designed for comfort, making them the perfect companion for daily activities. With up to 5 hours of music playback per charge and up to fifteen hours with the charging case, you can enjoy uninterrupted entertainment on the go. A quick 15-minute charge provides an impressive 2 hours of music playback, ensuring you never miss a beat.
Echo Buds prioritize personalization, allowing you to customize your audio through Audio Personalization, which tunes the sound for you. The sealed in-ear design and active noise cancellation will limit background noise. Echo Buds seamlessly integrate with the Alexa app for convenience, enabling hands-free access to your favorite music.
These earphones work seamlessly with Alexa and are compatible with iOS and Android devices, supporting access to assistant apps. Leave your phone in your pocket and use your voice to make calls, set reminders, and do other necessary activities. It aims to eliminate middle-tier alternatives, such as the Anker Liberty Air 2 Pro.
Echo Buds are designed with your privacy in mind, built with multiple layers of privacy controls. You can mute the microphones with the Alexa app and retain control over your voice recordings. With Echo Buds, enjoy wireless sound and the convenience of voice-controlled commands, all in a sleek and comfortable package.

Earbuds Review
Overview of Amazon Echo Buds 2021
Echo Buds with Active Noise Cancellation (2021 release, 2nd gen) earpieces with Alexa are your perfect audio companion. Let's discuss some major features of the product in this overview section.
Dynamic audio with premium speaker drivers for crisp, balanced sound
Active Noise Cancellation (ANC) to limit background noise
Audio Personalization for a customized listening experience
Compact, lightweight, and sweat-resistant for ultimate comfort
Secure, customizable fit with various ear tip and wing tip sizes
Up to 5 hours of music playback per charge and 15 hours with the case
The quick 15-minute charge for 2 hours of music playback
Seamlessly work with the Alexa app for hands-free entertainment
Compatible with iOS and Android, supporting Siri and Google Assistant
IPX4's sweat-resistant design ensures durability during workouts
Passthrough Mode for hearing ambient sounds while using ANC
Designed for comfort, enabling long-wearing without fatigue
A high-quality microphone ensures crystal-clear voice calls
Seamless integration with Amazon wireless charging pad
Enjoy Audible audiobooks and podcasts with Alexa integration
Quality sound with in-ear seal and noise reduction capabilities
Effortlessly make calls and set reminders using voice commands
Built with several layers of privacy controls, including mute options
Features of Amazon Echo Buds (2021)
Experience superior sound quality with this product's exceptional features and technical specifications, which are second to none.
| | |
| --- | --- |
| Brand | Amazon |
| Model | Eco Buds 2021 |
| Water Resistance | IPX4 Water Resistance Rating |
| Noise Cancellation | Active Noise Cancellation |
| Wireless Charging | Qi-certified wireless charging pads |
| Connectivity | Bluetooth 5.0 |
| Playtime | Up to 5 Hours |
| Playtime with Case | Up to 15 Hours |
| Quick Charge | Up to 2 Hours with 15-min Charge |
| Country Origin | United States |
| Price | $157.98 |
Design and Customize Fit
Amazon Echo Buds offer a design and customizable fit that sets them apart. They ensure a secure fit with four sizes of ear tips and two different sizes of wing tips. The in-ear seal provides comfort during extended wear and enhances your music experience of favorite tracks. The Cleer Arc Open Ear also provides an exceptionally comfortable fit with its open design, which redefines your workout experience with soft rubberized wing tips.
The variety of ear and wing tip sizes cater to different ear shapes, guaranteeing a perfect fit for everyone. Whether hitting the gym, running, or simply going about your day, these earpieces will stay put and provide maximum comfort. The sweat-resistant design adds to their durability, making them suitable for even the most intense workouts.
The earphones also contribute to effective noise isolation, forming a comfortable in-ear seal and limiting background noise to enjoy music. This attention to design showcases Amazon's commitment to providing users with a superior sound experience that meets their individual needs. Echo Buds are the perfect audio companions for those seeking a secure, customizable fit without compromising sound quality.
Active Noise Cancellation
The Amazon Echo Buds deliver dynamic audio and a superior noise-cancellation experience. So, it sets a new standard in wireless earbuds with premium speakers that produce crisp and balanced sound; every note and beat comes through with stunning clarity. The sealed in-ear design and active noise cancellation ensure that background noise is effectively minimized to enjoy music without distractions.
The dynamic audio and active noise cancellation make these earphones perfect for various scenarios, including crowded commutes or home tranquility. The sound quality remains consistently exceptional, offering an enjoyable listening experience across different genres of music.
The focus on premium sound and noise-cancellation technology demonstrates Amazon's commitment to providing users with a top-tier audio solution. The ear piece's ability to deliver crisp and balanced sound while blocking out external noise showcases its engineering prowess and dedication to innovation in the wireless audio market. The earphones, with dynamic audio and active noise cancellation, are a worthy investment that guarantees an unparalleled listening experience.
Audio Quality
The buds' audio quality is exceptional, and their commitment to customization truly sets them apart. Audio Personalization takes your listening experience to the next level by tailoring the audio to your hearing preferences. This feature enhances your music enjoyment and listening content, ensuring you hear every detail with utmost clarity and precision.
Audio Personalization allows you to optimize the sound output according to your preferences, bringing out the best quality. Whether you prefer a more bass-heavy sound or a more balanced tone, these earpieces adapt to suit your taste. This customization level ensures you get the most out of your listening experience. So, it makes the Amazon Echo Buds a perfect choice for audiophiles and music enthusiasts. You can also use Soundcore Space A40, as their LDAC mode can enhance the sound quality of the music, which provides a deep yet friendly shiver with its control.
By offering Audio Personalization, Amazon is committed to providing cutting-edge technology that enhances users' everyday experiences. The attention to detail in optimizing sound quality for individual users showcases their dedication to customer satisfaction and sets the Echo Buds apart as a top-tier wireless audio solution. If you're seeking earphones that deliver outstanding audio performance, the Echo Buds with Audio Personalization is an excellent choice.
Playtime of Amazon Echo Buds
Echo Buds 2021 offer an impressive music playback experience with up to 5 hours of playtime on a single charge. The total listening time extends to 15 hours when paired with the charging case. This long-lasting playtime ensures uninterrupted enjoyment of favorite tunes, making them an ideal companion for music enthusiasts on the go. Moreover, a notable highlight is the added convenience of a quick 15-minute charge that grants an extra 2 hours. It provides a swift solution when you're running low on battery and can't wait for a full charge.
Beyond their extended playtime, these earphones boast numerous impressive features that enhance the listening experience. With a focus on active voice, the advanced noise reduction technology ensures crystal-clear sound to enjoy music without distractions. The sleek and ergonomic design of the earpieces ensures a cozy fit, making them ideal for extended wear without discomfort.
Furthermore, the headset has built-in Alexa capabilities, enabling seamless voice control for various tasks like managing calls or accessing information. This integration makes the earbuds a music companion and a reliable and practical everyday assistant. So, Amazon 2021 delivers a compelling package of top-notch features, making them a worthy investment for anyone seeking high quality.
Compatibility
The Amazon 2021 earphones offer seamless connectivity and impressive compatibility with various devices. These earpieces cater to a broad user base, ensuring a versatile audio experience. One of the standout features is their ability to interact with the most popular virtual assistants, Siri and Google Assistant. This integration empowers users to access their preferred assistant effortlessly, enhancing convenience and productivity during everyday tasks.
Active voice technology facilitates effortless interaction with virtual assistants, enabling users to issue voice commands and receive prompt responses. This hands-free capability is advantageous when convenience and multitasking are paramount. Whether an iPhone user relies on Siri or Google Assistant, these earbuds accommodate preferences, adapting to your tech ecosystem effortlessly.
Moreover, the earplugs' reliable and stable Bluetooth connectivity ensures a seamless pairing process with your devices. The fast and efficient pairing lets you enjoy your favorite music, answer calls, or access your virtual assistant promptly. Echo Buds exemplify exceptional connectivity and compatibility, making them a top choice for seamless integration into their existing tech setup.
Water Resistance
Amazon Echo Buds boast an impressive IPx4 water-resistant rating, making them a reliable companion for active individuals and outdoor enthusiasts. This robust feature ensures that the earbuds can withstand exposure to splashes, light rain, and intense workout sessions. The sweatproof design adds an extra layer of durability, safeguarding them from potential damage caused by perspiration during physical activities.
The active lifestyle of users demands earpieces that can keep up with their dynamic routines, and these earphones deliver that. The IPx4 rating signifies a significant level of protection, providing peace of mind when using the earbuds during humid conditions. This rugged construction also enhances longevity, allowing them to withstand various environmental challenges without compromising their audio quality.
Whether hitting the gym, jogging, or using earphones on a rainy day, the IPx4 water-resistant ensures a reliable music experience. This added protection elevates the buds to a nifty choice for those seeking durable and weather-resistant wireless earbuds to accompany them on their active endeavors.
Connectivity
Bluetooth 5.0 technology excels in connectivity, providing seamless pairing and a stable wireless connection. The inclusion of Hands-Free Profile (HFP) support enables users to make and receive calls effortlessly. Moreover, the Advanced Audio Distribution Profile support guarantees high-quality audio streaming, delivering an immersive sound experience without interruptions or lag.
Furthermore, AVRCP allows for voice control of media sessions, providing users with enhanced convenience and hands-free operation when managing music. This integration is a valuable addition, especially when you're preoccupied with other activities and need to navigate through your playlists without touching your device. Additionally, the Serial Port Profile ensures smooth Bluetooth connectivity to Android phones. While the iPod Accessory Protocol facilitates seamless connectivity to iPhone, ensuring broad compatibility with popular devices across the board.
The versatility of the earbuds' connectivity features ensures that users can easily switch between calls, music playback, and voice control. This flexibility, combined with the secure Bluetooth 5.0 connection, guarantees users an enhanced and uninterrupted audio experience. Whether making calls during your daily commute or plunging in favorite tunes, the connectivity suite delivers a seamless audio experience. Similarly, Bluetooth 5.0 in Cleer Audio Ally establishes an instant connection and enhances the overall stability and range, allowing you to enjoy your favorite music seamlessly without interruptions.
Call Quality
Amazon Echo Buds redefine call quality with a sophisticated arrangement of microphones, delivering crystal-clear communication in diverse scenarios. Each earpiece houses a trio of microphones: two external beamforming microphones and one internal microphone.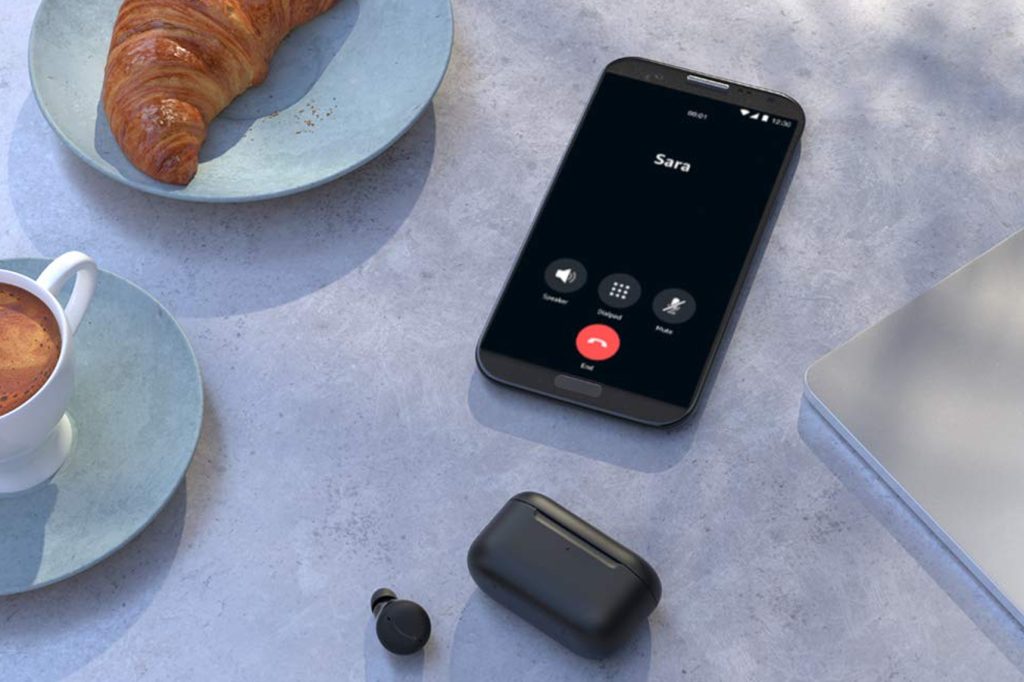 This ingenious configuration captures your voice with exceptional precision, minimizing background noise for you and the caller. Whether navigating a bustling city street or engaging in a virtual conference, the result is impeccable call clarity.
The external beamforming microphones act as adept listeners, isolating your voice from ambient sound and transmitting it with remarkable accuracy. Apart from this, Anker Soundcore Space A40 has six microphones to get the best call quality during official meetings or routine talks. The internal microphone captures the nuances of your voice from within, contributing to a well-rounded and immersive communication experience that rivals in-person conversations.
Whether you're making business calls or catching up with loved ones, the Echo Buds' meticulously engineered microphone system ensures that every word is conveyed with remarkable fidelity. This advanced feature is a testament to Amazon's commitment to providing users with a superior audio experience, solidifying the Echo Buds' position as a reliable and effective communication tool for modern-day multitaskers and communicators.
Wireless Charging
The earbuds have a wireless charging case, providing users with a hassle-free and convenient charging solution. This innovative case is compatible with Qi-certified wireless charging pads, enabling you to power up your earbuds effortlessly. The wireless charging capability offers a seamless experience, allowing you to easily replenish the earphones' battery.
The Qi certification ensures that the wireless charging case meets the industry standards for safety, guaranteeing a reliable charging process. This certification highlights Amazon's commitment to delivering a premium product, elevating the Echo Buds' status in the wireless earbuds market. Additionally, the wireless charging case adds to the overall portability and convenience of the earpieces.
The wireless charging case provides a seamless and elegant charging experience that complements the earbuds' cutting-edge features. It is designed to simplify your daily routine, ensuring your earplugs are always ready to deliver exceptional audio quality. The Qi-certified compatibility underscores Amazon's dedication to providing users with a top-tier product that merges practicality, reliability, and forward-thinking design.
Pros and Cons of Amazon Echo Buds
This section breaks down the strengths and weaknesses of the earbuds.
Pros
Supports Wireless Charging
Satisfying Sound Quality
IPX4 Water Resistance
Active Noise Cancellation
Cons
Price Comparatively Expensive
FAQs About Amazon Echo Buds 2021
You might have some questions if you're considering the Amazon Echo Buds 2021. Here are some common inquiries and detailed answers to help you decide about these impressive wireless earbuds.