Finding the perfect pair of wireless earbuds can take time and effort, despite the abundance of options available. The market is saturated with earbuds, making choosing the right pair overwhelming, especially with the many options available. This is due to the relatively simple nature of earbuds compared to other electronic devices. Although creating quality earbuds requires significant technology and craftsmanship, they are still considered simpler to manufacture than other electronics. Today, we will evaluate the Anker Soundcore Sport X10 True Wireless Earbuds. These earbuds are designed specifically for physical activities and feature large hooks that secure around the ear.
They are fully waterproof and deliver high-volume and dynamic audio. Additionally, there is a robust accompanying application that has several valuable features. A comprehensive examination of its features and performance is required to determine if the Anker Soundcore Sport X10 True Wireless Earbuds are a wise investment. This review will delve into the design, ergonomics, and battery life. The quality of the wireless connection and noise cancellation will also be evaluated. An informed and just assessment can be made by thoroughly evaluating these aspects. Let's commence the evaluation!

EarbudsBest Reviews
Overview Anker Soundcore Sport X10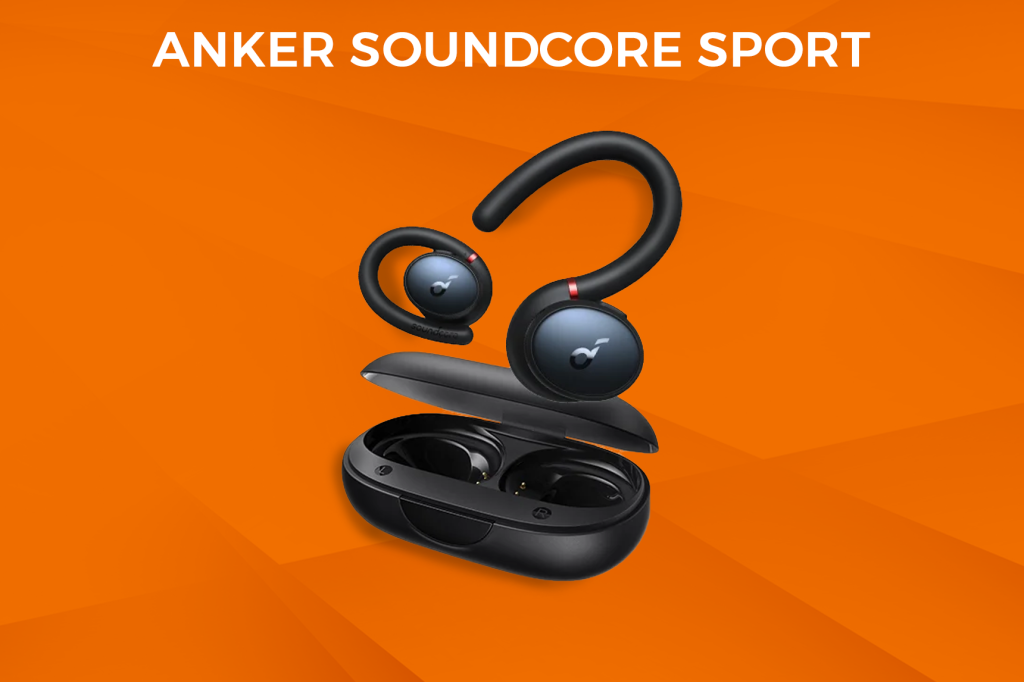 The earbuds are summarized briefly as follows:
Anker Soundcore Sport X10 True Wireless Earbuds are explicitly designed for physical activities with large hooks that secure around the ear
Features a robust accompanying application with several valuable features
Rated IPX7 for water resistance and can resist being submerged in water up to a meter deep for 30 minutes
Hooks also have a flexible and comfortable rubber material and come with five sets of silicone ear tips in varying sizes (extra small to extra large)
Utilizes Bluetooth 5.2 technology for connection to mobile or other compatible devices
Small oval-shaped in-ear shells in three color options (red, white, and black with blue-grey accents) with a matte finish
8-hour battery life for medium-volume playback, 32 hours with charging case
It can be fully charged in under 90 minutes, and a quick 10-minute charge provides 2 hours of playback
Earbuds can be used in stereo or mono mode, but mono mode can be problematic as one earbud disconnects after a short time
It comes with a compact oval-shaped charging case
Active Noise Cancellation feature may reduce battery life
Features of Anker Soundcore Sport X10
The following are the product's major features and technical specifications:
Brand Name
Anker
Waterproof Technology
Yes, IPX7
Noise Cancellation
Life Q30 Noise Cancelling
Battery Life
8-hour with Earbuds
Charging Jack
Type-C
Battery Charging Case
32 Hours
Charging Time
Under 90 Minutes
Bluetooth Technology
Bluetooth 5.2
Price


Modes

US $69.99


Stereo or Mono
Primary Look and Overall Design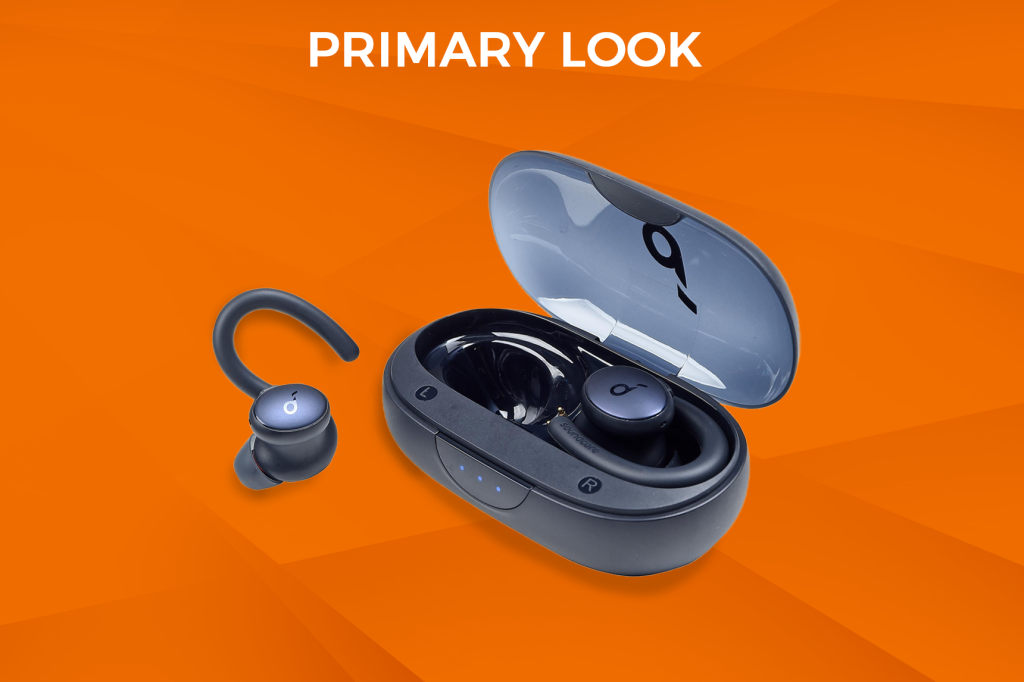 The Anker Soundcore Sport X10 True Wireless Earbuds feature small, oval-shaped in-ear shells with three distinct color options: red, white, or black with blue-grey accents. They have a matte finish that is easy to clean and doesn't attract fingerprints. Instead of touch controls, these earbuds have physical buttons located on the top of the earbud shells for easier operation and less chance of accidental activation. These buttons allow answering and ending calls, skipping tracks, controlling music playback, and more.
The Anker Soundcore Sport X10 True Wireless Earbuds have been rated with IPX7 for water resistance, meaning they can resist being submerged in water up to a meter deep for thirty minutes without damage. Moreover, the earbuds come in an oval-shaped compact charging case which is small enough to fit in your pocket. This allows you to wear them in the shower or wet conditions without worrying about them being damaged.
The case has a matte finish and is color-coordinated with the earbuds; for example, you will receive a white case if you choose the red earbuds. The case dimensions are 2.52 inches in width, 1.61 inches in depth, and 1.18 inches in height. The charging case lid is designed to open with a button at the bottom. Once opened, you will see two compartments molded to fit the earbuds and ensure they are always properly positioned and charged through the electrical contacts.
Comfort and Fit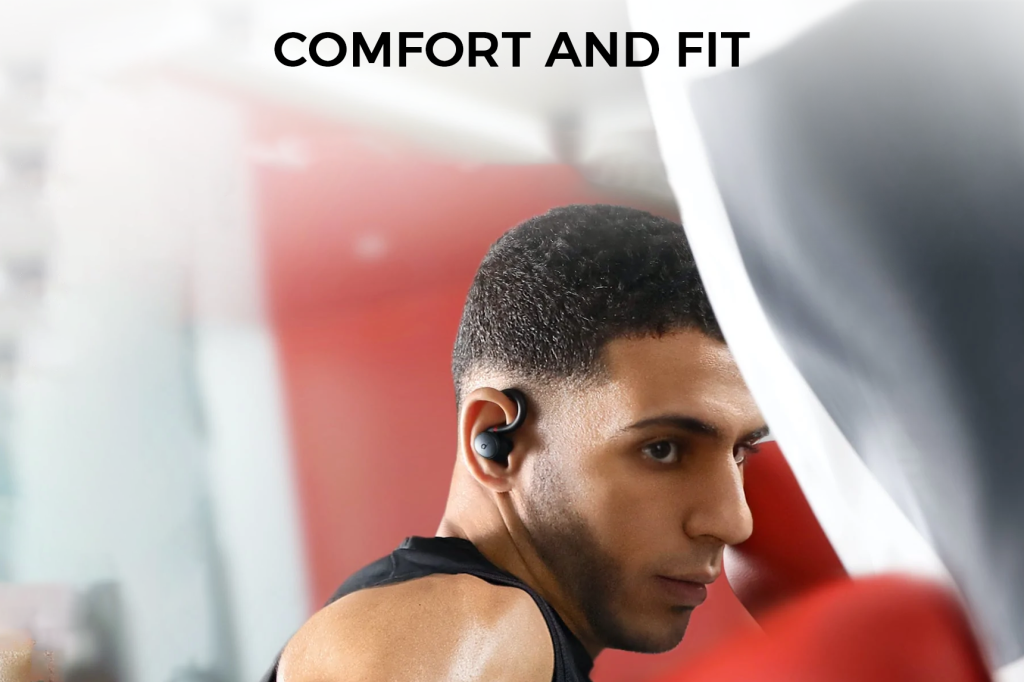 The Anker Soundcore Sport X10 True Wireless Earbuds have hooks that loop over the ears. These hooks can be removed or adjusted to fit inside the charging case. They also have a flexible and comfortable rubber material, making them able to conform to different ear shapes. Additionally, the hooks ensure that the earbuds stay securely in place.
In addition, the Anker Soundcore Sport X10 True Wireless Earbuds come with five sets of silicone ear tips in varying sizes, including extra small to extra large. By default, medium-sized tips will be pre-installed. Try the different sizes to find the most suitable one to ensure a comfortable fit, enhance retention, and block outside noise.
For those who prefer a conventional earbud design, the Anker Soundcore Life P3 is worth considering. These earbuds come in five different colors and resemble the style of the AirPod Pro. Despite their size, they offer excellent ergonomics and are comfortable to wear. However, their controls may be somewhat sensitive.
How to Pair?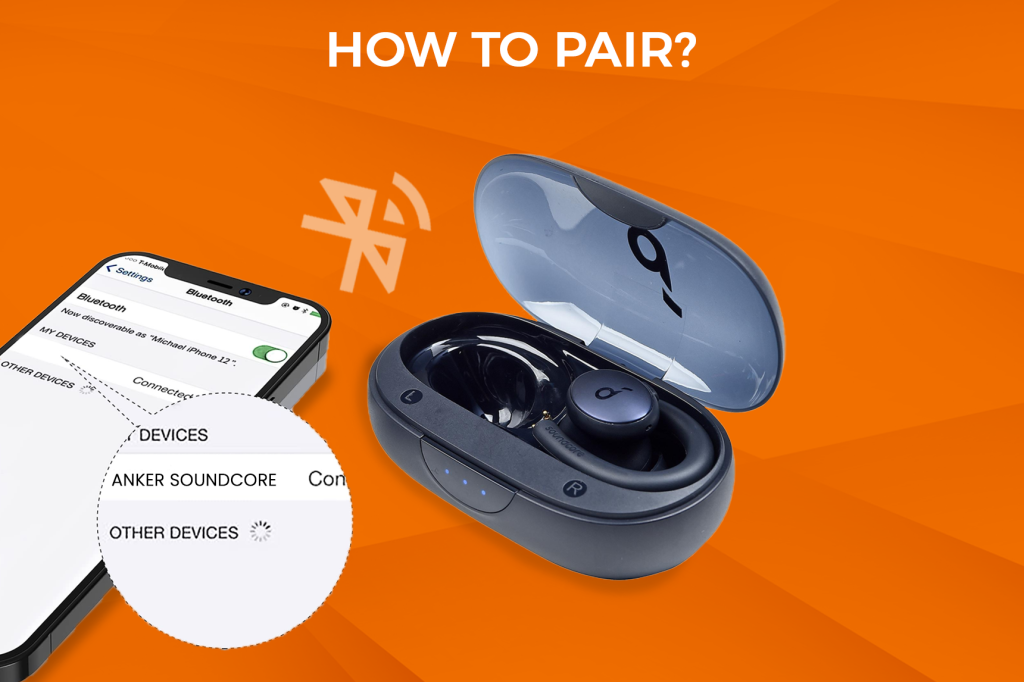 The Soundcore Sport X10 earbuds utilize Bluetooth 5.2 technology for connecting to mobile or other compatible devices. This latest version of Bluetooth offers several benefits compared to previous versions. Firstly, the signal stability is greatly improved, ensuring a constant connection even when moving during physical activities. Secondly, the low latency feature of Bluetooth 5.2 provides seamless synchronization between audio and video, enhancing the overall experience when watching movies or playing games. Although the low latency feature won't be as noticeable while listening to music or making phone calls, it can still add to a more immersive experience.
The latest version of Bluetooth, 5.2, offers improved audio quality with its higher bitrate, making it possible to listen to high-definition music without any signal strength degradation. The earbuds are designed to connect effortlessly in stereo mode, and the signal remains strong and stable. However, using the earbuds in mono mode can be problematic, as turning one earbud off by putting it in its case causes it to disconnect from the device after a short period of time. If you require mono-mode earbuds, consider alternative options that may provide better functionality.
Battery Health and Life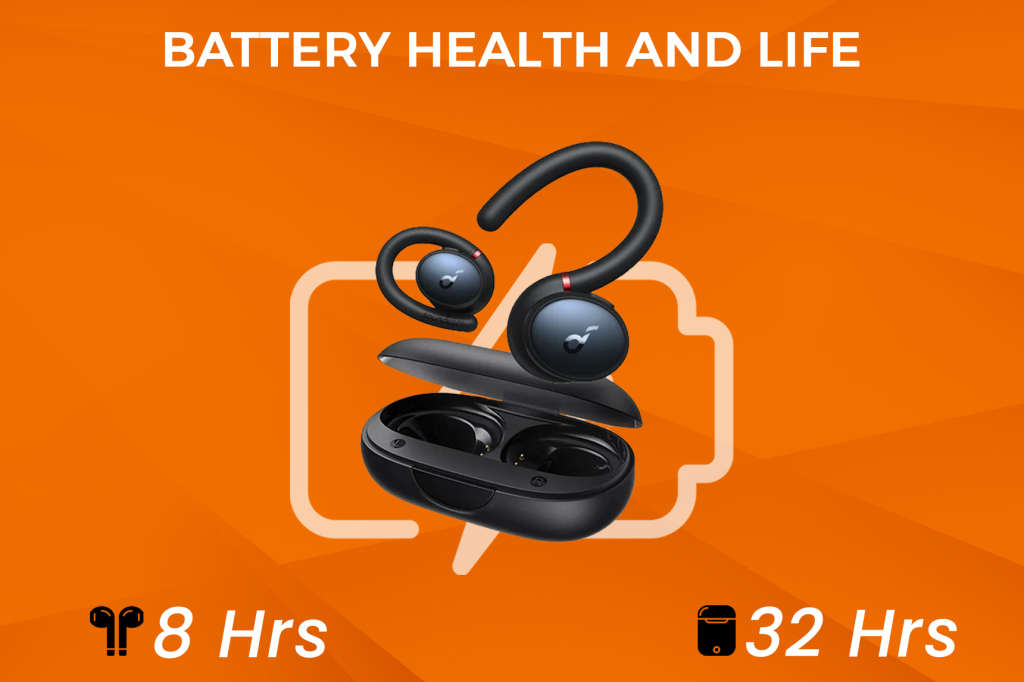 The X10 earbuds have been tested to provide a battery life of 8 hours during medium-volume playback. Yet, it is important to note that this duration may vary if the volume is set at its highest level. In such a scenario, the earbuds may last approximately 6 hours on a single charge. The charging case provides three additional recharges and offers 32 hours of playback. While using the Active Noise Cancellation feature may reduce the battery life, this is a common trend in earbuds with such a feature. The earbuds can be fully charged in under 90 minutes, and a quick 10-minute charge will provide 2 hours of playback. However, you can charge the case via USB Type-C, which takes approximately 2 hours to reach a full charge.
The charging status of the earbuds and case can be monitored through the transparent lid release button, which houses three LED lights. When the earbuds are charged, the left and right lights will blink and turn off once fully charged. The center light will flash during the charging process of the case and remain solid when the battery is full. If you are looking for earbuds with longer battery life, the Lankey U-Air4 may be a suitable alternative. These earbuds feature a compact in-ear design with secure retention wings, and although they have a lower battery life per charge, the accompanying case provides up to 180 hours of playback. The case also serves as a power bank, making it an even more versatile accessory.
Audio and Call Quality
Ultimately, the most crucial aspect of earbuds is their audio quality, and the X10 earbuds perform exceptionally well in this regard. They provide clear and rich sound across all frequencies, creating a wide soundstage and a sense of spaciousness.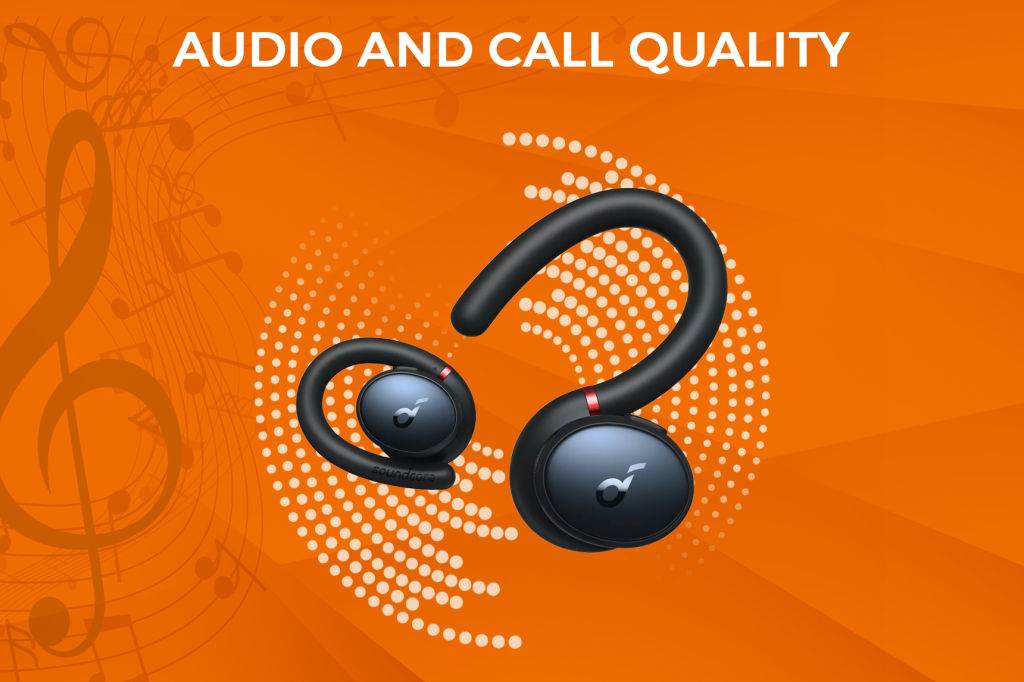 While the audio quality may not be on par with studio-level sound, the bass is prominent by default but can be adjusted through the EQ settings in the accompanying app. The active noise cancellation feature also operates effectively, considering the earbuds' form factor. However, it is important to remember that these earbuds are not over-the-ear headphones, so expectations should be adjusted accordingly.
Despite this, they offer an extraordinary level of noise cancellation compared to other earbuds with similar features. The ANC mode can be turned off to maintain situational awareness or conserve battery life. The beta status of the X10 earbuds' active noise cancellation (ANC) function did not meet our expectations. This trend of releasing unfinished products is a concerning one. The Anker Soundcore Liberty Air 2 Pro earbuds may also be a better option if a more refined ANC function is desired.
With a design similar to the AirPods Pro, these earbuds offer comparable audio quality to the X10 earbuds and improved ANC. However, it should be noted that the Liberty Air 2 Pro earbuds have a shorter battery life. In terms of call quality, the X10 earbuds did not disappoint. They also have six microphones concentrating on the user's voice and effectively eliminating background noise. This ensures that the person on the other end of the call can hear and understand the speaker.
Additional Features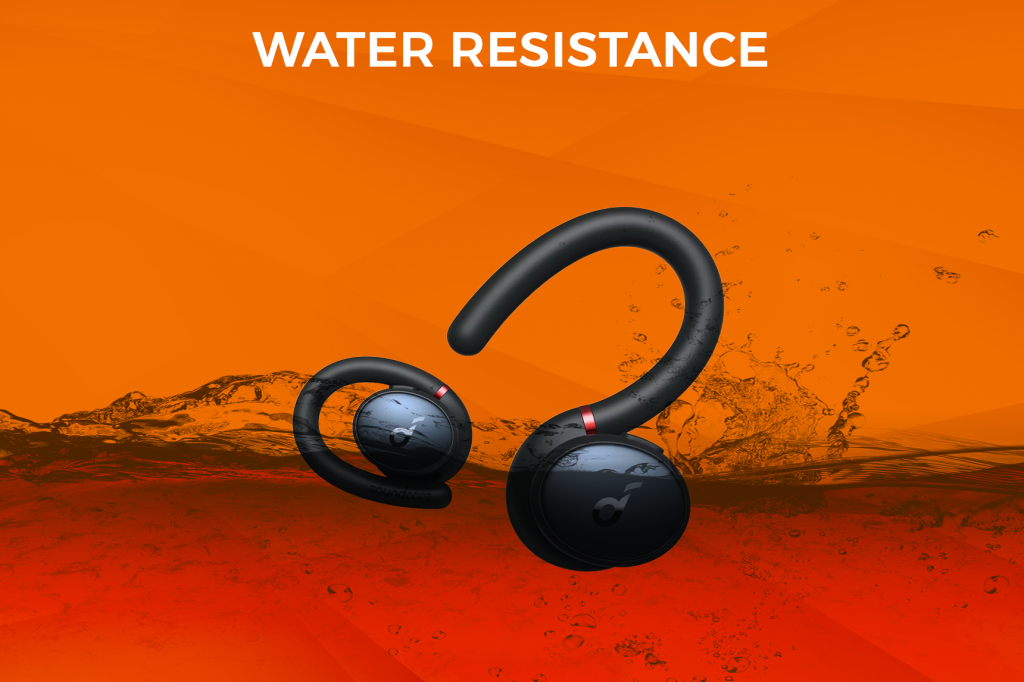 Although the Soundcore app is optional, it offers several valuable features that can be accessed for free. The app enables selection from various equalizer presets or the creation of personalized EQ levels. Additionally, it provides access to a bass boost feature that amplifies the bass without altering other frequencies. The microphone wind filter settings can be adjusted, and firmware updates can be performed within the app. Transparency mode, which enhances outside noise instead of blocking it, can also be activated through the app. This mode is useful in social situations or when situational awareness is necessary. Furthermore, the app allows customization of controls and the ability to replace the ANC function with a simple push of a button to activate transparency mode.
Conclusion
In conclusion, the Soundcore app offers a relaxation breathing feature for a calming experience. This feature provides a selection of breathing patterns, accompanying background music, and even the option to design a personalized breathing routine for meditation.
The Anker Soundcore Sport X10 True Wireless Earbuds are perfect for any workout. With their secure fit, IPX7 water resistance, and strong bass, they meet all the requirements of an effective workout earbud. Moreover, they boast comfort, consistent connectivity, and good battery life, making them a top choice for those needing reliable earbuds for their exercise routine.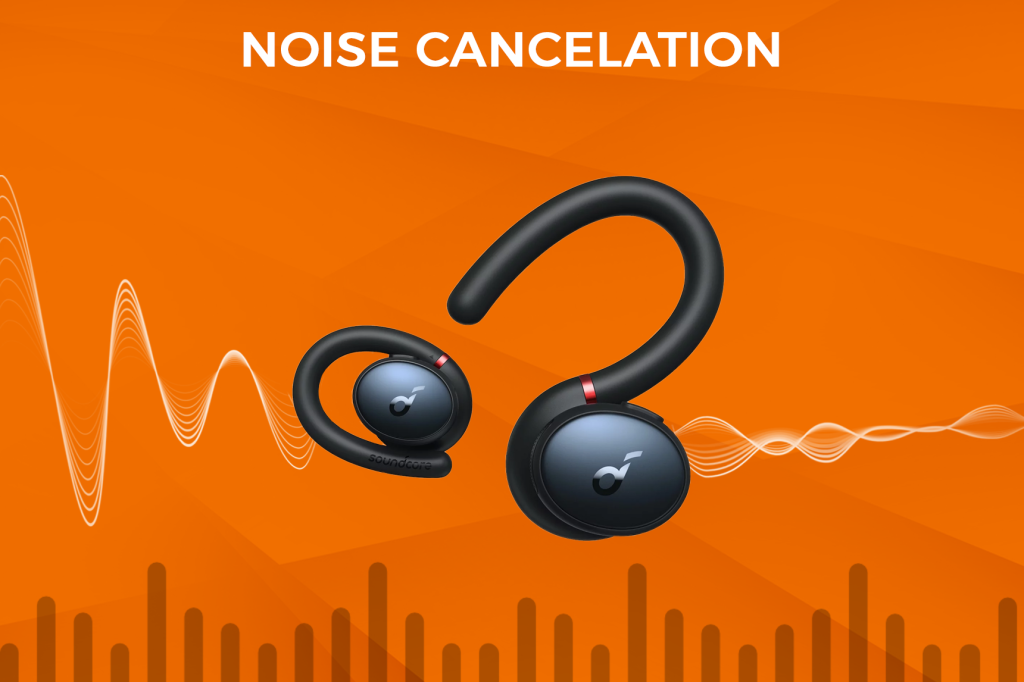 Pros and Cons of Anker Soundcore Sport X10
What makes the Anker Soundcore earbuds stand out, and what are their drawbacks? Take a look at the pros and cons below:
Secure and comfortable retention
The app offers robust features
Stable and fast connection with low latency
Durable construction and strong build
Available in three different color options
Active Noise Cancellation mode is still in its testing phase
Problems encountered when using it in mono mode
FAQs Regarding Anker Soundcore Sport X10
Get detailed answers to any questions you have about Sport X10 earbuds.