If we talk about the Audio Technica company, this company is famous for manufacturing things like microphones, headphones, and cartridges. This Japanese company has more than 50 years of experience delivering great audio quality and has sold millions of units of its products. Audio-Technica ATH-SQ1TW True Wireless Earbuds are easy to use as they allow you to stay aware of your surroundings with your favorite music. These compact-sized earbuds give you 6.5 hours of playtime on a single charge, while if the battery life of the charging case is also added, this total becomes 20 hours. These earbuds are specifically IPX4-rated splashproof, which can handle sweat and rainwater.
Audio-Technica ATH-SQ1TW meet all the demands of multimedia, and they are more comfortable and easy to use. Furthermore, these earbuds make their listeners enjoy with music, movies, and games a lot.

Earbuds Review
Audio-Technical ATH-SQ1TW flexible earbuds are not only comfortable to use but also comfortable and enjoyable to listen to. They also include features of sensors that are automatically turned on when removed from the charging case, and also through their touch sensors, you can play or pause music, skip between tracks, answer calls, and also allow adjusting the volume without turning off the smartphone.
Overview of Audio-Technica ATH-SQ1TW
See what the Audio-Technica ATH-SQ1TW wireless Bluetooth earbuds offer and how they stand out:
These earbuds provide 6.5 hours of playback time for listening to music. Further, their portable charging case also gives you 13.5 hours for a total of 20 hours
These earbuds have quick charging capabilities that give you 1 hour of playtime on a 15-minute charge.
When you activate the hear-through mode in the microphone of these earbuds, So they keep you aware of your surroundings by canceling out unnecessary sounds to deliver crystal clear sound to your ears.
These earbuds also have the facility of touch control that allows you to pause or play music, adjust the volume, answer calls, and skip between tracks
These earbuds allow you to connect with Android devices quickly; you can only connect with one device at a time.
You can use one or both earbuds to listen to your favorite music through these earbuds.
If the size of the earbuds does not match your ear canals, you may not enjoy better sound quality and call performance. For this, you are provided with 3 different ear-size ear tips, so you can choose the best earbuds according to your ear size.
Whenever you take these earbuds out of the charging case, they automatically turn on quickly, and then when you put them back in the case, they start charging.
An IPX4-rated feature has been added to keep these earbuds water and sweat resistant, protecting them from water splash damage.
Bluetooth 5.0 technology is included to connect the earbuds to the device, which makes the connection between the earbuds and the device faster and stronger.
5.8mm drivers have been added to further enhance the sound experience that, makes the sound from the source strong and clear.
Features of Audio-Technica ATH-SQ1TW
Let's quickly go over the features of the Audio-Technica earbuds:
| | |
| --- | --- |
| Name | Audio-Technica ATH-SQ1TW |
| Type | Dynamic |
| Microphone | MEMS |
| Driver | 5.8mm |
| Bluetooth | Version 5.0 |
| Waterproof rating | IPX4 |
| Earbud playtime | 6.5 hours |
| Charging case | 13 hours |
| Earbud playtime | 6.5 hours |
Design and Fit
The first thing about Audio-Technica ATH-SQ1TW earbuds is that you can buy them in 6 different colors, including black, caramel, blueberry blue, cupcake pink or popcorn white. They are designed in so many colors that one of them will definitely be the color that suits your liking. When it comes to their overall design, they look a bit better than standard buds. They are square in shape with a thin Audio Technical logo, and LED indicators are included in their charging case to indicate the charging. Moreover, these earbuds come with a stylishly packaged charging case in which the earbuds fit easily and perfectly. Magnets are also added inside the case to stick to it for a long time.
They also include three different sizes of ear tips to help you find the perfect fit in your ears. Hence, you can find ear tips according to your ear size, In which you can safely wear in your ears for long periods of time without tiring, and also you can use these earbuds while working or exercising without any problem. Moreover, their IPX4-rated splashproof feature protects them from water and sweat damage. Each earbud has included touch controls to handle various music functions, In which the volume can be adjusted by tapping the left button. While the right tap pauses the song, it also allows you to skip forward or backward through the tap.
The charging case of these earbuds automatically locks the controls when the buds come out, while unlocking them is also much easier, indicating that the earbuds are ready to play. You can enjoy up to 6.5 hours of your favorite music through these earbuds; moreover, you can use them for up to 20 hours with the additional 13 hours provided by their charging case. It also takes 1.5 hours to charge these earbuds, while the charging case can take 2 hours. A USB-C cable is used to charge their charging case, while the Qi-wireless charger is not included.
Sound Performance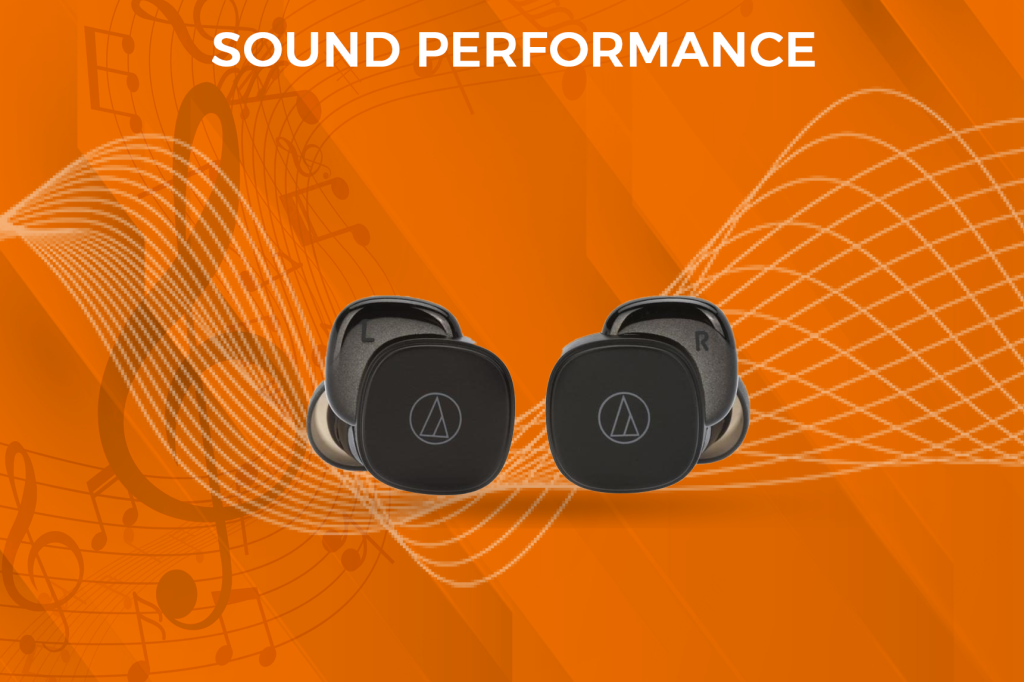 Audio-Technica ATH-SQ1TW earbuds use 5.8mm drivers to give users bold and clear sound. You can listen to every word of podcasts, videos, and songs with these earbuds because the sound quality of these earbuds is excellent. If you are playing mobile games or watching videos, they give a low latency mode to the sound and greatly enhance the clarity of the audio. They also support the microphone, which greatly enhances the call quality.
Moreover, the Audio-Technica ATH-SQ1TW earbuds also support built-in headphone mode, In which the hearing users can be aware of their surroundings. These earphones include less detail than others, which may be the reason for the low price of these earphones because these earbuds don't even have a smartphone app. Moreover, you can enjoy music, movies, and games, etc., through these wireless earbuds. Its wireless earbuds are not only stylish with different colors, but they are more suitable for every lifestyle.
Pricing & Availability
Audio-Technica ATH-SQ1TW earbuds are available for sale in the market, Which you can buy them from various e-commerce platforms like Amazon, eBay, and Alibaba Express, and their prices are $89.99 / £79.99 / €89. These are mid-range earbuds in terms of their price, neither too expensive nor too cheap that we can say they are cheap.
Other Features
These earbuds allow you to connect with Android and iOS devices and include Bluetooth 5.0 technology. Further, these earbuds also support 160Ω resistance, 10 to 10000Hz frequency response range, or SBC audio coding. Additionally, with the help of touch controls, you can play or pause music, change tracks, and adjust the volume. These earbuds come in a compact charging case, so you can easily slip them into a pocket or small purse. They are very light and fit comfortably in the palm. The case is sealed, and when you open it, you can see both letters L and R appear much brighter in it. Moreover, these earbuds are fully compatible with almost everything from music, games, and videos you view on your computer or smartphone.
Pros & Cons of Audio-Technica ATH-SQ1TW
Explore the upsides and downsides of ATH-SQ1TW wireless earbuds.
Pros
Using these earbuds is much easier and simpler
they automatically turn on when they are taken out of the case
You can use them both separately or together at the same time
The touch sensor controls of these earbuds are much more brilliant and easy
These earbuds provide 1 hour of playtime from 15 minutes of charging through the Quick Charging feature.
You can be aware of the surrounding environment through the hear-through mode of these earbuds.
IPX4-rated properties are added to protect them from water splashes and sweat
They also come with 3 different sizes of ear tips inside the box
These earbuds support 5.8mm drivers for great sound quality
These earbuds provide colorful Hi-Fi capabilities with a modern, sleek, and compact design
Cons
Battery power is not very good
Final Verdict
ATH-SQ1TW Audio-Technica is a fantastic pair of truly wireless earbuds without ANC. Their sound is much more solid, and they support SBC but not AAC or aptx. Audio-Technica has done a great job in making the sound quality excellent. Moreover, these earbuds have a Fast Pair capability that allows users to pair Android devices with the earbuds with one touch. Further, their touch controls allow you to handle various functions, including answering calls, adjusting volume without touching the phone, changing tracks, etc. All the basic information about the ATH-SQ1TW earbuds is covered here. By reading these, you can easily decide whether you should buy these earbuds or not.
FAQs About Audio-Technica ATH-SQ1TW
Looking to learn about the ATH-SQ1TW earbuds? Check out our Q&A for comprehensive information on this product: