Apple latest Beats earbuds play an important role in noise cancellation and excellent sound. They have available an updated transparent option, which makes them easy to use on almost all mobile phones. The Beats Studio Buds+ is priced at $169.95 and is an improved 2021 version of the Studio Buds. While their size and shape are similar to the previous buds, which means that these buds are more compact and provide a better fit for the ears.
Additionally, four different sizes of ear tips have been added to give them a perfect fit. Moreover, Its features also include sweat and water resistance. Whenever you put these buds in your ears, the top part of them protrudes slightly from the ear, due to which it becomes very easy to catch them.

Earbuds Review
These include the excellent control feature, In which press a one-time button to pause or play the music, twice to skip the track, and finally hold the button to cancel the noise or adjust the volume. While if we talk about their battery life, it provide up to 6 hours of playtime with noise cancellation. That's an hour longer than their previous versions and better than most of the other buds.
While their charging case provides the facility of 3 additional charges with a total playback of 24 hours. If their charging case is charged with USB, they take 2 hours to fully charge. In addition to this, they also have the ability to charge at high speed, In which you can get 1 hour of playback time with 5 minutes charge.
Feature of Beats Studio Buds+
This product boasts exceptional specifications and technical features, making it a must-have for anyone looking to elevate their listening experience.
| | |
| --- | --- |
| Brand | Beats |
| Model Name | Studio Buds + |
| Water resistance | IPX4 (sweat) |
| Battery life | 6 hours ANC/9 hours off, up to 24 hours with case |
| Connectivity | Bluetooth 5.3, SBC, AAC |
| Earbud weight | 5g each |
| Charging case weight | 49g |
| Case charging | USB-C |
| Fast charging | Yes, ( 1 hour of playback time with 5 minutes charge ) |
Overview of Beats Studio Buds+
Elevate your audio experience to new heights with the Beats Studio Buds+. Here's an overview of what makes them truly exceptional:
Beats Acoustic Platform provides a rich sound experience that makes the music listening and calling experience of the users amazing
Two different modes are included for surround sound, In which you can use both Active-Noise Cancellation(ANC) as well as transparency modes
It offers 36 hours of battery life for full-hearted music listening. While users can get about 9 hours of playtime without ANC and 6 hours with ANC
Beats Studio Buds+ features IPX4-rated water and sweat resistance.
These pairs of Beats come with four different sizes of ear tips in the box to ensure the best fit in the user's ears, which provides a seal to keep noise out and deliver the ultimate cotton sound experience
Three mics are added to filter out the ambient noise and deliver crisp sound to your ears while listening to calls
The box includes a pocket-sized charging case, four different sizes of earbuds, a USB-C charging cable, a quick start guide, and a warrant card.
Apple and Android connectivity
One of the best features of Beats Studio Buds+ is its excellent compatibility with Android and iOS devices. These earbuds make better pair with iPhone than others. In which you can access controls through the iPhone's quick settings of these buds. Also, quick pairing, compatibility with iCloud, and hands-free Siri features are all included. In this, you only need to pair them once with Apple devices so that they can be used with iPhones, iPads, Macs, and other gear.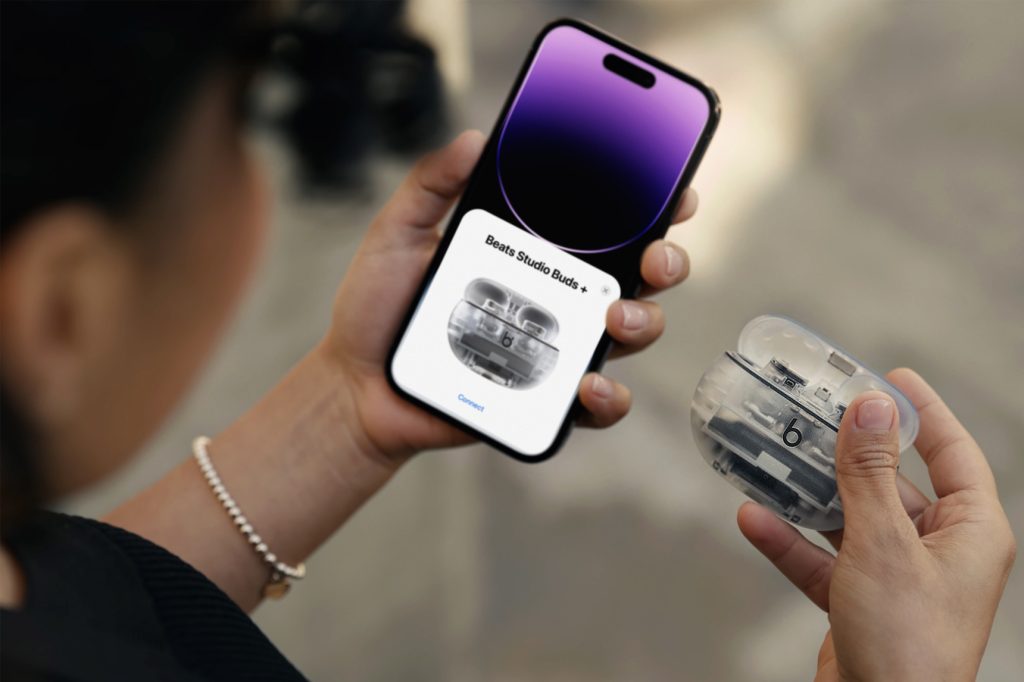 Moreover, it also supports instant pairing and compatibility with Android devices, including automatically switching between Android and Chromebooks. They use an app to access controls and other settings beats, In which the battery widget and other features are clearly added. Further, they also include a "Find My Buds" feature to find lost Buds.
Battery Life
If the battery life of the Beats Studio Buds+ is tested as standard, so without ANC, these buds last for 8 hours and 22 minutes. While with an ANC, you can get 6 hours which is generally considered to be the best battery charger. Beats make this process very easy for its users without worrying about maintaining the health of their battery; this doesn't mean that Beats products don't have better battery capacity. It just means you do not need to worry about recycling their batteries.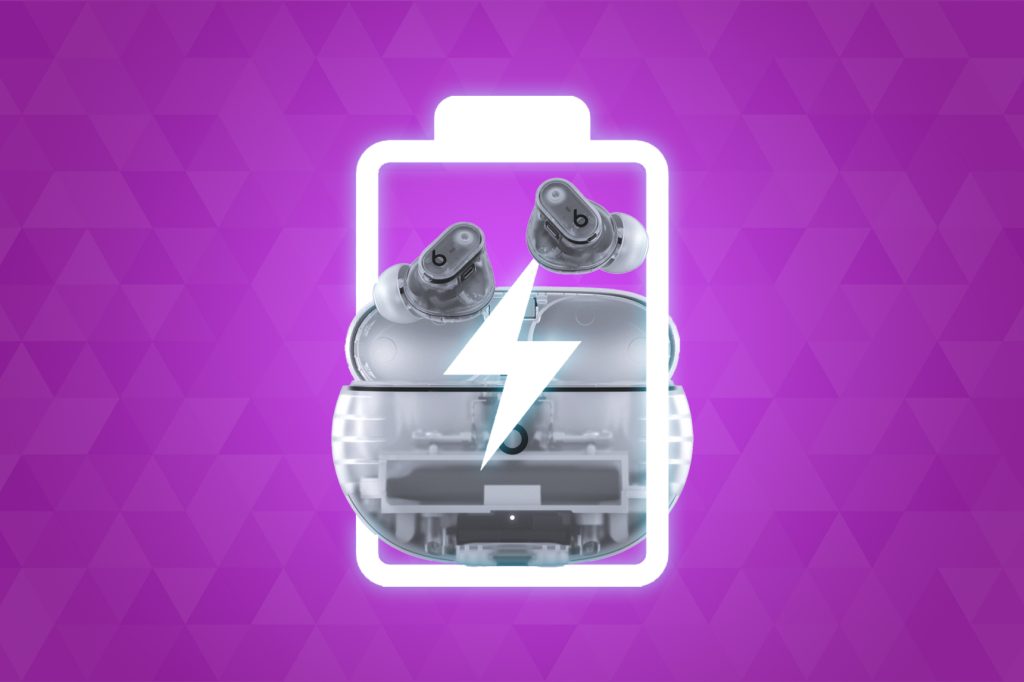 Sound Quality
The sound quality of the Buds Plus is enhanced with richer bass compared to previous versions of the Buds, which provides the user with a variety of audio-listening experiences. They suppress rumbles effectively, but even so, they have good bass control, with which they develop a balanced treble and a good tone. These earbuds may have fewer features than Sony or Sennheiser, but it often needs more energy. But without necessary, they avoid being naturally sound loud.
Additionally, these buds prove to be very good with noise-canceling capabilities. These buds support natural audio on Android devices and Apple Music on iOS; however, they don't include much non-audio capacity for movie viewing. They have noise canceling that can reduce quite a lot of annoying sounds. For this, they suppress rumbles, thumps, and low-grade tones, While their higher tones are better. However, their keyboard taps and such sound are broken, which makes listening to music difficult.
That's why these buds cannot be compared with Bose earbuds. But despite all these, these buds are the best choice in terms of price and size. It includes ANC and transparency mode, providing your ears with an open and crispy sound and facilitate the communication process. Moreover, their call quality is crisp and brilliant. Apart from this, their volume is quite short. It reduces background noise while driving on the road, and the ears feel the best sound during the call.
What's it like to use Beats Studio Buds+?
Using Beats Studio Buds+ is very simple and straightforward, Especially when you talk about new Apple products. So you can be sure that it will provide you with reliable features. It will get you a charging case, three extra ear tips, a USB-C charging cable, and some extra documentation in the box. The most notable thing about them is that they are designed in such a way that they sound good in your ears, and they are of great importance in terms of quality. Additionally, their charging case is round in shape and light in weight,
making them very easy to carry during long-distance travel. Magnets are included in their case lids, which means if you accidentally forget to close it. So their magnet will automatically close the lid firmly. Beats Studio Buds+ earbuds are made in different colors to enhance the user's choice, which includes black, gold, & many other colors. While choosing earbuds, you should remember that they should be comfortable and provide a good feel in your ears.
Usually, when choosing earbuds, they aren't very comfortable, but the lightweight housing design in the Beats Studio Buds+ means they don't put too much pressure on the ear canals. Also, if you want to switch between different devices, you must be appreciated by the Apple company, through which you can easily switch in the manues without any hassle. Uniquely, Apple has tried to improve the design of this product like its other previous products.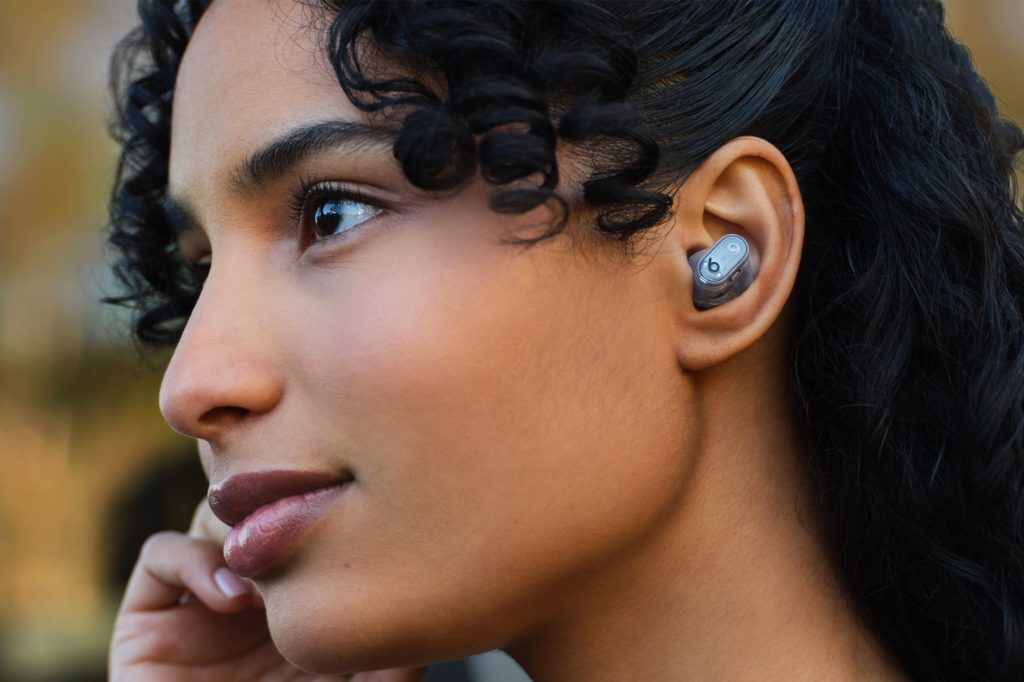 How does Beats Studio Buds Plus compare with the AirPods Pro (2nd Generation)?
For $30 more, the Apple AirPods PRO offers users more features than the Beats Studio Buds Plus. Which includes great control, a beautiful interface, great sound, and many other amazing features. If you compare the features between the two in general, the AirPods Pro wins in this field. However, in terms of price, AirPods are not for everyone. Despite all this, the Beats Studio Buds Plus is slightly different in terms of features than the more expensive AirPods, that is, Bates power management.
In which you can get not only quick charging features from Beats, rather besides Beats' battery life is also better than AirPods. If we talk about the performance of both of them, then the comparison between them is not so much near. In this, AirPods PRO provides users with excellent tonal balance as well as noise cancellation. While in the practical field, AirPods PRO has a clear victory.
Final Verdict
Beats Studio Buds+ are considered to be one of the best Apple earbuds in the market. Which is considered as a perfect gift for Android lovers as well as previous iPhone users. These are built with features like a sturdy, compact fit, great sound, and a long-lasting battery. These described features are mentioned by the users themselves in their reviews,
which makes their choice more appealing. If you use your iPad, Mac, or Android phone to listen to your favorite music, So you can use Beats Studio Bad+ with all these devices. Furthermore, they are designed in different colors to make them attractive, and apart from that, their battery life is also quite amazing.
Pros & Cons
Acknowledge the benefits and downsides of the Beats Studio Buds+:
Pros
Super transparent design ( various colors are available )
Good battery life
well Priced
Best sound quality and Improved ANC
Cons
No wireless charging
Missing a few Apple ecosystem features
FAQs About Beats Studio Buds+
Here are some FAQs about the Beats Studio Buds+ earbuds and detailed answers.