Bang & Olufsen Beoplay EX wireless Bluetooth earbuds redefine your auditory experience, seamlessly blending advanced technology with refined aesthetics. These premium noise-canceling earphones are not mere accessories but an extension of your discerning lifestyle. With adaptive active noise cancellation, ambient disturbances melt away, granting you the luxury of undistracted moments – whether navigating bustling cityscapes or embracing the elements during outdoor pursuits.
The Bang & Olufsen Beoplay EX is an ambassador of sound, style, and sophistication in a world that pulsates rhythms and resonates with stories. Beyond the surface, the EX boasts a symphony of innovation. Its ultra-compact design elevates your every day as you traverse from sunrise to sunset, from mundane commutes to exhilarating workouts. EX is better than Beoplay E8 because E8 takes more time to charge completely, and offers lower sound quality, and lacks active noise cancellation.
The snug and comfortable fit ensures these earbuds stay in place as you lose yourself in the melodic tapestry. Distinctive beamforming microphones punctuate clarity in your conversations by effectively isolating your voice from background clamor, rendering every call a symposium of precision.

Earbuds Review
These earplugs are a testament to meticulous acoustic engineering. Finely tuned for auditory pleasure, the earphones encapsulate music that resonates with your soul. Its waterproof prowess, boasting an IP57 waterproof rating, grants the freedom to traverse uncharted terrains and rain-soaked boulevards, all while savoring the harmonious fusion of melody and nature.
The embodiment of excellence extends further, with up to 7 hours of playtime on a single charge, complemented by an elegantly sculpted aluminum charging case, promising up to 20 hours of musical escapade. Seamlessly integrating into modern lifestyles, these earphones embrace wireless possibilities with Bluetooth 5.1 connectivity and the convenience of Qi wireless charging.
Overview of the Beoplay EX Earphones
Elevate your auditory journey with the Bang & Olufsen Beoplay EX, a seamless blend of cutting-edge technology and refined design. You can enjoy the following features by buying this product:
Adaptive active noise cancellation for undistracted moments
Ultra-compact, snug fit, perfect for daily adventures
Clear calls with beamforming microphones isolating your voice
Finely tuned acoustics crafting soul-stirring music
IP57 waterproof rating for rain-soaked strolls and workouts
Up to 7 hours of playtime per charge
Elegant aluminum charging case for 20 hours with ANC on
Qi wireless charging and USB-A to USB-C cable for versatile power
Bluetooth 5.1 connectivity for seamless pairing
Thoughtful design ensures comfort and secure wear
Premium noise-canceling capabilities enhance every note
Advanced active noise control for focused attention
Four directional microphones for enhanced call clarity
Effortless transition from your morning commute to workouts
Unparalleled sound detail and call clarity
Freedom to explore off-road with waterproof earphones
Craftsmanship and technology converge for a new auditory standard
Impeccable balance of aesthetics, innovation, and functionality
Features of Bang & Olufsen Beoplay EX Earbuds
Unleash the full potential of your music library with this product, made to meet the needs of passionate music lovers.
| | |
| --- | --- |
| Brand | Bang & Olufsen |
| Model Name | EX |
| Form Factor | Over-Ear |
| Connectivity Technology | Bluetooth |
| Playtime | 7 Hours |
| Playtime with Case | 20 Hours |
| Charging Time | Approx. 2 Hours 30 Min |
| Wireless Charging | Qi Wireless Charging |
| Microphone | 4 Microphones, Beam Directional for Speech |
| Connectivity Technology | Bluetooth 5.1 |
| Price | $369.05 |
Premium Noise Cancellation
Within the realm of auditory luxury, the Beoplay EX is a testament to premium noise cancellation. These cutting-edge sound buds possess an unparalleled ability to transform your everyday experiences into a symphony of serenity. Whether it's the bustling rhythm of your morning commute, the rhythmic cadence of an evening workout, or the spontaneous cadence of a weekend adventure, these ultra-compact earplugs offer a sanctuary of sound.
The snug embrace of their fit ensures a level of comfort that verges on gradually, allowing you to immerse yourself entirely in the music. Moreover, the advanced active noise control technology elevates your ability to engage with the present moment fully. With every note and call, the EX unveils newfound layers of detail in your music and a heightened clarity in your conversations, ushering in a level of versatility that transcends the ordinary.
Crafted with uncompromising attention to detail, the Beoplay EX redefines the essence of auditory luxury. The harmonious fusion of sleek design and cutting-edge technology empowers you to seize each moment with undivided attention. The symphony of noise cancellation is not a mere function but a transformative experience, enveloping you in a cocoon of tranquility, irrespective of your surroundings. These earphones are an emblem of commitment to excellence – a promise that resonates in every note and every endeavor. EX amplifies your world, elevating your encounters from mundane to extraordinary.
These earphones beckon you into a realm where sound is heard and felt. Immerse yourself in the cadence of life, from cityscapes to nature's embrace, and witness how these sound buds seamlessly intertwine with your narrative. The symphony of noise cancellation, combined with their compact form and snug fit, takes you beyond the ordinary, empowering you to rediscover music, conversations, and moments in a richer, more profound light.
Call Quality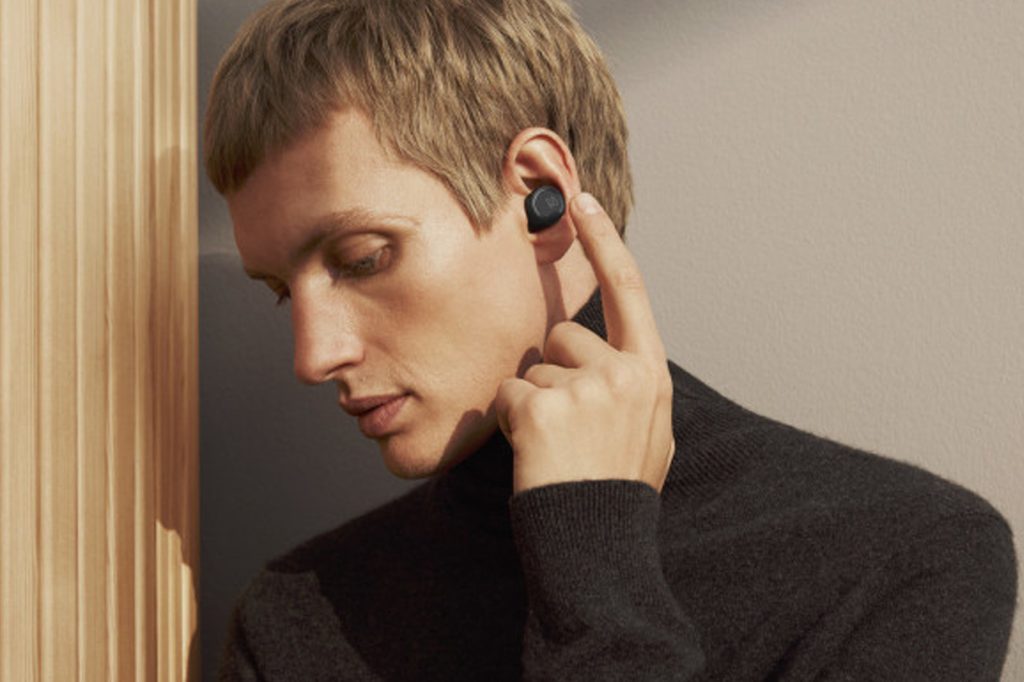 Elevating your auditory encounters, the Beoplay EX goes beyond delivering exceptional sound – it ensures crystal-clear call quality, just like Jabra Elite 7 Active. With the precision of beamforming microphones, background noise becomes a distant memory, enabling your voice to shine through effortlessly. Bolstered by four strategically positioned microphones, this advanced technology grants your conversations a newfound clarity by focusing on your speech while effectively minimizing extraneous sounds.
In a world where communication reigns supreme, it establishes itself as a beacon of call quality excellence. The meticulous integration of beamforming microphones is a testament to the brand's commitment to enhancing your interactions. These microphones work harmoniously to pinpoint and isolate your voice, ushering in a level of auditory precision that is as captivating as it is efficient. Every call becomes a symphony of clarity, as the earphones adeptly cut through the noise to ensure your voice is heard with unparalleled distinction.
Whether it's a critical business call or an intimate conversation with loved ones, the Beoplay EX equips you with the tools to convey your thoughts effortlessly. As the beamforming microphones take center stage, background distractions recede into oblivion, allowing your voice to command attention. The result is an immersive communication experience that underscores the EX's commitment to sound and the seamless integration of form and function, forging a bridge between exceptional technology and a well-connected life.
Soul–Stirring Sound Quality
Beoplay EX emerges as a paragon of soul-stirring sound quality. Its acoustics, finely tuned to perfection, weave a tapestry of music that resonates deep within. Each note and melody carry an emotional weight that moves the core of your being, transcending the realm of mere sound and forging a connection that defies explanation.
A symphony of engineering brilliance, the EX transforms sound into an experience transcending boundaries. The meticulous calibration of its acoustics results in a harmonious blend of frequencies, capturing the subtle nuances of each composition. With these sound buds nestled in your ears, music takes on a new dimension – a dimension where each song becomes an immersive journey, and each rhythm becomes a conduit for emotion. For vocal isolation, vocal isolation to hear the difference between the instrument and the musician, we recommend you to buy JVC Gumy.
As the Beoplay EX unfurls its sonic canvas, the impact is undeniable – this is not just about hearing; it's about feeling. The resonance of finely tuned acoustics breathes life into your favorite tracks, rendering them in a manner that elicits genuine emotion. With the EX as your sonic companion, your auditory encounters become a testament to the power of sound. So, your connection to music becomes an intimate, soul-stirring experience.
Playtime
Unveiling a symphony of convenience, the Beoplay EX doesn't just deliver exceptional sound but extends its prowess to playtime longevity. With up to 7 hours of musical indulgence on a single charge, these earphones are your steadfast companions throughout your day's endeavors. The aluminum charging case is a useful accessory and a beautifully sculpted testament to design ingenuity. It offers an impressive 20 hours of playtime. This remarkable combination ensures that your acoustic journey remains uninterrupted, whether busy in your workday or relishing a moment of musical reprieve. On the other hand, OnePlus Nord Buds 2 earbuds offer 36 hours of total playtime, which means you can enjoy additional time to listen to your favorite tracks.
With a single charge lasting up to 7 hours, these sound buds become your steadfast companions throughout your day's endeavors, delivering an exquisite auditory experience that transcends the ordinary. The beautifully crafted aluminum charging case adds a touch of sophistication to this exceptional equation. Far from being a mere accessory, it's a meticulously designed embodiment of convenience, offering an additional 20 hours of playtime, primarily when the advanced noise-cancellation feature is engaged. The earphones understand the ebb and flow of your day, seamlessly integrating into your lifestyle by ensuring long battery life.
With a single charge lasting up to 7 hours, these earphones become your steadfast companions throughout your day's endeavors. The charging case combination extends your playtime extravagance to 20 hours. EX ensures that your melodies accompany you every step, weaving a tapestry of audio that enriches every moment.
Water Resistance
EX presents a feature beyond your everyday auditory pursuits – waterproof prowess. Enjoy the freedom to infuse your workouts, outdoor explorations, and even rain-soaked strolls with the cadence of your favorite melodies. With an IP57 waterproof rating, these earbuds are more than just companions; they're steadfast partners that defy the limitations of weather and terrain.
As you venture off the beaten path, it reveals a remarkable facet that elevates your auditory journey to new heights. Beyond the confines of ordinary headphones, these waterproof earphones hold an IP57 rating, endowing them with the ability to withstand rain and the rigors of off-road escapades. They're not just sound companions; they're your musical accomplices that embrace the spontaneity of life.
EX embodies the essence of versatility, adapting seamlessly to various terrains and weather conditions. With an IP57 waterproof rating, these earplugs are not just confined to your indoor sanctuaries; they're designed to accompany you on outdoor pursuits, rain or shine. Whether you're pushing your limits during workouts or immersing yourself in the beauty of nature, these waterproof earphones redefine your auditory experiences by merging melody with the elements.
Wireless Charging
Enhancing convenience, the Beoplay EX introduces features that redefine how you engage with sound. Qi wireless charging presents a seamless way to power up your buds, removing the hassle of tangled cables. It grants you the luxury of effortless recharging. Moreover, the versatility is elevated with a USB-A to USB-C cable, catering to varied charging preferences, ensuring that your audio companions are always ready to accompany you on your auditory journey.
Amplifying your connectivity experience, the earplugs embrace Bluetooth 5.1 technology, ensuring swift and stable connections that transcend boundaries. Seamlessly pairing with your devices, these audio buds exemplify the art of staying connected in the modern world. In the rare instance of encountering Bluetooth connectivity issues, the solution is simple: a brief interruption, turning off the Bluetooth function for a few moments, and then reactivating it. This troubleshooting is a testament to the brand's commitment to seamless experiences.
EX is a beacon of ingenuity in a world of wires and connectivity concerns. Qi wireless charging showcases a commitment to user convenience, allowing you to power up your audio companions effortlessly. Meanwhile, embracing Bluetooth 5.1 technology ensures a seamless connection experience, enabling you to transition between devices with grace. Should you encounter a rare hiccup in Bluetooth connectivity, the solution is practical and effective with this product.
Pros and Cons of Beoplay EX
Comprehend the plus and negatives of the JBL Vibe 100 TWS earbuds
Pros
Superbly Balanced Sound
Completely Waterproof
Attractive Design
Qi Wireless Charging
Cons
Average Battery Life
ANC Could be Improved
Frequently Asked Questions About Beoplay EX
The EX is meticulously designed to cater to various needs and scenarios, ensuring your auditory journey remains smooth and enjoyable. Unveiling the answers to your queries, here are some likely FAQs about the product, along with their detailed responses: