If you're a lover of bass-heavy music, then you'll thoroughly enjoy Beyerdynamic Free BYRD. In these earbuds, you get great features, including excellent battery life, AptX Adaptive, and strong Active Noise Canceling (ANC). However, there are many other earbuds available in the market that you should consider buying.
They are made of good quality materials, that's why they look like premium models. Magnets are incorporated into their case's cover, making it open and close with a wonderful click. An IPX4-rated feature is included to keep them water and sweat-resistant.

Earbuds Review
Moreover, you don't have to worry about their perfect fit because they provide various silicon ear tips in their box to give you the best fit. Further, they include noise cancellation as well as transparency mode, due to which you can be aware of the activities happening in your surroundings.
Overview of Beyerdynamic Free BYRD
Here's an overview of Beyerdynamic Free BYRD that makes them truly exceptional:
In the free BYRD, you get premium dynamic drivers and features compatibility and the latest Adaptive and AAC codecs. Additionally, they include Qualcomm® dual 2-mic cVc™ that allows you to enjoy your favorite music, podcasts, and calls from them.
exercise. You'll get better sound performance with the earbuds fitting better in your ears.
In this, you can enjoy an active noise canceling feature by removing the background noise. Also, if you are in the office and want to hear anything important happening around you, you can use transparency mode.
The Free BYRD features ear tips of various sizes for a comfortable and perfect fit, The earbuds fit perfectly in the ears of people with different ear sizes.
These include excellent battery features in, which you can use them for up to 11 hours on a single charge. While they can be charged with both USB-C and wireless chargers.
The IPX-4 free feature has been added to the Free BYRD earbuds for protection against water, wind, and sweat, So you can take them outside and use them freely.
They provides you the facility to use the MIY app, through which you can adjust the sound according to your hearing with the app provided by these buds. This app can help to keep up-to-date with the latest technology and over-the-air firmware updates
These earbuds also support Google Fast Pair, which lets you pair these earbuds with a device in seconds. Apart from this, they also have Siri and Alexa options. Furthermore, their low-latency mode makes the harmony between sound and picture even.
Features of Beyerdynamic Free BYRD
The exceptional features and technical specifications of this product is given below:
| | |
| --- | --- |
| Brand | Beyerdynamic |
| Model | Free BYRD |
| Battery life | 8 hours (ANC on); 11 hours (ANC off); Up to 22 hours via charging case |
| Connectivity | Bluetooth 5.2 (codecs: SBC, AAC, aptX Adaptive) |
| Water resistance | Yes (IPX4 rated) |
| Weight | 0.25 ounces (per bud); 2.12 ounces (charging case) |
| Colors | Black; gray |
| ANC | Yes |
Controls
Touch control capability is included on the outside of each Beyerdynamic Free BYRD earbud. Through which, you can answer calls, change playback, handle the voice assistant, and control many other activities. Moreover, they also have an in-ear earbud detection facility, In which if the earbuds come out of your ears, the music stops immediately. Then as soon as you put them back in your ears, the music starts playing automatically. These buds' touches are preconfigured, so you can't make any changes to them. Their touch control configuration is described in below.
| | | | | | | |
| --- | --- | --- | --- | --- | --- | --- |
| | Single tap | Double tap | Triple tap | Tap and hold | Tap twice and then hold | Tap once and then hold |
| Right earbud | Play/pause, answer calls | Enable ANC or transparency mode | Next track | Activate voice assistant | Decrease volume | Reject/end call |
| Left earbud | Play/pause, answer calls | Enable ANC or transparency mode | Previous track | Activate voice assistant | Increase volume | Reject/end call |
Beyerdynamic MIY app
Beyerdynamic MIY app opens up all new features for both IOS and Android users, In which you can find out the remaining battery from its home screen. Additionally, you can toggle between ANC and transparency modes with ease. Moreover, it provides you the facility of preset for various equalizers, which you can easily select from the home screen, but you can't create your own custom EQ. The app also provides users with a hearing test facility, where they test how well you are hearing in both their left and right ears. Based on which EQ makes a preset of earbuds, Instead, users can customize the EQ by understanding the interface.
Connectivity
Bluetooth 5.2 technology is included in the Beyerdynamic Free BYRD, allowing you to connect them to devices. These earbuds support the Aptx Adaptive feature that lets you allow to stream with extraordinary abilities. This generally provides you with "high-Ris" low-latency streaming of up to 420 kbps. These earbuds support both SBC & AAC codecs, In which you can enjoy great streaming quality after connecting the earbuds to the devices.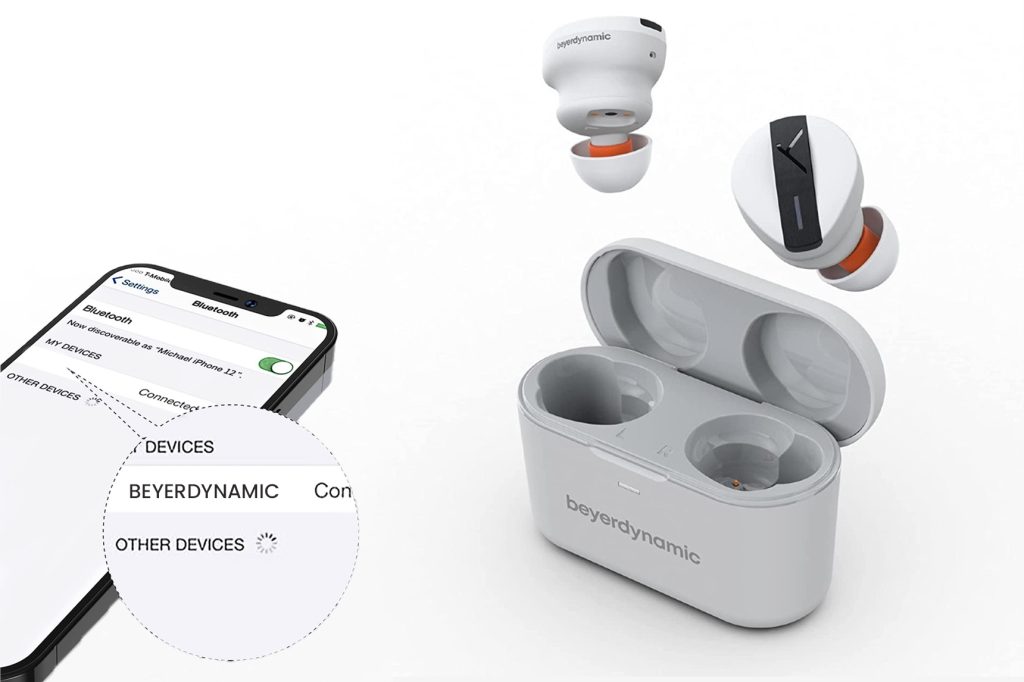 It does not include multipoint connectivity; that's why it allows you to pair them with only one device at a time.
Battery Life
You can use the Beyerdynamic Free BYRD for up to 11 hours without ANC, and with ANC, then it gives you up to 8 hours of playtime. Moreover, with its case, you also get the facility of up to 2 full charges. Along with this, you can also charge them through a wireless charger in addition to the charging wire. These earbuds also provide users with a fast charging facility, In which you can get more than 1 hour of playback time from them on 10 minutes of charging.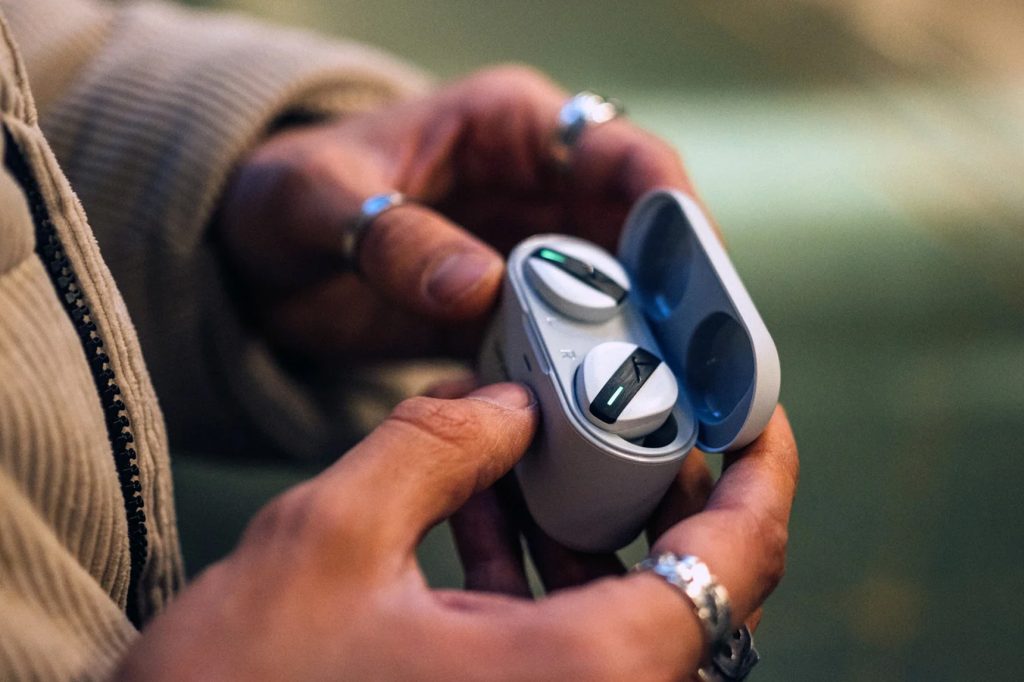 Sound Quality
Beyerdynamic has incorporates 10mm drivers for the best sound experience. Which can be considered as a good offer compared to others; in them, you feel a calm, thoughtful, and less busy voice.
If you make dynamic changes in them so, during this time, you will not feel any difficulty. But if you want to get the best quality sound out of that earbuds, then it is essential to fit these earbuds into your ears well. As we have mentioned above, you cannot customize EQ as your choice, but even so, it allows you to choose one of your favorite EQ presets.
Call Experience
The excellent microphone capability is included to get the best call experience with Beyerdynamic Free BYRD earbuds. Moreover, thanks to the Qualcomm cVc technology in them, you can easily separate the voice from the background noise. Furthermore, the microphones in these earbuds completely rearrange the sound frequencies.
Which makes the reaction of the frequencies not neutral, and it can make your voice sound a bit muffled. So you don't need the mic of these earphones for the call recording. Instead, it works best for taking conference calls or answering phone calls.
Some alternatives to the Beyerdynamic Free BYRD
In addition to purchasing Beyerdynamic Free BYRD earbuds, there are many other options available to you in the market. Among them, if you're looking for a great-looking device, you should want to consider the Grell Audio TWS1, In which these buds provide you with the best immersive sound experience. In addition to this, they also provide you with the facility of customizing the sound through SoundID.
Sony WF-1000XM
On the other hand, if you want buds from where you will get better noise cancellation and more features, you can choose Sony WF-1000XM4. It gives you 360 reality audio, excellent isolation, and excellent noise cancellation capabilities, allowing you to create your own sound profile. The price of the Sony WF-1000XM4 earbuds fluctuates frequently, sometimes going to $279 and often to $228.
Bose QuietComfort Earbuds
In contrast, those who want the most comfortable and best-fitting earbuds of all time. You should check out the Bose QuietComfort Earbuds, which include excellent sound quality. In this, you can EQ the sound with the help of the music app provided by their main module. Moreover, they have included the feature of an IPX4-rated water and sweat resistance.
How do you pair the Beyerdynamic Free BYRD?
Below are some instructions for connecting the earbuds to the device:
Remove the earbuds from the charging case, insert them into your ears, and then tap the right or left earbuds twice. Hold them down for 2 seconds until the earbud's LED turns orange or blue.
Then select Beyerdynamic from the list of devices in your smartphone Bluetooth settings.
These earbuds also support the Google Fast Pair feature that displays a pop-up on the screen after pairing with Android devices.
Pros & Cons
Acknowledge the benefits and downsides of the Free BYRD earbuds:
Pros
Good active noise cancellation ( ANC)
Bluetooth 5.2 with aptX Adaptive, AAC, and SBC
Fast charging
A large variety of silicone ear tips
Best battery life
Cons
No multipoint connectivity

Final verdict
The Free BYRD company has made an impressive effort in creating the Beyerdynamic, In which you can get excellent touch controls, active noise cancellation, excellent battery life, and strong Bluetooth capabilities. Apart from this, some other wonderful features have been added that the users can enjoy with these buds.
But if you're looking for earbuds with the best sound quality, you shouldn't expect too much from these buds. Because in this it will give you a limited amount of sound delivered with all the detail capability.
FAQs About Beyerdynamic Free BYRD
These FAQs and detailed answers portion are provide you with valuable information about the product: