Along with the launch of a large number of DIZO products, more Realme sheds a profound light on DIZO Buds Z. This is one such earphone that Realme Technology heavily supports; due to this reason, Realme Link App can also be activated with these buds. Realme TWS products are very popular in the market, Here, a question may arise in the mind of users, can these DIZO Buds Z buds will be given importance compared to the rest of the amazing earbuds? In response,
we would like to inform our users that, like the rest of the earbuds in the Market, the DIZO Buds Z is considered as a hero, which you can take anywhere while traveling on the go. It offers users great specs, clear design, affordable prices, and a lot of other features.

Earbuds Review
In today's article, we will be going to answer the questions that come into the mind of our users about DIZO Buds Z.
Features of DIZO Buds Z
The DIZO Buds Z earbuds offer a range of features and technologies that enhance the audio experience.
| | |
| --- | --- |
| Brand | DIZO |
| Driver | 10mm Dynamic Bass Boost Driver |
| Protection | IPX4 Water Resistance |
| Weight | 3.7 grams (each bud) |
| Wireless Range | Up to 10m |
| Connectivity and Ports | Bluetooth v5.0, USB Type-C |
| Features | 88ms Super Low Latency, realme Link app, Intelligent Touch Control, Environmental Noise Cancellation for Calls, in-ear detection, |
| Colors | Leaf, Onyx, Pearl |
| Working Frequency | 2402-2480MHz |
Overview of DIZO Buds Z
The DIZO Buds Z is a set of true wireless Bluetooth earbuds that aims to stand out in the competitive great sound quality market. Here is an overview of the product's features:
These pairs of DIZO Buds Z earphones are designed with natural light, which includes different colors. Generally, pearl finish color is used more in them, Which provides an amazing listening experience and is even more stunning to look at.
One of the distinctive features of these earphones is their lightness. Each earbud comes with a weight of 3.7g, allowing you to wear them for long periods without tiring.
They include three different-sized ear tips so that these buds can fit easily in all sizes of ears
With DIZO Buds Z, you can stay connected for up to 4.5 hours without cutting. Also, with its slim and sturdy charging case, you can get a total of 16 hours of playtime. In which you can listen to and watch approximately 324 songs and 11 movies respectively in that time.
These buds include fast charging capability, In which you charge them for 10 minutes and can get a battery life of up to 1.5 hours.
DIZO Buds Z is designed in this way, which will cancel out the ambient noise while listening to your favorite music and calls. So you can enjoy clear sound
These include Bluetooth 5.0 technology, which seamlessly connects the earbuds to the device with lightning-fast speeds.
An IPX4-rated features are added to keep their water and sweat resistant
You can use the Realme Link app to customize the EQ preset & touch control settings.
Dizo and Realme have designed 10mm dynamic drivers with deep and rich bass, making your listening experience more engaging.
Unboxing
DIZO Buds Z is packaged inside a white rectangular-shaped box, making them different from the rest in the colors. In general, most of the users prefer the white color, but Realme Tachlife also offers yellow color in addition to the white color in this brand.
You will find the Buds inside the charging case as soon as you open the box. In which the earphones are attached with a superb arrangement. Most of the earphones are included with the medium-sized ear tips. Apart from this, their box contains the usual stuff, which includes a type-C charging cable, warranty card, user guide, and two extra pairs of ear tips.
What's in the box?
Ear Tips x 6: 1 pair Small, Medium (mounted), Large
Type-C charging cable
One pair of earphones (L & R)
User guide, warranty card
Budz Z Charging case
Design of DIZO Buds Z
The charging case of DIZO Buds Z is designed in the same color as its previous version. While their design matches cobble with a matte finish. They have Dizo branding on the face of the case, which includes LED indicators on the top. To charge them, a Type-C charging port is included in their usual place, which is usually on the underside of the case. The dimensions of the case are 64.6 x 51.6 x 26 mm.
With the help of which, they can be easily held in the palm and transferred to other places. Moreover, they come in lightweight and compact designs, due to which the user generally does not even feel that they are being captured anything or not. It allows your ears to fit securely, even during long workouts. Additionally, the Eartips feature ANC capability that delivers clear sound to your ears by erasing surrounding noise.
Their body is made of plastic material, and apart from that, they also include microphone slits. A touch control facility is also included in the device. Moreover, these buds come with IPX4-rated features, Which means this ability will protect your buds from water splashes and sweat.
Touch Controls of DIZO Buds Z
Like other earbuds, these earbuds also come with fantastic touch control capabilities. The special controls in them are listed below.
Touch 2x: Play or pause the music, Answer or hang up a call
Touch 3x: Play the next song;
You can use the Realme Link app to customize these controls. Also, if you have permanently configured this app with Earbuds, you can also easily activate the voice assistant.
Quick Setup, App Support
Before using Earbuds, you will need to connect your mobile device with the Realme app, While you can connect Realme LinkApp with both Android and IOS devices.
After adding the app to your mobile device, follow these steps to set it up.
First, you need to click on the + icon that will appear on the Realme Link app on the right side of the home screen.
Then you go to its side menu and select Audio, where click on DIZO Buds Z.
Finally, you go to the Bluetooth list of this app and tap on Bluetooth. That will connect the earbuds to your device
Buttons for controlling sound effects, click on the DIZO Buds Z image of the icon on the home screen to update the setting mode where you can see the battery life of both their L&R earbuds. Once connected these buds with the Realme Link App, the experience of managing these devices is quite straightforward.
Performance, Sound Quality
DIZO Buds Z features a 10mm dynamic drivers, which delivers dynamic deep sound with exceptional support. Bluetooth 5.0 technology is included to instantly pair these earbuds with a smartphone, tablet, or PC. DIZO Buds Z offers excellent sound quality for the price, In which both high and mid are registered in good style.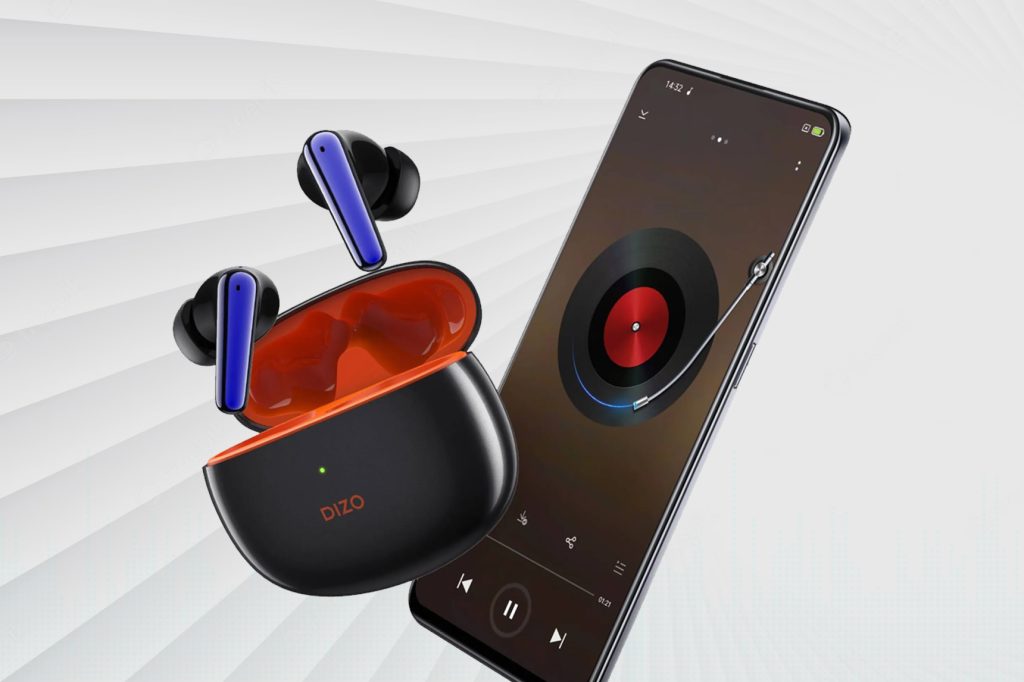 The bass of these buds sounds even more impressive, You can also use the +Bass Boost app feature through their provided app. Moreover, these buds work very well during online meetings and conference calls. In addition to this, to eliminate atmospheric noise in them (ENC) feature is included. That reduces the sounds around you, so you can hear clear sounds in your ears.
Battery Life and Overall Bluetooth Performance
Talking about the battery life of these buds, you can squeeze up to 16 hours of battery life with both the earbuds and the charging case combined. Each earbud can get up to 4.5 hours of battery life with a battery capacity of 43 mAh. While the power of the case battery is 380m. They don't take long to charge; you can fully charge them in about 2 hours.
Moreover, its performance is excellent if we discuss its Bluetooth connection. In which you will never face any weak connection. Apart from this, the process of making pair in them is very simple and straightforward. Simply remove the earbuds from their charging case, Associate them with your device, and be ready to listen to your favorite music.
Pros & Cons
Here below, we will discuss some plus and negative points about DIZO Buds Z earbuds:
Pros
Ultra-light & Comfortable
Hear It Clearly
Fast Charging
Seamless connection
IPX4 Water Resistance
Work with Realme Link App
Touch Controles
Cons
Low Battery Life
Final Verdict
Finally, we tell you that if you are looking for such earbuds that provide you to get great design, comfortable fit, and great sound quality at an affordable price. So for that, you must try DIZO Buds Z earbuds.
But if you have much less money, you should try GoPods D and Dizo GodPods Neo. Moreover, you can achieve the extra active noise cancellation with these buds with just a few coins. Both of them have included excellent battery life as well as low latency performance.
FAQs About DIZO Buds Z
Here are some frequently asked questions about the Dizo Buds Z earbuds: