This new model of Earfun Free Pro 2 has a more sophisticated look than its previous model; the main difference between these two earbuds is the noise cancellation which is significantly better in the second generation.
These new earbuds have a smaller charging case, and their modern design is also quite different from the previous earbuds. The size and comfort of both models are almost the same. One function of Erfon FreePRO 2 is considered weaker than the previous versions, and that is its battery life.

Earfun Earbuds
The PRO 2 model earbuds provide 6 hours of playtime on a single charge, while the charging case provides 24 hours. However, its previous generation provides 7 hours of playtime per charge, and the charging case provides 25 hours.
Overview of EarFun Free Pro 2
Here are some of the highlights of Earfun Free PRO 2.
EarFun Free Pro 2 earbuds adopt 6mm dynamic drivers for rich and deep bass sound with a modest budget that makes their sound rich and comfortable.
These earbuds support HSP، HFP، A2DP، AVRCP، AAC with Bluetooth 5.2 technology, which greatly improves the transmission speed and signal strength.
These earbuds are extremely lightweight with an ergonomic design, giving you a fatigue-free listening experience for long periods of time.
They include a high-quality microphone for easy calling that provides over 90% noise canceling features through the ENC function. Moreover, they have 6 mics for the best call quality, which provide excellent sound enhancement.
These earbuds have touch control capability, which allows you to control various functions, Including volume increase or decrease, changing track, and answering or ending the call.
These earbuds create a very smooth connection between game and video audio with 80ms low latency giving you simultaneous video and audio. and also they provide you clear sounds of gunshots and explosions in the game.
These earbuds support both USB-C cable and wireless charger. Moreover, they also have the ability to charge instantly. In which you can get 120 minutes of playtime from them at a charge of 10 minutes. Without ANC mode, these earbuds give you 6 hours of playtime, while with ANC mode, they give you 4 hours of playtime, and if the charging case battery is included, then you get a total of 30 hours of playtime
They Allow up to 40dB of noise cancellation to keep you focused on your favorite music or movie.
These earbuds support IPX5-rated features for protection against rainwater and sweat, which helps to protect them from water damage.
Features of EarFun Free Pro 2
Look at some of the most important features and specifications of the Earfun Free PRO 2.
| | |
| --- | --- |
| Model Name | Free Pro 2 |
| Brand Type | EarFun |
| Bluetooth | V 5.2 |
| Waterproof | IPX5 |
| Noise cancellation | 40dB |
| Battery Life | 7hrs of earbuds + 25 hrs of charging case |
| Battery Capacity | 35mAh x 2 (earbuds), 420mAh (charging case) |
| Dimensions | 66.6mm x 25mm x 28.5mm |
| Drivers | 6mm composite drivers |
| Charging time | 1 hrs (for earbuds); 2 hrs(for charging case via USB-C) |
Sound Quality
Compared to the previous version, the Earfon Free Pro 2 has included 6mm dynamic drivers Through which clear and detailed sound reaches your ears without distortion. The bass of these earbuds reaches deep enough to make the sound a lot warmer and richer. They also include features like hip-hop and EDM that enhance the movie-watching experience. These earbuds feature 6 mics to facilitate instant calling, improve sound quality during calls and reduce background noise for a better call experience. These wireless earbuds provide you with rich, deep bass, comfortable, and detailed sound quality within a reasonable budget.
Additionally, these earbuds support Bluetooth 5.2 technology as well as HSP, HFP, A2DP, AVRCP, and AAC, which greatly improves the transmission speed and connection between the earbuds and devices. These earbuds cancel up to 40 dB of unwanted noise with ANC mode, providing a clear and crispy sound to your ears. Through which, you can listen and watch your favorite music, podcasts, audiobooks, and movies without any interruption. If you compare both EarFun Air S and EarFun Free Pro 2 with each other, they have some similar features, including waterproof and Bluetooth.
Comfort & Fit
Earfun Free PRO 2 earbuds are light and compact in weight and size, due to which most users do not feel that whether they kept wearing them or not. Their ear tips are super soft, fit perfectly in your ears, and provide plenty of comforts. This version includes features slightly longer silicon ear tips than the previous version of the earbuds. These earbuds are designed in an oval shape for a better shape of the ear canals and their outer shell is made more smooth and uniform. The ear tips protect your ears from the annoying pressure of these earbuds. So you can use the ear tips provided in the box of these earbuds to find your ear size match so that they can fit in your ears more tightly.
2 things that can annoy users:
These earbuds produce a popping sound during use, which appears during quiet parts of songs that users find very unpleasant. The only solution is to keep adjusting the earbud's settings until the popping sound stops.
Initially, when you buy these earbuds, they have heavy bass tuning, In which the volume of their bass decreases significantly due to low battery. So you will have to adjust them again to get the best sound performance.
Moreover, their build quality is not too different from the premium model earbuds as their charging case is also made with strong plastic, and also strong magnets are used in their lids to hold them. Erfon Free Pro 2's lid does not close automatically. Whereas in their earlier versions case, they had an automatic close feature. The Proof of the durability of these earbuds is the IPX5-rated feature that protects them from rainwater and sweat. Additionally, a small broom is included in their box to keep these earbuds clean, which helps to clean the dirt generated inside their pores.
Battery Life & Controles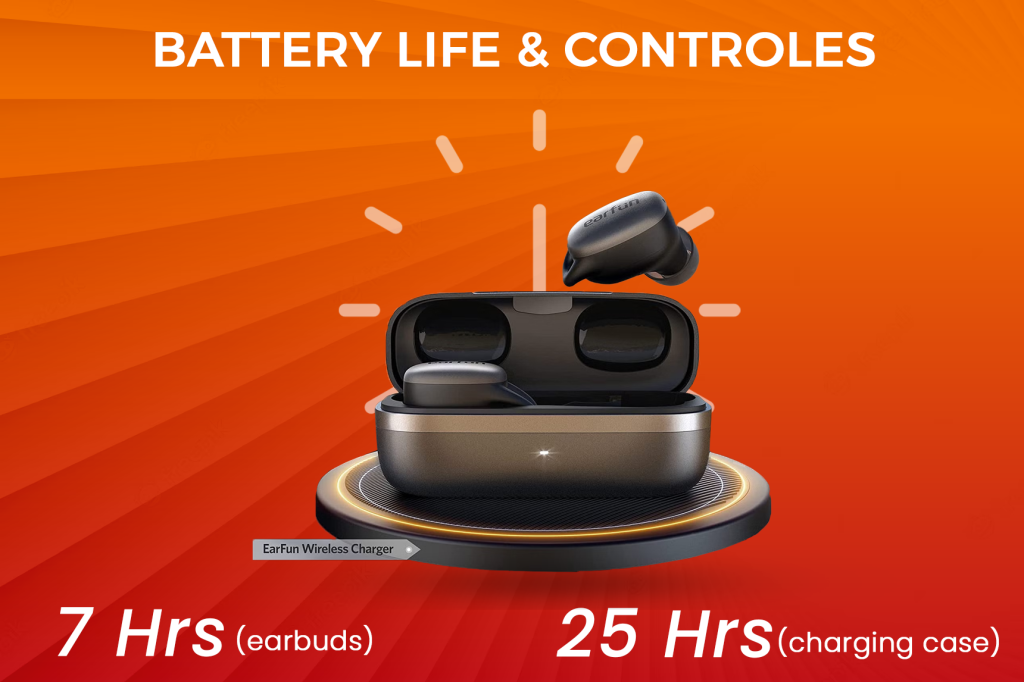 The battery life of these earbuds has been added significantly lower than others, which provides up to 4.5 hours of playtime on a single charge with ANC mode. Whereas if the charging case battery is also included, you can get a total of 30 hours of playtime from them. The special feature of these earbuds is their fast-charging feature, In which you can get up to 2 hours of playtime from them on a charge of 10 minutes. You can also use a Qi wireless charger with USB-C charging cable to charge these earbuds In which you can charge them by placing them into a Qi wireless charger.
They also include a latency mode; to activate it, you need to press its touch control about three times which creates compatibility between audio and video with 80ms. Moreover, there are no physical buttons or app added to control these earbuds. Therefore, all their functions are controlled by touch, allowing you to turn their volume up or down, change tracks, listen to or end calls, and more.
What's in the Box?
Here are the tools mentioned, which are included inside the box.
EarFun Free Pro 2 earbuds
Charging case
4 different pairs of silicone ear tips
3 pairs of ear fins.
Swab with instructions on how to clean the earbuds.
User guidance
USB-C charging cable
Pricing & Availability
You don't need to spend $200 or $300 to buy these earbuds; You can buy them for as low as $79.99. These earbuds have amazing features, so $80 is not a lot of money, which you can buy them from myearfun.com and Amazon websites.
Final Verdict
if you are a fan of the best bass, So you can enjoy this rock, metal, and hip-hop gaming earphone with great features. These earbuds incorporate an IPX5-rated waterproof feature, which keeps them protected from sweat and light rain showers. Moreover, the ANC function of these earphones is more impressive, which cancels out the noise around you and delivers crystal clear sound to your ears. Undoubtedly, the developers have significantly improved this version compared to the previous version.
These earbuds can also be very favorable for those who prefer small and comfortable fit earbuds as they are made of plastic material in a compact and ergonomic design that makes you feel not tired even after wearing them for a long time. Moreover, these earbuds are much more affordable at $79.99. Here we have given you all the details of Erfun Free Pro 2 Earbuds so that you can easily buy them by reading this information.
Pros & Cons of EarFun Free Pro 2
Here are some of the notable Pros and Cons of the product.
Pros
A USB-C cable, as well as a wireless charger, can be used to charge these earbuds
These earbuds provide a fast charging facility in which you can get 2 hours of playtime from 10 minutes of charge
They are awarded with IPX5 features to protect them from water and dust
They have a touch control facility that allows you to control various functions
It incorporates 6 mm dynamic drivers, which makes its sound quality excellent
These earbuds are very light in weight, so you can easily put them in your pocket and carry them from one place to another
A 40dB ANC mode has been added to cancel out unwanted noise
To improve the call experience, 6 mics have been added that eliminate external noise and deliver clear sound to your ears during calls.
These include a Low-latency mode feature for sync between audio and video.
These earbuds are available in 4 different sizes of ear tips to comfortably fit your ears.
These charging case include a single LED indicator that indicates whether the case is charging or not
Cons
Battery life is less than the previous version
FAQs About EarFun Free Pro 2
Here are the answers to the most frequently asked questions about Erfun Free PRO 2.