These are truly wireless earbuds that provide users with the facility of immersive sound. It also has the feature to move between noise cancellation and ambient sound, through which you can be aware of the movements around you. No doubt that the Samsung Galaxy Buds Pro is a massive revolution compared to its Live edition.
They offer their users the convenience of multipoint pairing, water resistance, and excellent call-quality microphones.

Earbuds Review
Additionally, 3 different sizes of ear tips are included to make them fit comfortably in your ears. From which you can choose and use according to the size of your ears. Galaxy Buds Pro can be used for up to 8 hours without ANC, but if its ANC function is activated. You can get up to 5 hours of playback time from them.

Overview of Galaxy Buds Pro
In brief, the Samsung Galaxy Buds Pro earbuds can be summarized as follows:
Galaxy Buds Pro has included built-in fast charging capability, in which you can get up to 1 hour of playtime by charging them for 5 minutes
They are structured to fit comfortably and securely in your ears in 3 different sizes of ear tips (S, M, L)
These earbuds have added noise-canceling features that provide crystal clear sound to your ears by canceling out unwanted ambient sounds
These earbuds include a "Find My Buds" feature, which is more helpful in locating the buds if they are lost.
These earbuds support users with IPX7 features to fight against rainwater and sweat
These earbuds feature Bluetooth 5.0 for connecting to various audio devices.
They also support the ambient noise feature, which helps users to be aware of their surroundings
3 microphone facilities are included to get the best call experience. Which provides your ears with a clear sound experience at home or in public
To make these buds attractive, they are designed in 3 different colors, from which you can choose any color of your choice.
With the ANC option turned on, you get 5 hours from their earbuds and 13 hours from the charging case, but if we turn off the ANC function, then you can get a total of 28 hours from it, out of which 8 hours from earbuds and 20 hours from charging case
Features of Galaxy Buds Pro
Discover the Samsung Galaxy Buds Pro earbud's standout features and technical specifications that make it worth considering.
| | |
| --- | --- |
| Brand | SAMSUNG |
| WaterProof | IPX7 |
| Battery life | 5 hours with ANC on, 8 hours with ANC off |
| Weight | 0.22 ounces |
| Connectivity | Bluetooth 5.0 |
| Processor | Broadcom BCM43015 |
| Form Factor | In Ear |
| Colors | Phantom Violet, Phantom Black, Phantom Silver |
Two-minute review
Similar to the Apple AirPods Pro, the Samsung Galaxy Buds Pro also includes an excellent noise-canceling feature that supports creating the spatial Audio. With its help, it is possible to listen to the sounds of shows and movies in a more friendly and attractive way. You can obtain up to 5 hours of battery life playback before charging them. These UHQ support audio streaming with Bluetooth 24-bit / 96-bit SmartThings Finder and are compatible with multi-mic recording. And apart from that, their included app also supports multipoint pairing and hands-free voice calling capabilities.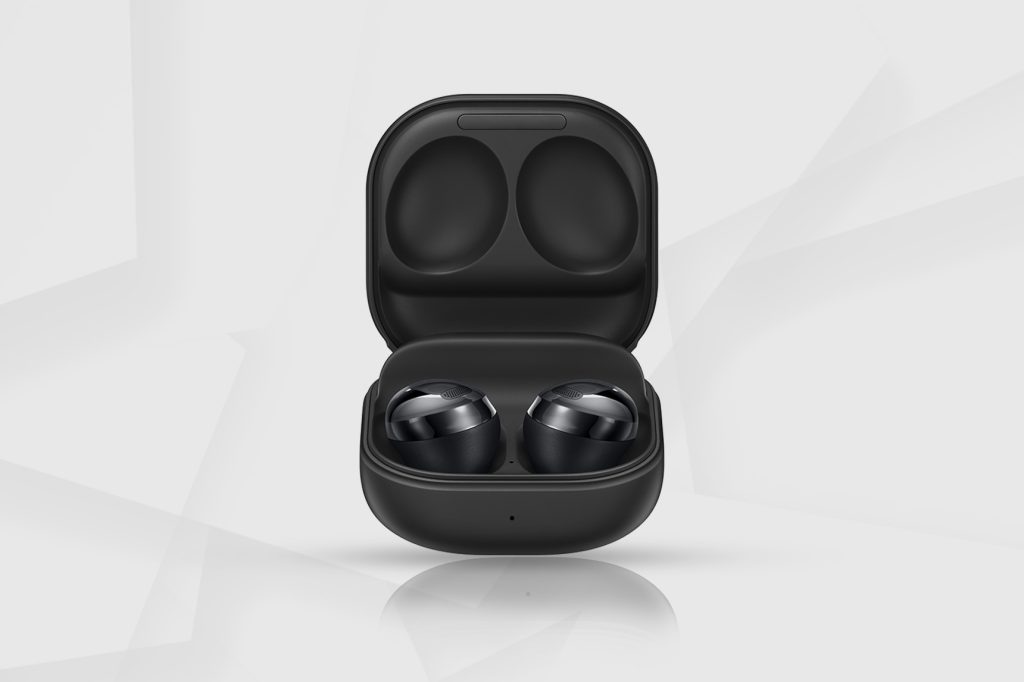 The design of these Galaxy Buds is even more stunning. Also, to optimize their audio capabilities and noise cancellation, they have added mics and sensors. Additionally, along with the features, there are also many drawbacks; for example, when the ANC function is ON, So this reduces their battery life.
Design and comfort
The Galaxy company has designed the buds in a rounded shape to enhance their performance, which makes it easier for users to wear these buds in their ears, Including everything from their large touch panel to the smooth sound port entry. These Samsung buds are more pleasant in beauty than their previous generation, while the magnetic shine of the glossy fingerprint on them gives a premium look. In addition, three color modes have been added to them; of which to choose, the Phantom Violet is the most attractive option. The Galaxy Buds Pro is designed with a sturdy plastic that itself supports IPX7 specifications to make it water resistant. They are very solidly built, so you don't have to worry about them breaking.
You will appreciate their small design changes when you use their small best buds. They include the small outer mic and air passage in the inner part of the buds. Their charging case is more attractive and compact than Buds. Which are designed in a more peaked shape than the galaxy buds' live earbuds. It feels so strong when you hold them in your hand, and when you move away from them, their beautiful buds delight your eyes. A peak LED has been added to their front, which facilitates checking the device's charging status. The Galaxy Buds Pro fits snugly in your ears with a snug, secure fit. Once it's closed in your ear, then you can enjoy the excellent audio feature.
Touch controls and digital assistant
Galaxy Buds Pro has added a smart control feature; in addition to tapping and grasping, they also help detect the ear's signals. Overall, their controls are much more responsive, and Samsung has made many improvements in the new releases. Here you can also high or low the volume by tapping the edges of the earbuds. If you want to adjust the volume immediately, some modes have to be abandoned, including sound mode, etc. The most important secret about these earbuds is that it gives you much more comfort than the rest. Additionally, if you are concerned about maintaining its sensitivity, you are provided with a friendly app. That allows users to lock the touch panel, so they won't accidentally click on the wrong feature.
In this, if you remove a bud from your ear, then it immediately stops the music. While it activates the ambient sound mode on the other ear of the bud. Another advanced feature of their control is voice detection, which reduces the volume of music that you're listening to and adds an audio pause through the volume. Due to which, it helps you to communicate with each other without removing the buds. It takes 2-3 seconds to detect the user's voice and activate the mode. It has hands-free Bixby features available through which digital assistance. In contrast, it can also be used with Google Assistant and Siri. The 3 mics in the Galaxy Buds Pro showcase its incredible versatility.
Active noise cancellation
The features of the Active-noise-cancellation in this edition are much better than as compared to their first edition, and in this, Samsung also claims that it reduces background noise by up to 99%. Galaxy Buds include two levels of ANC, One of which is high and the other one is low level. The selection of both levels depends on the noise around you; like when you're in the office, it's less noisy. So there, you can select a low level of ANC and eliminate the noise, but as you go to a crowded place, the noise around you increases, so you need to enable a high level. While some users say that Samsung promised to provide 99% noise cancellation capability to the users,
that was not completed because customers have complaints; wind noise is also heard while wearing them and after enabling the ANC option. If we talk about their transparency mode, it is working perfectly. It provides four different options for users, which are (Low, Medium, High, and Extra High). With this, you can easily be aware of the conversations that are happening around you. If you don't want to hear a voice coming from a mile away, you should never add an extra transparency option because this will increase the effects to a disappointing extent which can also hurt your ears.
Audio quality
The two-way speakers inside the galaxy buds Pro dramatically increase its bass and midrange levels, and if you increase the music volume on your mobile device as well. So then, you can enjoy music to the fullest because users can enjoy a balanced bass experience during music listening. Furthermore, the results of the frequency range are much more sensitive. They have also added the Apple company 360 audio feature, which provides users with a "multi-dimensional sound" feature. You can get the best audio quality while watching video content. Where you can get amazing audio quality from their videos and podcasts.
Battery Life & Charging Case
Samsung has confirmed that you can get up to 5 hours of playback time from them on a single charge. While their charging case provides its users with an additional charging of up to 13 hours. If they have the option to check their battery capacity on the ANC option, then it gives you up to 4 hours and 48 minutes of playback from Galaxy Buds Pro. However, the battery capacity of these devices is not very impressive as it does not meet the battery life requirements of the users. Compared to the Samsung Galaxy Buds Plus, they offer double the battery capacity.
Of course, if the Galaxy Buds Pro is implemented without ANC and Bixby functionality. So the best battery life can be obtained from them. Generally, if both of these functions are disabled, then the battery life is extended up to 8 hours. Furthermore, Samsung's charging case is designed in a much better way, and with this, you can get up to eighteen hours of playback time. The Galaxy Buds Pro has also added the ability to support wireless charging. In which you can charge them without a charging cable by turning their charging case onto the Qi-Wireless Charging Pad.
Pros & Cons of Galaxy Buds Pro
Here are major strengths and weaknesses of the Samsung Galaxy Buds Pro Earbuds that you should know:
Pros
These buds come with a stylish design and a waterproof feature
The sound quality is much better
Their noise-canceling capabilities are superb
These are affordable as compared to others
Cons
Some of their features are exclusive to Samsung devices
Their Battery Life capacity isn't much better
Final verdict
Dear Users, these Buds are most impressive for people who use Android and Samsung devices. Their audio and wireless are their most unique capabilities, In which users can listen to their favorite music while fully enjoying the exciting sound. However, its 360 audio features also set it apart from the rest. However, if we talk about their battery life, it is not much better. But if you keep their overall affordability in mind, Samsung Galaxy Buds PRO is a great bud for all Android users.
FAQs About Galaxy Buds Pro
Unsure about the Samsung Galaxy Buds Pro earbuds? Our Q&A will help you make an informed decision.