The Elite 3 is one of the cheapest earbuds on the list of truly wireless earbuds, and it's a very easy-to-use product. It is mainly made of plastic and has a general shape to fit comfortably in your ears. Jabra Elite 3 Earbuds fit very securely in the ears; the specialty about these earbuds is that they come with three extra silicone tips, so finding the right fit for your ears won't be too difficult. These are IP55-rated earbuds that guarantee you protection from dust as well as water splashes, so you don't have to worry at all about rain and dust. While these earbuds are very productive. These are lightweight plastic earbuds, so you can easily put them in your pocket and take them wherever you want.
Once you fit these earbuds in your ears, then they are very easy to use. A multi-function panel is attached to each of the Jabra Elite 3 earbuds.

Earbuds Review
You can move by pressing the left or right button to increase or decrease the song's volume. Double-tapping the left earbud can invoke the phone's virtual assistant. They also give you a "hear-through" mode, which filters out the noise to keep you aware of your surroundings and gives you clear sound. They also include a microphone facility through which you can call your family and friends.
Overview Of Jabra Elite 3 Earbuds
Here's a brief review of what the Jabra Elite 3 earbuds offer.
They also include the latest Bluetooth version, 5.2; with the help of this, you can quickly connect different types of Bluetooth devices (laptops, smartphones, tablets)

The earbuds also feature a "hear-through" mode that filters out external noise for increased audio awareness of the environment

They also offer one-touch controls that allow you to control multiple functions

These earbuds are more compact and slim fit for you to wear

It also includes a high LED light on top, which will let you know how many percent of the battery is left

They are made with very light and strong material so you can put them in your pocket and take them wherever you want
Each of these earbuds is fitted with a 6mm driver capable of producing sound frequency from 20Hz to 20kHz

These earbuds have a mono mode that lets you use both earbuds independently

Their battery timing is much better, with 7 hours for the earbuds and 28 hours for the charging case, and you can recharge the earbuds three times continuously with the charging case

These earbuds perform well for listening to music and podcasts, and at the same time, they also include the best classic mic to give you the best calling experience

These earbuds also allow you to create and save your favorite EQ Presets

These earbuds are available in different colors, including (Black, Blue, and Gold)

Added Jabra Elite 3 earbuds IP55 rating to withstand water jets
Features Of Jabra Elite 3 Earbuds
Let's try to know some important features and technical specifications of Jabra Elite 3 earbuds.
| | |
| --- | --- |
| Brand Name | Jabra Elite 3 |
| Bluetooth Version | V5.2 |
| Waterproof | IP55 Rating |
| Battery Lifetime | 7 Hours Earbuds / 28 Hours Charging Cas |
| Colors | Black, Blue, and Gold |
| Drivers | 6mm |
| Frequency | 20Hz to 20kHz |
| Microphone | Yes |
| Charging | USB-C Cable |
| Eartips | Three sizes of EarGels (L/M/S) |
| Weight | 4.6g per Earbud / 33.4g Charging Case |
| Voice control | Alexa, Siri, and Google Assistant |
Battery Life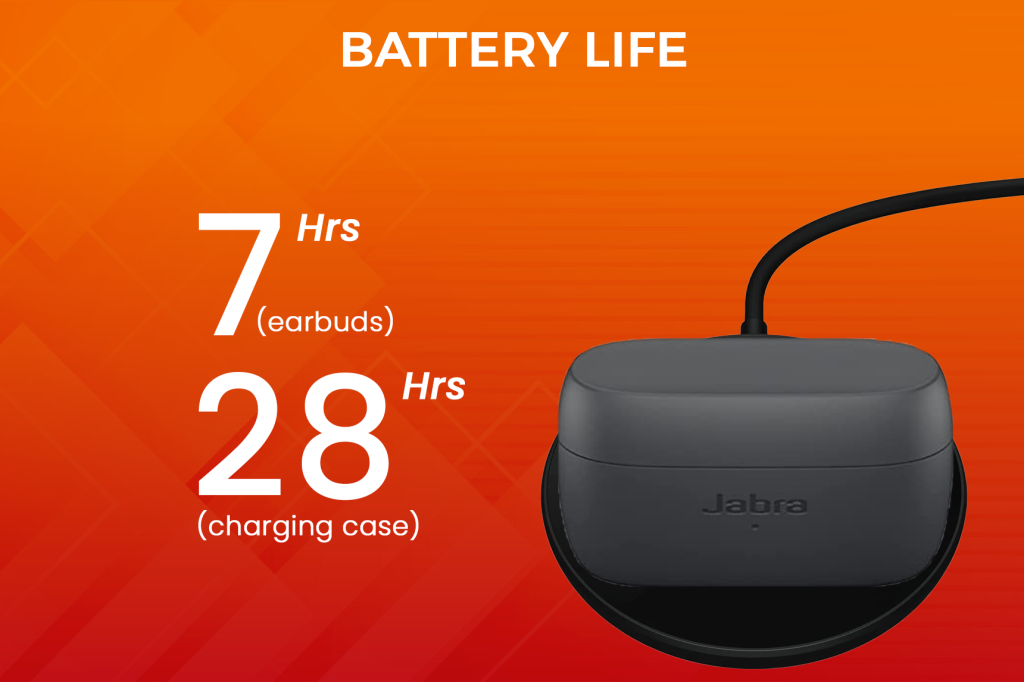 According to the Jabra Elite 3, you can use them continuously for up to 7 hours on a single charge, and when we tested that claim, it was pretty close. We saw that the Jabra Elite 3's left earbud lasted 6 hours 48 minutes, while the right earbud lasted 6 hours 55 minutes. That much battery life is excellent for a true pair of wireless earbuds. Also, you can charge earbuds up to 3 times with Jabra's charging case on a single charge.
This makes the total battery life 28 hours; given all these points, there is no reason to question the Jabra Elite 3. These earbuds' charging case does not support wireless charging; you have to use a USB cable to charge them. Their charging speed is very fast, and you can get up to 1 hour of playback in 10 minutes.
Bluetooth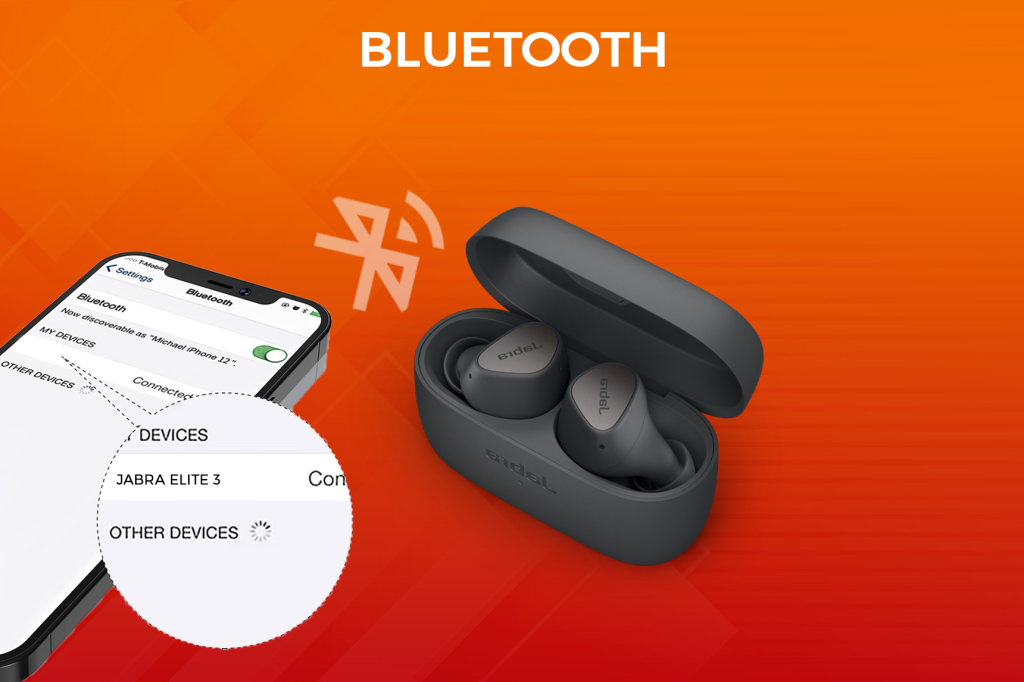 In Jabra Elite 3, the AptX codec has been added to support existing SBC codecs, giving Android users much better access to Aptex, while iPhone users continue with SBC codecs. Because the Jabra Elite 3 does not support ACC while it offers the 5.2 Bluetooth version. A stable connection is even more important after purchasing the Elite 3 Buds; you must install an app to pair the earbuds with the device automatically. After installing the app, as soon as you open the earbuds charging case, a connection card pops up on the screen of your Android device. By selecting Yes, your device is automatically paired with the earbuds. They don't allow you multi-device pairing, so you can only connect one device at a time.
Sound Quality
These earbuds are fitted with 6mm drivers, which enable them to produce quality sound, and these maintain good bass response with excellent sound and rich audio playback. A lot of attention has been paid to balancing the sound frequencies of these earbuds with more emphasis on the mids and highs. Amazingly, they include four microphones that make the calling experience amazing. They can be the best choice regarding sound quality and long listening time.
It allows you to listen to long lectures and podcasts, but with all of them, you cannot customize their EQ. Additionally, they don't include any ambient noise cancellation to reduce the noise you get. Noise isolation is so good in the Jabra Elite 3 that a "HearThrough" mode has been added specifically, which helps you monitor your surroundings by activating the onboard microphone.
Design
The Elite 3 earbuds are very comfortable to wear, with their ergonomic shape and lightweight, helping to provide a confident fit. Due to this, these buds will stay in place even during housework and gym. These earbuds have touch controls allowing you to control several functions, including the volume, changing the music track, and answering or ending calls. They feature IP55-rated water-resistant materials, allowing you to use them in rain and sweat.
Conclusion
So, in conclusion, I would like to tell you that the Jabra Elite 3 earbuds can be the best choice at an affordable price, which gives you good battery life and a solid call experience. In addition, they provide you with a 5.2 Bluetooth facility and three different size ear tips (L/M/S) to fit your ears. These are also given you the facility to control the sound. They also have waterproof capability, and You can get them in three different colors (Black, Blue, and Gold) at Marketa. You can charge them in the charging case using a USB-C cable. Considering all these features, it is up to you whether to buy them.
Pros & Cons Of Jabra Elite 3 Earbuds
Learn about the strengths and weaknesses of the Jabra Elite 3 earbuds.
Pros
The Jabra Elite 3 offers you a touch control button that lets you control multiple functions
Eartips are provided in three different sizes to fit your ears easily

These earbuds are very light in weight, which means you can easily carry them anywhere

The battery life of these earbuds is amazing, 7 hours for the earbuds and 28 hours for the charging case
These earbuds have Bluetooth version 5.2, which has a much better range

These earbuds also include a LED light that keeps you informed about the battery power of the earbuds

They added IP55 technology for water and dust resistance

You can get them in three different colors (Black, Blue, and Gold)

They also allow you to control the earbuds by voice
Cons
The Jabra Elite 3 earbuds do not include an ANC function

They also don't have an auto-pause function

Their touch control is a bit weak
FAQs About Jabra Elite 3 Earbuds
Are you interested to know about Jabra Elite 3 earbuds? Our Q&A provides you with all the information you need.