The LG Tone Free FP9 True earbuds give you a better fit and a firmer grip than their previous models.
These Earbuds incorporate the characteristic of UVnano, which continues to kill the bacteria while charging the charging case. They also support the ability of ANC ( Active-Noise-cancellation ) mode, which enhances sound quality by eliminating unwanted noise.

Earbuds Review
These earbuds fit snugly and firmly in your ears, providing you with three different sizes of ear tips. From this, you can choose the best one according to your ear size and also get good battery life. In which you can use them for up to 6 hours with ANC and up to 10 hours without ANC.
Overview of LG TONE Free FP9 True
The LG Tone Free FP9 are a premium pair of true wireless earbuds designed for music lovers who demand high-quality sound and sleek design. Here we will discuss the major features of the product in a short overview:
If the tips of the earbuds do not fit comfortably in your ears, you may face trouble during listening to music. For this purpose, these earbuds provide you with different sizes of ear tips, from which you can easily choose ear tips that fit your ears.
In its box, you will find earbuds, a charging case, earphones of different sizes, a USB-C charging cable, a 3.5 mm audio jack cable, and a Warranty Card.
These earbuds also include an ANC mode feature to eliminate the unwanted sounds that deliver clear sound to your ears.
These earbuds provide Bluetooth 5.2 technology to make stronger and faster connections with different devices
For users' convenience, these earbuds have also incorporated with excellent battery Life, which you can use throughout the day (24 hours). You can get up to 10 hours of playtime from the earbuds, while the charging case can give you an additional 14 hours of playtime.
These earbuds also provide fast charging capability, In which you can get up to 1 hour of playtime after charging them for 5 minutes.
These earbuds include an IPX4-rated feature that protects them from water and sweat splashes.
These earbuds also include an app to make significant changes to the sound quality settings and other features of the Earbuds.
Features of LG TONE Free FP9 True
The LG Tone Free FP9 are exceptional wireless earbuds offering impressive features for an immersive listening experience.
| | |
| --- | --- |
| Brand | LG |
| Manufacturer | LG Electronics |
| Battery Life – Total | 15 (with ANC) / 24 (without ANC) |
| Bluetooth Version | 5.2 |
| ANC | Yes |
| Ear-Gels | L, S |
| Warranty | 1 Year |
| Water/Splashproof | IPX4 |
| Fast Charging | Yes ( 5 minutes charging provide 1 Hrs ) |
| Mic type | Digital MEMS ( 3 pairs ) |
Pros & Cons of LG TONE Free FP9 True
In this section, we'll explore the pros and cons of the earbuds to help you decide if they fit you.
Pros
These earbuds support ANC mode that filters unwanted sounds and delivers clear sound to your ears.
They are provided with extra flexible ear tips to fit comfortably in your ears
These have the ability to EQ preset of sound that provides an immersive listening experience
They also have the ability of UVnano that helps them to kill their germs
These earbuds feature a special whispering mode that makes their calling experience great
Their charging case incorporates a special Bluetooth transmitter feature that makes their connection stronger and faster
They also support fast charging capability in which you can get up to 1 hour of playtime from them in 5 minutes of charging.
These earbuds also support an IPX4-rated feature that protects them from water and sweat
3 pairs of Digital MEMS have been added to get the best call experience from these earbuds
Cons
These earbuds do not support wireless charging
Their battery life is not that great
UVnano
These earbuds are packed with features that you won't find in any other earbuds. Among them, the most distinctive feature of the LG is UVnano, which is already included in its earlier versions. which removes bacteria from these earbuds and makes them clean and clear; the UVnano feature activates when you place its charging case on the charge.
Bluetooth Transmitter
Another unique feature of the FP9 is its Bluetooth transmitter capability, which most other devices don't have. These features make users wonder that how wireless earbuds convert into a wired version. Based on the listening experience, the audio quality produced by the plug and wireless is inferior to that of a direct Bluetooth connection because they have a more compressed sound that produces some distortions on the higher frequencies.
Whispering Mode
These earbuds have built-in whispering mode, which supports microphone capability like other earbuds. Which not only can you use in noisy but also allows you to speak in clean environments. FP9 whispering mode will activate when it detects that you're not wearing the earbuds. This option is automatically activated as soon as you remove your earbuds from your ears.
Voice Alert
Another great feature that you should check out is its voice alert option, In this, you can easily read the incoming notification using the smartphone app. There's no doubt that text-to-speech conversion sounds not more realistic. But still, it's a much more useful process that allows you to wear them in your ears for hours without getting tired. The comfortable design and soft ear tips of these earbuds make your ears more comfortable.
Look & Feel
The charging case protects the earbuds within the Round shape, whose charging case is light in weight, easy to carry, and made with excellent material. If you try to add something to its material, it will make it heavier; that's why pre-designed earbuds are great. The earbuds are not too bulky and heavy and fit easily in your ears. If their ear tips don't fit in your ears properly, then you can replace them with better ear tips according to your ear size.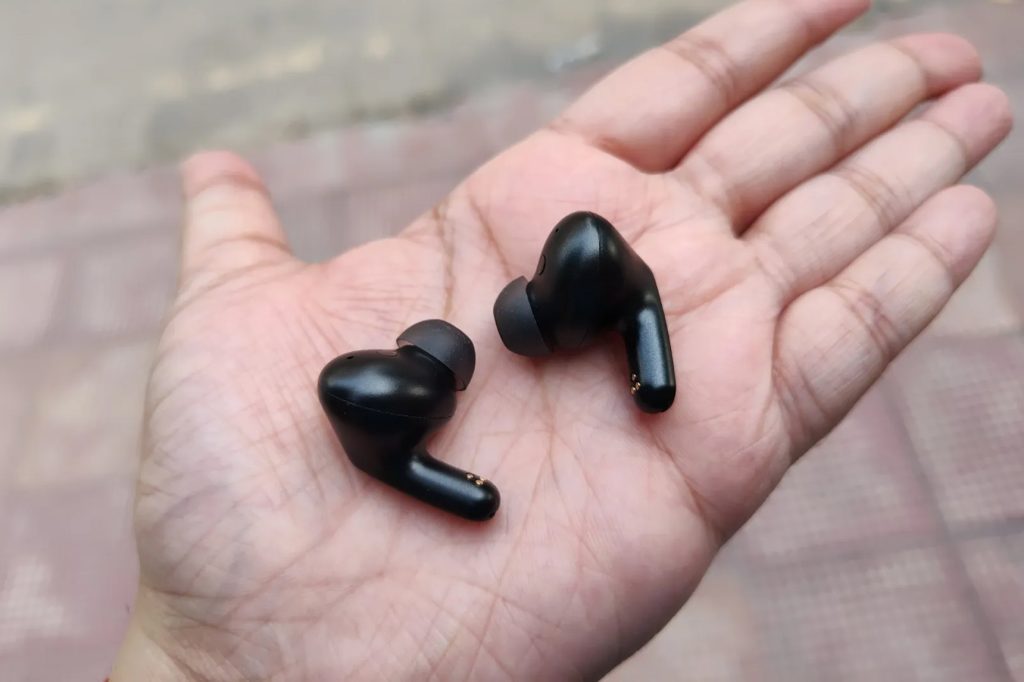 Their stem length is shorter than the previous version of earbuds, which is a great improvement. Due to the light weight of these earbuds, you can easily carry them in your pocket while traveling from one place to another. They also include magnet capability, which helps the earbuds to stay attached to the case.
Battery Life
When these earbuds' batteries are completely drained, they take less than 1 hour to recharge fully. The company says you can continuously use these earbuds for up to 10 hours without turning off the ANC option. While by turning on the ANC option, you can use them continuously for up to 6 hours. When combined with the charging case, these earbuds give you up to 24 hours of playtime.
These earbuds also provide their users with fast charging capability, In which you can get up to 1 hour of playtime by charging them for 5 minutes. Moreover, their battery life is quite decent, but compared it to the battery life of premium earbuds then, these aren't much great.
Additionally, they include LED indicators, which keep you informed about the battery life as well as the connection status. There are 3 lights inside the LED indicators on the charging case. In which the green color tells you that it has enough battery left. While the orange color tells you that half of the earbud's life is over. While the red light indicates to the user that the battery is about to die.
Audio Quality
LG Tone Free FP9 has added ANC (Active-Noise-Cancellation) mode, which includes Low and High modes. One is aggressive while the other is light, while both help you get the best sound experience. It incorporates two ambient sound options, including Listening Mode and Conversation Mode. In listening mode, the sound quality is much more natural, while in conversation mode, its sound becomes more amplified due to the increase in the frequency range.
In which due to the reduction of the volume, the bass is also reduced. These earbuds also include 5 different types of audio profiles, while the other earbuds do not include many features like this. These have only an EQ option to improve the sound quality. These have include Natural, Immersive, 3D Soundstage, Treble Boost, and Bass Boost options.
LG TONE Free FP9 True Earbuds Price
The LG Tone Free FP9 is available at LG online store for $129.99, while Amazon offers it for $119. These earbuds are available in three different colors Haze Gold, Black, and White, from which you can choose any color of your choice. These earbuds provide you with a great sound experience. Moreover, the price of these earbuds is higher than that of Sony WF-1000XM4, Apple AirPods Pro, and Jabra Elite 7 Pro. They also have IPX4-rated features that protect them from sweat and rainwater.
Final Verdict
LG TONE Free FP9 are premium wireless earbuds that you can buy from various platforms, which compete fiercely with other earbuds in the market, which includes Sony WF-1000XM4 and Jabra Elite 7 Pro earbuds. Overall the LG TONE Free FP9 features a simple design, good battery life, and good sound performance. These earbuds have some unique features compared to others, including UVnano and a variety of audio profiles that make them stand out from the rest. Moreover, these earbuds are quite affordable in terms of price. Moreover, they also have the ability to charge at high speed. All these details related to LG TONE Free FP9 earbuds help you to buy them.
FAQs About LG TONE Free FP9 True
Want to know more about the LG TONE Free FP9? Our Q&A is the perfect resource to answer all of your inquiries.