In today's modern era, wireless earbuds are in full swing, In which you can see many new entries that are added in the market. In this review, we will talk to our customers about the Master & Dynamic MW07 luxury headphones.
In the past, M&D full-size earphones have won the hearts of consumers due to their excellent performance, in which their packaging style has always been classy. Of course, these earphones are quite expensive, but they also guarantee to their users the best sound and premium brand feel.

Earbuds Review
MW07 earbuds are completely designed as a wireless set, which does not include any cable. It is designed to give complete freedom to the user without any hassle.
Overview of Master & Dynamic MW07
Discover the remarkable features that define the Master & Dynamic MW07 Earbuds and elevate your bedtime experience:
These earbuds also feature excellent noise-isolation capabilities, which makes it difficult for the user's ears to hear unnecessary surrounding sounds.
These earbuds are constructed with lightweight materials, due to which users can wear them in the ears for long periods of time without getting tired. Additionally, their case is made of polished stainless steel material, in which the user can charge the earbuds with 3 additional charges for 14 hours of listening.
M&D MW07 has added robust Bluetooth capability to pair wireless earbuds with the device instantly, which allows the connection between the headset and earphones to be maintained over a range of up to 20 meters.
Users can get a premium sound experience by using these earbuds, whether you are listening to podcasts, movies, favorite music, or books. So, in all these situations, these earbuds will provide you with exceptional and crisp audio.
Features of Master & Dynamic MW07
Here are some key features about the Master and Dynamic MW07 earbuds.
| | |
| --- | --- |
| Brand | Master & Dynamic |
| Model Name | MW07 |
| Connectivity Technology | Bluetooth |
| Noise-cancellation | Yes |
| Battery Life | Earbuds ( 3.5hours ), Charging Case ( 14 hours ) |
| Waterproof | IPX4 |
Packaging and Accessories
The packaging of MW07 is absolutely stunning, which gives the impression of a premium material look in the eyes of users. It consists of an outer sleeve and an open box on the outside; as soon as you open it, the first thing you see is a carry case, whose all the accessories are stored in separate compartments. The items that are included in the box are listed below:
MW07 Earbuds pair
Various-sized silicone ear tips
Carrying Case & Chrome Charging
Two sets of rubber wings
Cloth carry case
USB-C Charger
USB-A adapter
All these accessories have been included in the box very well; these stunning packaging makes these earbuds user-friendly. USB-C charging is a great addition to the box; you'll be more than happy to use it. Plus, the inclusion of a USB-A adapter is also a great point.
Master & Dynamic MW07: Design
The company decided to present its content in a better way, focusing entirely on a good listening experience and design. For which they are made from acetate and stainless steel, which gives them a premium polished look in the eyes of users, making them look like a luxury item. The company has claimed that it offers IPX4-rated water resistance to its customers, which protects them from splashing and sweating. Even though they are water resistant, but putting them in a pool of water without any reason is almost stupidity.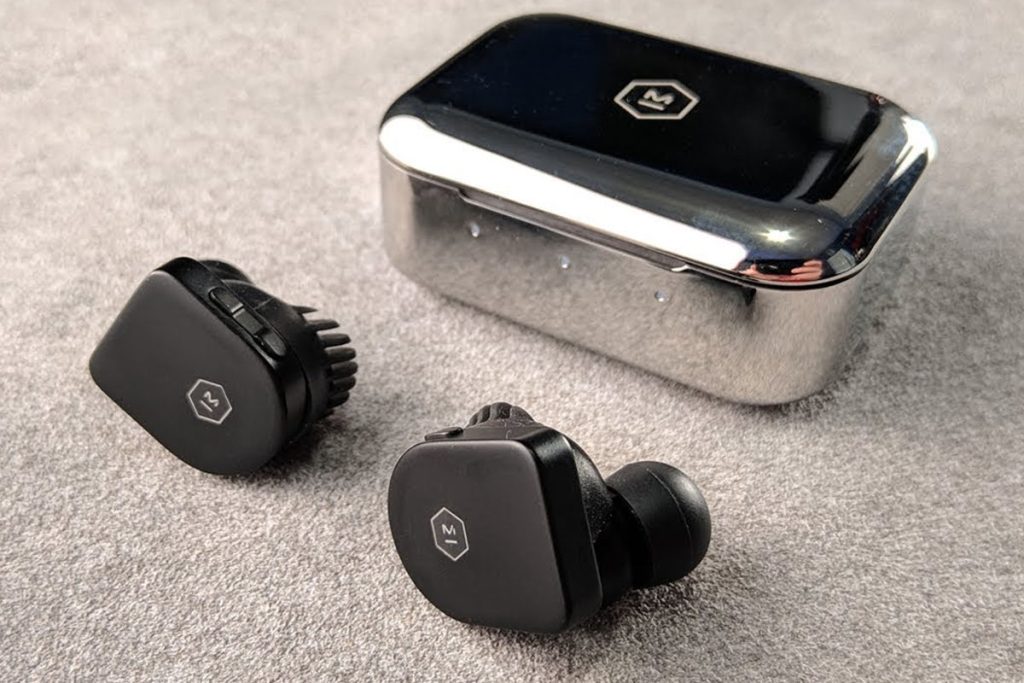 Moreover, their stainless-steel charging case adds to their beauty, which is made strong and secure with an excellent frame. However, unfortunately, they are not able to tolerate stains. In which if you will catch their case with dirty hands in the meantime, It clearly shows fingerprints, so to avoid this, an additional carry pouch has been added. Further, they are designed in four different colors, keeping in mind the preferences of the users, which include Grey Terrazzo, Matter Black, Steel Blue, and Tortoiseshell.
Comfort and fit
Here's some users say about the MW07: that these earbuds can feel heavy or bulky in the ears. But this is not true, because we have come to this conclusion after experience that despite the solid shape, these earbuds feel quite light on the ears while wearing. Each of these earbuds weighs 0.32 ounces, which is relatively heavier than AirPods and Jabra Elite 65t.
Their charging case weighs 2.7 ounces, while the AirPods and Elite 65t weigh 1.3 ounces and 2.7 ounces, respectively. Further, M&D also includes the capability of proprietary "Fit wings." In which silicon ridges are present, which become stable by being involved in the user's ear shape and creating the tightest seal possible. Additionally, a manual tutorial is included on how to properly fit them in the ears.
Audio performance
The MW07 sound quality is one of the best sound quality earbuds out there, In which the user experiences crisp, clear, and detailed sound. The reason for their excellent sound quality is due to the 10mm beryllium drivers found in them. Which is more than then the drivers found in Soundscore and Apple models, and they amazingly increase the efficiency of the listening process. The best feature of these earbuds is their completely neutral attitude, which allows you to open up and start listening to any genre of music you like.
So during all these situations, you will get a deep and clean experience from them. The Sound profile support in M&D is relatively low, but despite that, their mids and height are perfectly balanced for solid and brilliant sound. Whereas if M&D MW07 earbuds are compared with Airpods and Elite 65t, So out of these conditions, MW07 has provided users with a more fantastic voice facility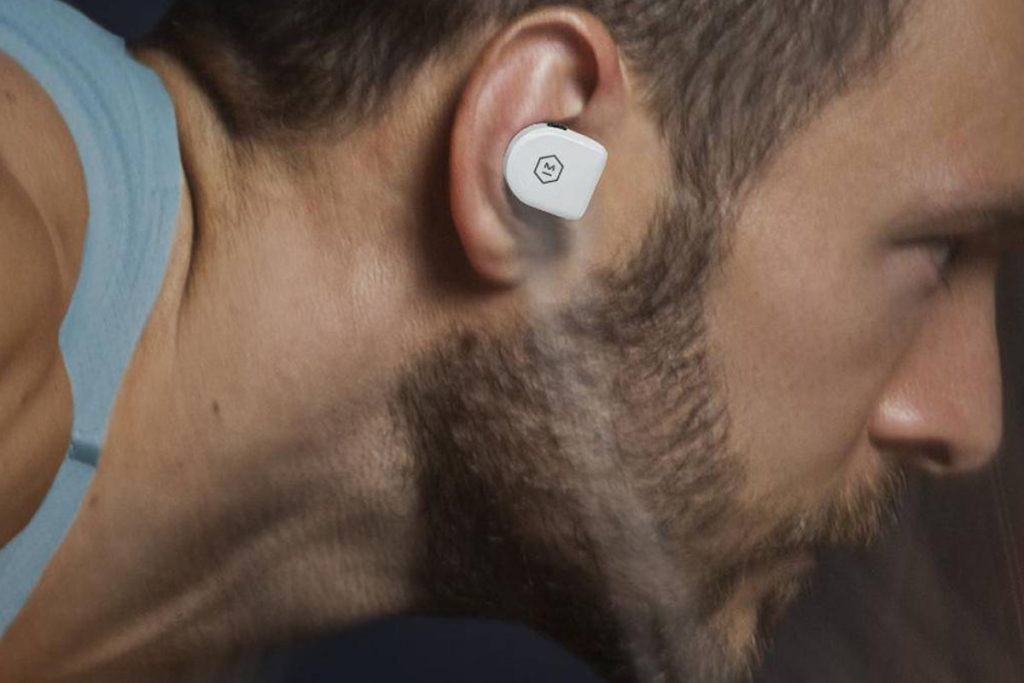 Noise isolation
Users mostly face the problem of how to make it possible to listen to music in a noisy environment, which MW07 has solved in a very brilliant way. Because they have included a very good noise reduction capability, especially when the ear tips are firmly fitted into the user's ears, experiences have shown that you can clearly hear the sound even while traveling on a train with these earphones, in which it completely block the train sound. These earphones still work very well when you want to use them in traffic noise. So, these earbuds' active noise canceling capabilities are far more impressive; users need not worry about it anymore.
Digital assistant support
Another great feature of the M&D MW07 is its built-in Google Assistant and Siri features, Which you can activate by pressing the multi-function of your mobile assistant. Users can efficiently complete various tasks through their Android devices with the help of Google AI, including checking the weather conditions, making suggestions to make your business successful, and more. Meanwhile, you'll see how finely these earbuds' microphones pick up your voice.
Battery life of Master & Dynamic MW07
On a full charge of the M&D MW07 earbuds, users can get up to 3.5 hours of playtime from them; more users can get up to an additional 14 hours from their charging case. On the contrary, AirPods and Elite 65t provide their users with a life of up to 5 hours. A special feature of these earbuds is their USB-C charging capability, which are increases charging times substantially.
In which the user can get up to 50% battery life on 15-minute charging while 100% on 45-minute charging. Additionally, these earbuds automatically go into sleep mode when inactive to save battery life, allowing you to use them for as long as you like.
Controls and setup
In general, true wireless earbuds don't support buttons, for which most of these earbuds act as either tap gestures or feature a button that controls every ability from pressing these earbuds to wearing. Moreover, M&D has added a button at the top to manage playback in more detail. While the left side button is used to increase and decrease the volume level. They also have a multi-function button capability on the right side, with the help of which you can easily handle all the other tasks of these earbuds.
After pressing one time of button, you can play/pause music and end/answer calls. The music track can be changed by pressing the button twice. The included buttons are small in size. However, these work with a better way for instantly activating commands. In addition, they also have added special optical sensor capabilities. As soon as these earbuds are removed from the ears, the music stops automatically. The process is completely natural and works brilliantly for the user's convenience.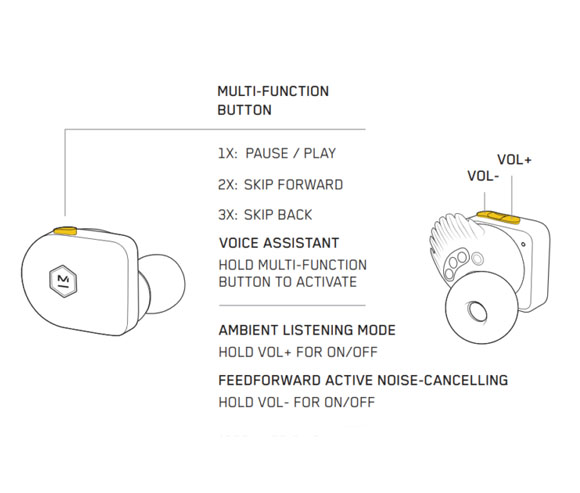 M&D is very comfortable and easy to use, even when you remove the earbuds from the case. So their pairing mode is automatically activated; it is indicated by the light on the right side of the Earbuds. Now, you have to enable Bluetooth to pair these earbuds with the device, choose MW07 from the given list of available devices, and enjoy it.
Call quality
The MW07 audio quality and call quality are slightly different; both the capabilities of M&Q Earbuds are outstanding. They allow you to communicate on a call in a quiet environment, in that you can hear each other's voices clearly without turning up the volume. Users may face difficulty in using them in a crowd, as we have come to this conclusion after reading some user reviews. Users will hear noise during the walk, forcing them to speak loudly.
Connectivity
Most users are aware that when you take AirPods out of the case, they automatically connect to the device. Whereas in MW07, you don't get any fancy animation facility, In which you don't have to press any buttons or wait for flashing lights for the pairing process. As soon as you take them out of the case, the M&D MW07 immediately goes into pairing mode. For which you can use the Bluetooth settings to connect them to the device. Once users have paired these earbuds with the device while the second time, they are automatically connected with the last device shortly after exiting the case. We would like to tell you about the secret of these earphones, It is a very simple process to combine them with one device.
On the other hand, pairing them with two devices can be a difficult process, while for connecting to another device, press the multi-function button. While pairing them with another device, the multi-function button will need to be held down until they switch to pairing mode. Once the earbuds are paired with the device, So between them the connection power becomes very strong. Another outstanding feature of these earbuds is their reliable streaming, In which there is no audio-visual break function of any kind. So in this, you don't have to face any lag during video streaming, which is usually seen in Bluetooth products.
You can also read: Raycon The Everyday Bluetooth Wireless Earbuds Review
What is the correct way to charge Master & Dynamic MW07?
The first step in charging the earphones is to place them in the charging case, After which you have to close their lids. After putting them in the case, their battery indicators will start to appear after 3 seconds; the LED indicators included in the charging case will appear as amber before the battery power is displayed.
After fully charging these earbuds, you can get up to 3.5 hours of playtime from them. The company says that when you're not using the earphones, in that case, keeping them in a case may be the appropriate course of action. Even if they are not charged, they will start charging after placing them in the charging case.
Pros & Cons
Evaluate the pros and cons of the earbuds with our comprehensive breakdown.
Pros
Balanced & well-defined sound
Comfortable fit
Intelligent controls
Impressive noise isolation
Cons
Final Verdict
The Master & Dynamic MW07 Wireless Earbuds include all the features that a perfect pair of earbuds should have, Including great sound, IPX rating, excellent battery life, great controllers, sturdy fit, sturdy and sleek charging case, and beautifully designed earbuds. In addition to this, these earbuds have also added many Modern technical ingredients, which include such as 10mm beryllium drivers, proprietary fit wings, and optical sensors. Users can avail of all these features at a very affordable price.
FAQs About Master & Dynamic MW07