Nothing Ear 2 provides users with an unconventional style of true wireless earbuds for both Android and iOS devices, including options for LHDC and AAC codecs.
They have added many luxuries, including ANC, a brilliant app, IP54 and IP55 rating waterproof, and many more features. Moreover, they are also very light in weight, which makes it easy to carry them from one place to another.

Earbuds Review
These earbuds are designed in three different sizes of silicon ear tips to provide the best fit in the user's ears. But if your ear size is big, So maybe the larger size ear tips may also not fit your ears perfectly. Among them, the ear tips of the smallest size are 12 mm, medium 13 mm, and long 14 mm. It may also happen that the ear tips that fit your right ear are larger in size, while the ear tips that fit in your left ear are smaller in size.
Overview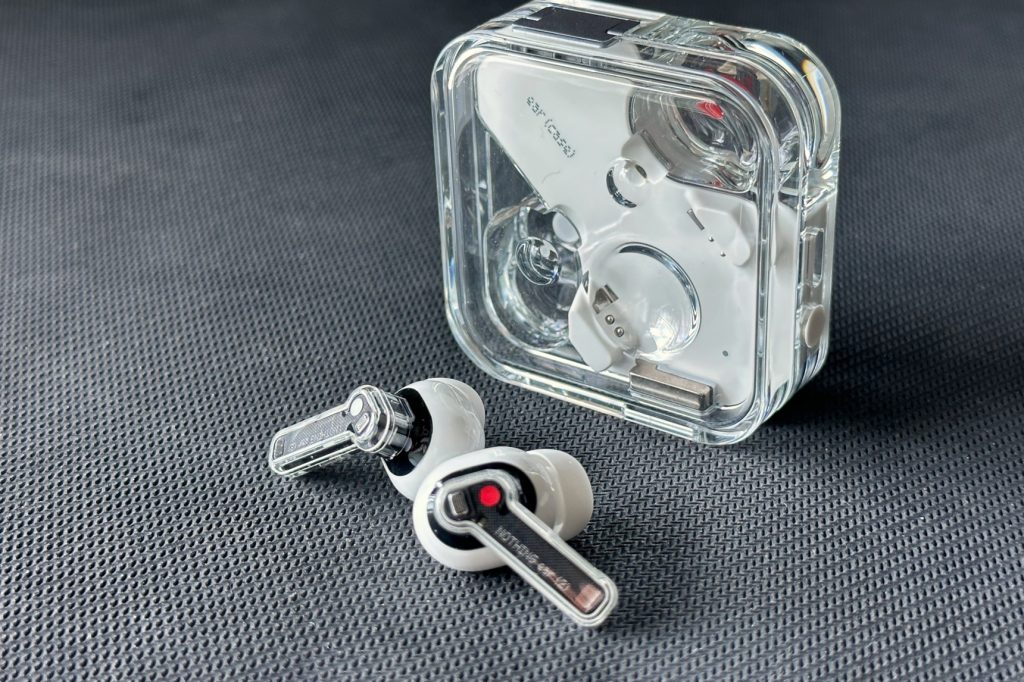 Here below, we are presenting some key features of Nothing Ear 2:
These devices also provide users with fast charging capabilities, In which you can get up to 8 hours of music playback on 10 minutes of charging. It also supports the 2.5W Qi-wireless charger, In which you can charge the charging case wirelessly.
To protect these earbuds from water, sweat, and dust, they are built with an IP54-rated waterproof feature, while the charging case is an IP55 feature.
In these buds, users are also provided the facility to create their professional sound profile. In which you can select your favorite music and play it loud anytime.
Nothing Ear 2 has included features of excellent battery life. In which you can get a total of 36 hours of battery life from their case and buds.
Ear 2 has been added a 40dB feature to cancel unwanted ambient noise, which delivers ear-clear sound to your ears.
Nothing Ear 2 contains excellent control features, In which you can pause or play music with a single press, answer, or hang up the call. While a double press can be used to change tracks, as well as mute calls. You can also switch between ANC and transparency mode.
Features of Nothing Ear 2
Nothing ear 2 earbuds Provide a fantastic listening experience and boast their technical specifications for audiophiles with exceptional features:
| | |
| --- | --- |
| Brand | Nothing |
| Model | Ear 2 |
| Waterproof | IP54 buds / IP55 case |
| Connectivity | Bluetooth 5.3 |
| Battery Life | 36H Playtime |
| Noise Cancellation | 40 db |
| Microphone | Three mics per bud |
| Wireless Charger | 2.5W Qi-wireless charger |
| Fast Charging | Get 8 hours of playback time with a 10-minute charge |
Design
Each earbud of the Nothing Ear 2 weighs 4.5g, which feels very light and makes it easy to wear in the ears. Additionally, they provide a secure fit with your ears, so you don't have to worry about them falling off. Furthermore, their charging case lid is made with magnets that automatically close the case if the earbuds come out or enter into the case. These buds are designed in only one color option, which includes white, transparent.
The Ear 2 provides a more snug fit compared to the Nothing Ear Stick, which makes noise cancellation a reality. Moreover, another significant change in them is their excellent control facility, In which their nal force supports the touch system, just like AirPods PRO (2nd generation and OnePlus Buds PRO 2). Of course, they work much better than simple touch controls.
Further, you can handle all the controls with the help of a companion app provided by these devices. Which includes turning the volume up or down, invoking the voice assistant, switching between ANC and transparency modes, etc.
Apart from this, these buds also include the features of an excellent sensor. in which, when you take these buds out of your ears, the music will automatically pause. After that, when you fit them in your ears again, so it will start playing the music again.
In addition, the buds are rated of IP54 for water, sweat, and dust resistance, while the charging case is rated IP55. Both have good features to deal with dirt and water. Additionally, each earphone includes three microphones for noise cancellation and excellent sound quality. Also, their case includes a USB-C charging port for charging. They also include three pairs of silicone ear tips for ear comfort.
Active noise cancellation
The Ear 2 active noise cancellation capabilities are far more impressive, and we won't say that their ability remains better than all the buds we've seen in the past. But, of course, these are enough to stop unwanted sounds. If we tell you our personal experience, they work better than other buds like AirPods Pro and Galaxy Buds Pro 2. Moreover, these buds work like personalized sounds. In which these buds provide a series of beeps in different frequencies. So that it can be found out how well are the microphones inside the earbuds able to block noise.
If you've used the Nothing Ear 1, you're well aware that you can get the best experience with high-resolution tracks from Apple Music. At first, Nothing Ear 2 won't give you the sound you want. But you can boost the bass through the default equalizer preset, Which is a huge change in sound quality. They also feature up to 40 dB of active noise cancellation. Also, these buds are recommended to get the best voice call experience by isolating and impressively amplifying the main voice.
Nothing Ear 2 app and specifications
Nothing Ear 2 compared to the Ear 1 charging case is smaller in size, with a battery capacity of 458mm. They also support a Qi-wireless charger and an 11.6mm dynamic driver facility. While its Bluetooth connectivity has improved significantly over its predecessors. Which is why they include Bluetooth 5.3 technology, as well as support for SBC, AAC, and LDAC Codec.
Moreover, they also support Google FastPear, and Microsoft Swift Pear and easily connect with two devices simultaneously. You can benefit a lot by providing their earbuds app for Android and iOS devices. Which allows you to check the battery level, toggle ANC mode, and adjust and control equalizer settings and gestures.
Nothing Ear 2 Performance
Ecosystems are very important in today's digital sound product, Which is followed by many other brands, Samsung and Apple products are on the top list so that they can work well together. In this, if you get the Nothing Ear 2 working together with the Nothing Phone 1So it can give you a great experience. if you use both devices together, it can give you a complete feature.
Battery Life
Ear 2 features excellent battery life with a total life of 36 hours. if we compare these buds' battery life with others according to their price range. So the JBL Live Pro 2 provides 8 hours of life while the case provides up to 30 hours. While the cheaper Panasonic RZ-S500Wkay earbuds offer 6.5 hours of battery life and the case 13 hours. Moreover, they also include the ability to charge at high speeds, In which you can get up to 8 hours of life by charging them for 10 minutes.
Competition
Nothing Ear 2 envisions a mid-range pair of earbuds in the market with a price tag of $149. They are priced on par with the recent Jabra Elite 5, While it's very different compared to the OnePlus Buds Pro 2. Ear 2 provides users with the best sound quality and noise cancellation compared to the Jabra Elite. While Ear 2 provides a better background noise-canceling experience while listening to calls. But when it comes to battery life, you can get a much better life from the Elite 5, getting up to 7 hours from their buds.
Pros & Cons
Let's explore this Superb audio companion's key pros and cons.
Pros
Rapid, detailed, and organized sound
Hi-res audio certification
Cons
Noise-canceling isn't all that special
Plenty of competition
Treble sounds can get quite lively
Final Verdict
Nothing Ear 2 offers users with excellent audio quality and attractive aesthetic features at a mid-range price. While you can get up to 4 hours of battery life from their buds with ANC, that's less. But if you're looking for earbuds in the $150 range, these Buds of Nothing are best for you because they include all the features you want.
Ear 2 is much better compared to Ear1, which are given you the best call experience. Moreover, if you are looking for stylish and stunning earbuds, you don't want to take them far away on a journey. So, in that case, Nothing Ear 2 can be a solid choice for you.
FAQs About Nothing Ear 2
Let's discuss some common FAQs about Nothing Ear 2.