Raycon Everyday Earbuds are well-suited, comfortable, and lightweight for the user's ears, and you can wear them during exercise without any fear. These include a transparency mode as well as EQ preset.
These are bullet shaped and designed with lightweight materials. Each of them has a multi-function that allows them to control the playback. The previous generation of the Raycon included an IPX4-rated waterproof feature, While the Everyday Earbuds have an IPX6-rated sweat and dirt-resistant rating. Now you don't have to worry about getting stuck in rainy and dusty conditions.

Earbuds Review
Furthermore, their charging case supports wireless charger capability in addition to the USB-C cable, In which you can easily charge them via the Qi-wireless pad. Also, their case lid includes a magnet, which automatically closes the lid when the earbuds are taken in or out.
Overview of Raycon Everyday Earbuds
Discover the overview of a new Raycon Everyday buds.
You can use the Raycon Everyday for up to 8 hours after a full charge. While with the 400mAh battery of their compact charging case, you can charge your earbuds three times through the case, which makes up to total of 24 hours of life.
Everyone provides the facility of rich and deep bass to immerse users in a truly sincere sound. They also include the ANC feature to make the listening calls experience even more amazing. Apart from that, they also have the capability of awareness mode; by enabling it, you can be aware of the movement around you.
They are designed in an ergonomic style that guarantees comfort with a secure fit in your ears. These are so light that you often forget whether you are wearing them or not. Additionally, these earbuds are divided into four different sizes of ear tips to fit into the different ears.
Raycon Everyday incorporates the latest Bluetooth technology, 5.2, which forms a solid connection that can be used up to 33 feet away with all Bluetooth functions of the device without any interruption.
These Buds support waterproofing with an IPX6-rating feature, which everyone can use during their lives. Where you can use them while working out at the gym, running, doing yoga, and even in the rain without any disturbance.
Features of Raycon Everyday Earbuds
Now, let's explore the remarkable features that make them stand out.
| | |
| --- | --- |
| Brand | Raycon |
| Model name | The Everyday Earbuds |
| Noise Cancelling | Yes |
| Connectivity technology | Bluetooth 5.2 |
| Waterproof | IPX6 |
| Battery Life | Eight horse for earbuds/ 24 horses for case |
| Wireless charger | Yes |
Sound Quality
Raycon Everyday Earbuds provide superior sound quality compared to previous models, whose bass is deep and highs are transparent. Which gives you the feeling of live sound with a dedicated soundstage in which you are watching a movie or listening to music. In addition to this, they have also included three audio profiles that are arranged with three different EQ presets, with the help of which you don't need to use any third-party app to change the feeling of the music. The combination of these three profiles delivers heavier bass to your ears than you might expect.
Raycon Everyday supports features of a special type of Awareness mode, which allows you to enjoy and be aware of the surrounding activities. It also has the ANC ability, by which you can listen to audio-quality music without disturbance. While if we talk about its call quality, it is upgraded with the best voice technology. Whose built-in microphones focus on your voice and deliver clear sound with noise cancellation. Due to which, the person can clearly hear the voice that is on the other side of the call.
Battery Life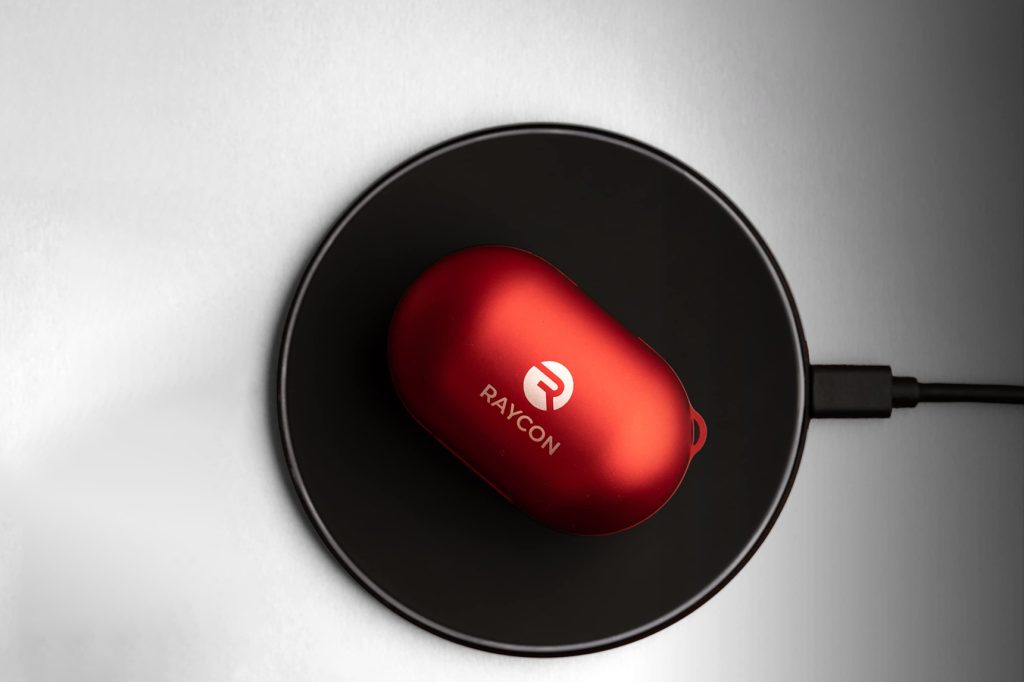 Raycon Everyday announced that they provide up to 8 hours of battery life on a single charge. While in reality, it is less than that. In actuality, you can get up to 6 hours & 43 minutes of playtime with their 75dB output, which is 1 hour longer than the life provided by their previous model. But they are not competing with the most magnificent earbud in the market. While their charging case provides the user with up to an additional 24 hours of charge. In addition, you can use a USB-C charging cable as well as a Qi charging pad to charge the case.
Touch Control
Some more new options have been added to these Raycon earbuds, including 3 EQ profiles, pure and balanced sound, and bass boost. You can cycle their options by pressing the left button for two seconds.
In addition, their volume control is bidirectional, allowing you to tap the button on the right side to up the volume and tap on the left to low the volume while tapping three times to play the music from scratch.
In addition, they have an awareness mode as well as a microphone capability. After using it, you can filter the sound easily. In contrast, a complete list of controls is described below.
| | | |
| --- | --- | --- |
| Action | Right earbud | Left earbud |
| Press once | Volume up | Volume down |
| Press twice | Play/pause | Play/pause |
| Press three times | Next song | Previous song |
| Press four times | Activate voice assistant | Activate voice assistant |
| Hold for 2 seconds (Left and Right together) | Power on | Power on |
| Hold for 1.5 Seconds | Awareness mode | Change EQ preset |
Bluetooth codecs
Raycon Everyday has included all those connection options that you can expect about a medium-level pair of buds. They support AAC codec and SBC codec capability, which are, of course, reliable for IOS devices but not suitable for Android as AAC codec works against Android devices. Moreover, they have Bluetooth 5.2 technology, which makes it unique that the new generation of these buds will support the LC3 feature, which is definitely a good thing.
Alternatives to the Raycon Everyday Earbuds
You can get the Edifier TWS1 wireless earbuds for less than the Raycon. TWS1 is the best choice for users who are looking for great-sounding buds. Also, you will get a slippery feeling when you hold their buds in your hands. While the USB-C charging port has been included for charging their case. Also, they support TWS1 Aptx capability, and their high-quality audio codec allows Android users to use them fluently.
Moreover, if you are willing to spend more than the price of the Edifier, So then the Samsung Galaxy Buds Plus can be a wonderful product. Their prices change from day to day, but at the time of writing this article, you can get them for $241. These buds come with the support of SBC, AAC, and IPX2. Apart from that, They are also showing excellent battery life performance. In which you can use them continuously for up to 12 hours before putting them back in the case.
What is the difference between the Everyday headphone and the other one?
Everyday are one of the most affordable earbuds from the Raycon company. Which provides up to 6 hours of battery life for daily activities, including listening to audio or calls, while the case provides up to 32 hours of battery life. In contrast, you get 6 hours with the Performer earbuds and 36 hours with their case. In contrast, Everyday Buds are provided with six microphones and a snugger facility for users to listen to crystal-clear sound.
Pros & Cons
Discover the strengths and weaknesses of the Raycon Everyday Earbuds through a necessary inspection of their pros and cons.
Pros
IPX6-rating waterproof
Comfortable
Suitable battery life
Acceptable price range
Wireless charger
Cons
Final Verdict
Raycon Everyday earbuds are comfortable to wear and stand out from the rest in design. While they include EQ preset and awareness mode features to get the best call experience.
Additionally, it also supports Bluetooth 5.2 technology to maintain a strong connection with the device. So with all these features, the Everyday Earbuds are a perfect pair that provides all these features in one box at an affordable price.
FAQs About Raycon Everyday Earbuds
Find answers to common Questions about the Raycon Everyday Earbuds here.