Sennheiser is a well-known name in the hands-free industry, and these are useful devices for those who like to connect hands-free with their mobile phones. Moreover, Sennheiser CX Plus True Wireless Earbuds are designed to give you the best audio experience with the latest technology. The main ergonomic design and touch controls have been added to enhance the users' comfort. These earbuds allow you to block out or stay in tune with the surrounding noise with crystal clear sound and deep bass, which you can adjust according to your wish.
These earbuds have 7mm dynamic drivers, ANC (Active-Noise-cancelling), Easy-to-use, and All-Day Comfort Design. These earbuds incorporate Bluetooth 5.2 technology to make connectivity easier and faster that, allowing the earbuds and mobile phone for a stable and reliable cable connection.

Earbuds Review
For a better call experience, a beamforming microphone has been added that focuses the voice during calls, making it clear that you hear the voice. Apart from Bluetooth audio transmission, they also support AAC, APTX, and SBC. Moreover, the Smart Control app is also included to access various functions of the earbuds. You can also access the EQ and bass boost to adjust the sound according to your needs. The Sennheiser CX Plus True Wireless Earbuds offer an outstanding battery life performance. You can enjoy up to 8 hours of playback through these earbuds with your favorite music, plus another 16 hours with the charging case. In short, you can use these earbuds continuously for 24 hours.
Overview of Sennheiser CX Plus True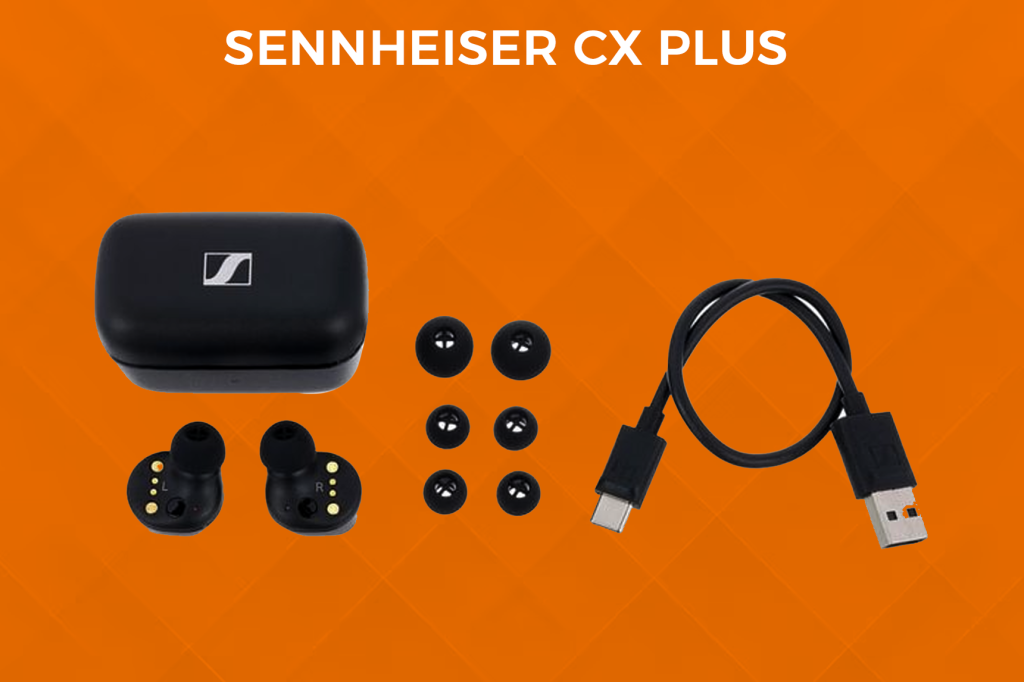 The important points of Sennheiser CX Plus Earbuds are mentioned below
These earbuds support the ability of Active noise cancelation, which creates a clear listening experience for music and calls without any distractions
Their transparency mode helps to focus on external sounds, allowing you to stay in touch with the outside world
They are made in 4 different sizes of ear tips with ergonomic designs to fit comfortably in your ears. So they fit perfectly in your ears, and you can wear them during any activity.
Besides touch controls, audio and phone calls can be easily controlled with Siri and Google Assistant.
These earbuds come with an 8-hour battery and 16 hours of battery life from the charging case. Through this, You can enjoy listening to your favorite songs, podcasts, and movies.
They include a smart control app to control various functions, Including controlling volume, changing tracks, etc.
An IPX4-rated quality has been added to make them water and sweat resistant, which protects the earbuds from water damage.
These earbuds are made with premium lightweight materials, so you can keep them in your ears all day without getting tired.
These earbuds support Bluetooth 5.2 technology that keeps the connection between the earbuds and the devices strong, stable, and smooth.
These include a latency mode that doesn't keep the sound behind; thus, audio and video are fully compatible.
Sennheiser CX Plus True Wireless Earbuds include features of 7mm dynamic drivers that deliver quality audio, textured bass, and crisp and clear sound.
These earbuds provide a 2-year warranty to use them for a long time without fear.
Features of Sennheiser CX Plus True
Here the specific and technical specifications of the product are described
| | |
| --- | --- |
| Brand | Sennheiser CX Plus |
| Bluetooth | v5.2 |
| Manufacturer's warranty | 2 Years |
| Battery life | Up to 8 hours and 24 hours of playback time |
| Virtual Assistant | Google Assistant, Apple Siri |
| Weight | 47g (earbuds and case); 6g each bud |
| Codec support | ACC, aptX, SBC, aptX adaptive |
| Waterproof rating | IPX4 |
| Speaker type | TrueResponse Transducer 7mm dynamic driver |
| Frequency response | 100Hz-10kHz |
Design
The Sennheiser CX Plus true wireless earbuds are housed in a well-designed charging case, and the exterior of their charging case is made with plastic material. While most of them are covered with a matte finish that helps reject fingerprints. They have rounded corners and suitable edges that make them easy to slip into your pocket. A notification LED is also embedded in them to detect charging which keeps you informed about the charging status of the earbuds. While magnets inside the charging case keep the earbuds in place to secure them.
Moreover, the design of the earbuds slots is so ergonomic that you can easily wear them in your ears for long periods of time. An IPX4-rated feature has been added to protect these earbuds from water splashes and sweat. They include the advanced technology of Bluetooth 5.2 and aptX adaptive, AAC, and SBC to make the connection between earbuds and devices stronger and faster.
Sound Quality
The sound of these earbuds is heavy and open, which delivers clear and sharp audio with high frequencies for the user's ears. Moreover, users can use the Smart Controls app to customize the audio, In which you can boost the bass to listen to your favorite music or podcasts. Here we tell you that CX Plus transparent mode is not very good. This function allows you to hear your surroundings but doesn't feel natural. The sound of these earbuds is crisp and engaging, making bass-focused tracks an absolute joy to listen to.
Moreover, the performance of these earbuds ANC (Active-Noise-cancellation) is much better than the rest. Surrounding noise is greatly reduced, including office noise, air conditioning noise, and traffic noise, and with this feature, you can listen to your favorite music indoors and outdoors. The connection between the Sennheiser CX Plus earbuds and the device is so deep that they allow you to have a reliable performance at a distance of up to 4m. Moreover, the calling quality of these earbuds is also much better.
Battery Life
A 55mAh battery is included in each earbud, while the charging case houses a 400 mAh battery. The Sennheiser earbuds offer 8 hours of battery life, while the charging case provides up to 24 hours. When these earbuds are used for ANC functions, they provide 6 to 7 hours of battery life. While these earbuds take 1.5 hours to charge, the wireless charger is not included.
Pros & Cons of Sennheiser CX Plus True
The strengths and weaknesses of Sennheiser CX Plus True are described below.
Pros
These earbuds include IPX4-rated features to protect against water, sweat, and dust
Sennheiser CX Plus True earbuds have 7mm drivers that enhance sound quality and bass
These earbuds are very small and lightweight, so you can take them wherever you want
They also feature an ANC (active-noise-cancellation) mode to eliminate unwanted noise
These earbuds also come with a 2-year warranty, so you can use them as long as you want
They include the latest Bluetooth 5.2 technology, making the connection stronger, faster, and smoother
These earbuds have incorporated the built-in microphone facility to fulfill the call purpose
Touch control, as well as the voice assistant, can be used to control various functions
These earbuds support transparency mode to keep track of the surrounding environment, which filters out unnecessary sounds and delivers clear sound to you
They include four different-size ear tips to fit your ears comfortably
Cons
Average levels of resolution
Absence of Multi-point Connection
Final Verdict
Finally, we tell you that Sennheiser CX Plus True Wireless earbuds are one of the best in the amazing earbuds category. They include active noise cancellation features to block out the noise around you and Transparency Mode to stay alert. These earbuds support the best ergonomic design and best control feature for user ease and more comfortable use. Additionally, you can enjoy 24 hours of playtime to enjoy your favorite music with crystal clear sound and deep bass, and you can also enjoy the best sound experience of these earbuds all day. The IPX4-rated feature in these earbuds keeps you worry-free while out for a walk.
Moreover, these earbuds also allow you to set your EQ profile without any fuss. These earbuds are designed in 4 different sizes of ear tips to provide a secure and reliable fit in your ears during exercise. In short, the CX Plus is better in many areas, including audio quality, Aptex codec support, microphone quality, app customizations, and battery life. However, these earbuds also have some weak points, including the big size of the earbuds and the lack of audio technology. We are sure that these points will prove to be very useful for you in choosing the earbuds.
Frequently Asked Questions
Do you want to know more about Sennheiser CX Plus? See our FAQs for complete information.