The Sony WF-C500 is considered one of the most comfortable and affordable wireless headsets. Of course, these earbuds don't include noise-canceling capabilities, but they still create a perfect in-ear fit and the headphones automatically passively reduce outside noise.
Sony headphones rank high in the market for offering the best sound quality, and the Sony WF-C500 is among them. These earbuds are a cheaper model than the WF1000XM4 but their performance is also excellent.

Earbuds Review
Moreover, they support IPX4 features and fit well in every user's ears. Here we are going to tell you about all the features, advantages, and disadvantages of the SONY WF-C500.
Overview Of Sony WF-C500
Here's a brief rundown of what the SONY WF-500 earbuds have to offer.
To enhance their listening experience, they include features like Digital Sound Enhancement Engine (DSEE) and High-Frequency Sound that restores sounds.

With the SONY WF-500, you can instantly connect with a voice assistant at the push of a button

.

With their help, you can find directions, play music, talk during a call, and much more.

In these earbuds, you can perform various functions with a single earbud

.

While the other earbud can be placed in the charging case for charging.

These earbuds include a Bluetooth 5.0 technology chip that simultaneously transmits sound to your ears and the antenna design in it makes their listening experience wonderful and unique. Also, their low audio latency makes these earbuds sound great.

By fully charging these earbuds, you can get up to 10 hours of playtime from them

.

Plus, their additional charging case adds a total of 20 hours of battery life because they are very small in size. So you can easily use them in your ears for long periods of time without getting tired.
These include a small LED indicator light on the corner of each earbud to indicate the charging status. Also, the charging case includes an orange LED indicator light that indicates the remaining battery life of the charging case.

These earphones are stylishly designed and are also eco-friendly and tough because they are made from very strong materials, which aim to reduce the environmental impact on these earbuds.

These earbuds include features both like Fast Pair Android as well as swift pair windows 10. Additionally, these earbuds feature 5.8mm drivers for excellent sound quality.

You'll be immersed in the surround sound of these earbuds' 360-reality audio, and you'll feel like you're sitting next to the recording artist at a live concert.

These earbuds also include feature quick charging capability, where you can charge them for 10 minutes and get 1 hour of playtime.

These earbuds include IPX4 water resistance ratings which keep them safe from water splashes and sweat.
Features Of Sony WF-C500
Discover the standout features and technical specifications of SONY WF-500 earbuds that make it worth considering.
| | |
| --- | --- |
| Brand | Sony |
| Model | Sony WF-C500 Truly Wireless |
| Connectivity Technology | USB |
| Colour | Black |
| Water resistance | IPX4-Rated |
| Battery Life | 10 Hrs ( Earbuds ) & 20 Hrs ( Total ) |
| Weight | 4.80 Ounces |
| Button Controle | Yes |
| Voice Assistant | Yes |
| Bluetooth | V 5.0 |
Compatibility and Comfort
SONY WF-C500 Earbuds are designed in a compact and lightweight. So they can be ideal for those who need a portable headset. Additionally, these Bluetooth headsets come in three different sizes (L/M/S) of ear tips, which you can choose from according to your ear size so that they fit and sit comfortably in your ears. They don't put too much pressure on your ear canals because their texture is much softer. They are made with a much more secure material that allows you to keep them close to your ears even during exercise. The Sony WF-C500 each earbud weighs 5.4 grams and is so light that you often forget whether you're wearing them or not.
Due to their compact size, you can use them for long periods of time without tiring. Their charging case is also quite small and simple and they also have magnets that keep them secure. Both the buds support dedicated touch controls and their right bud allows you to control playback, change songs, and answer calls while their left bud provides volume control. If we talk about the comparison of Sony WF-C500 and Sony WF-1000XM4 features. then both are different from each other, Among them, the Sony WF-C500 has a Bluetooth capability of 5.0 while the Sony WF-1000XM4 has a 5.2 feature and many more.
Connectivity
The WF-C500s are considered to be one of Sony's cheapest wireless earbuds, hence, these earbuds don't include the advanced features of Sony's best headphones but even so, there are very few things to complain about in the WF-C500. These earbuds work with Bluetooth 5.0 technology, in which they support AAC and SBC wireless codecs. They provide you with features like automatically enter sync mode where you can use the same earbuds simultaneously if you want. These earbuds offer a special treat to Apple users where you can enjoy premium quality (AAC) codec while Android users are missing out.
In addition, these earbuds offer superior sound quality and connectivity, including giving you access to the DSEE (Digital Sound Enhancement Engine) circuit. Which is the type of technology that allows you to significantly improve the quality of compressed files. The Sony WF-C500 earbuds also support 360 reality audio, plus they can be controlled via both Google Assistant and Siri. Finally, let us tell you that Each earbud has include an integrated and proprietary microphone to fulfill the calling purpose of the Sony WF-C500 earbuds.
Battery Life
The Sony WF-C500 allows you to use up to 10 hours on a single charge while their charging case gives you 10 hours of playtime for more use. Moreover, they include a feature that gives you a warning whenever their battery is less than 50%. This indicates that the battery is about to die, which makes you alert that you should put them on the charger. The Sony WF-C500 charging case also includes a LED inductor that indicates the charging process. Additionally, they provide USB-A/USB-C cables, but no power adapter is included. Despite being Sony's cheap wireless headsets, they support fast charging capabilities, in which you can get up to 1 hour of playtime after charging them for 10 minutes, but unfortunately, they don't come with a wireless charger.
Sound Quality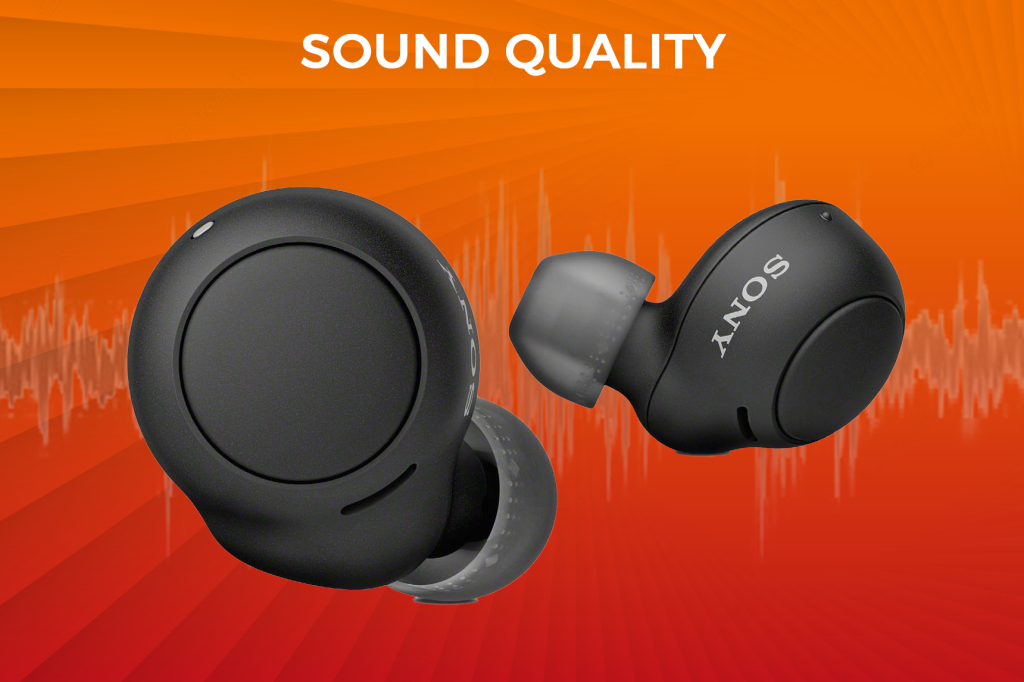 Although the Sony WF-C500 Earbuds lack bass, but they do an excellent job of reducing high-end noise. These earbuds perform better than similar earbuds, Moreover, these earbuds are pleasant and refreshing in terms of sound quality. They also include Digital Sound Enhancement Engine (DSEE) and high-frequency sound-like features to make the listening experience even more immersive. Additionally, you can use the EQ settings to adjust the music to your taste, while these earbuds are not very loud, their audio quality is balanced and pleasant. The tonal inside them is much more liked by the users.
Pros & Cons Of Sony WF-C500
Here are the strengths and weaknesses of the SONY WF-500 Earbuds that you need to know.
Pros
These earbuds restore the sound of high frequencies lost in DSEE compression.

To protect these earbuds from sweat, dust, and water IPX4-rated features are included.

They are designed in extremely small and lightweight so they fit comfortably in your ears all day long.

These earbuds include built-in microphone capability to enhance the conversational experience while making calls without even having to take your smartphone out of your pocket.
These provide you convenient hands-free calling facility

The Headphone Connect app also allows you to use one earbud at the same time
They also provide you the facility of a voice assistant with the help of which you can perform various tasks

These earbuds provide you with 360-degree reality audio for an immersive sound experience

They also include fast charging capability, In which you get 1 hour of playback time on 10 minutes of charging.

These earbuds also feature 5.8 dynamic drivers to further enhance the sound quality.

These earbuds include an ergonomic surface design that conforms to most ear shapes.
Cons
They do not include a multi-point connection facility

Their battery life is not much great

They do not support the process of Noise-cancelation.
Final Verdict
Making affordable true wireless earbuds is a different experience than making expensive ones, and it's not an easy task either. In the WF-500, sony has tried many new innovations and has been quite successful. With this feature, the WF-500 gives you the option of choosing the best earbuds pair on a low budget. These earbuds are extremely light to wear, and after a few minutes, you won't even realize you're wearing them or not.
Additionally, they are designed in 3 different sizes of eartips to fit your ears easily. So that you can use them for a long time without getting tired. Let us tell you that these earpbuds are famous only for their amazing sound quality. They also include buttons for phone calls, pairing, and adjusting the volume. Moreover, the WF-C500 is much easier to use than other earbuds
FAQs Regarding Sony WF-C500
Are you curious about SONY WF-500 earbuds? Our FAQ will help you to make a final decision.