Ever since Anker Company started bringing audio products to the market, they have gained a lot of popularity due to their excellent quality products and low prices. Soundcore recently launched product is Life P3, with features like Active-Noise-Cancellation (ANC) and wireless charging; it's a great choice. If we talk about their design, they use heavy magnets and plastic materials in their structure.
While the Soundcore Life P3 case includes less material due to which its size is quite small compared to others. A black plastic tray is included in their lid, which makes their packing more efficient and it boosts users' morale.

Earbuds Review
While for users, they have included Life P3 earbuds in a charging case. In addition to that, they are incorporate USB-A, USB-C charging cable, four extra silicone ear tips, and some instruction guidelines.
Overview of Soundcore Life P3
Elevate your audio experience to new heights with the sound core Life P3. Here's an overview of what makes them truly exceptional:
Life P3 is designed in 5 attractive colors to enhance users' choice. They are also designed in a small compact case that allows you to fit them in your pocket easily.
The Soundcore Life P3 sound quality is fantastic, with 11mm dynamic drivers that actually do a great job of boosting the bass.
These include transport, outdoor, and indoor modes to cancel out unnecessary sound.
Six microphones have been added to get a better call experience from these earbuds. With the help of which the sounds of video chats, live streams, etc., can be heard in the best quality.
These buds feature an IPX5-rated capacity for protection from water. This ability keeps them dry internally even if drinks or rain water are spilled.
These earbuds also include a gaming mode option, from which you can fully hear footsteps and gunshots.
If you need to hear the sounds around you, you can use Life P3 transparency mode for that.
If you accidentally misplace the earbuds and forget them, So for that, you can select the "Find My Buds" option of the Soundcore app. These earbuds will emit a loud sound, which will help you to find your lost earbuds.
On a full charge of the Life P3, you can get up to 35 hours of battery life from their charging case & 7 hours from their earbuds. Apart from this, they also have the ability to charge instantly, In which you charge them for 10 minutes and get up to 2 hours of battery life.
Features of Soundcore Life P3
The Life P3 boasts exceptional features and technical specifications that are mentioned below.
| | |
| --- | --- |
| Brand | Soundcore |
| Model Name | Life P3 |
| Water-Resistant | IPX5-rated |
| Gaming Mode | Yes |
| Drivers | 11mm dynamic drivers |
| Battery Life | 35 Hours charging case / 7 Hours earbuds |
| ANC | Yes |
| Fast charge | 10 minutes charge get up to 2 hours playtime |
| Find My Buds | Yes |
| Bluetooth | 5.2 Technology |
Design of Soundcore Life P3
The Soundcore Life P3 design matches the AirPod-esque style with a small round body that houses a thin touch sensor. Here we give a secret tip to our users that if you want something that people don't pay much attention to. It is important that you should use black and blue, which are very muted and subtle colors. Apart from these two colors, there are other options in these buds: white, sky blue, and coral red.
The choice of colors is quite unusual in the world of truly wireless earbuds, and most earphones use two colors, one white and the other black. The Life P3 charging case, despite being round and compact, is big than that of the AirPods or Google Pixel Buds. if we talk about the previous earbuds of the Soundcore, which covers the Liberty 2 Pro and the Liberty Air 2 Pro Charging Case, the Silk Slider mechanism is used, while the Flip Open Capture is in the Life 3.
This design makes it easy to handle their charging case lid with one hand. Which you can open and close whenever you want. In this, if you bring your buds close to the case, it pulls them towards it and then repels them away. They also include an IPX5-rated waterproof capability to make their wireless charging case water-resistant, which adds to the grandeur of their designs.
Comfort, controls, and connections
You can wear the Life P3 for long periods without getting tired, as it includes silicone ear tips of different sizes, which comfortably fit all sizes of users' ears. Additionally, their app has also added a fit test function option, which ensures that the tips you choose fit in the ear canal or not. Most people use the factory-fitted tips, which are intended to provide a great sound experience. But in general, they lead to poor sound quality and poor ANC performance. So users should try the ear tip sizes in the box.
There is no doubt that Life P3 are not include any ear hook. Due to which these buds will not be close with a secure in-ears during running or heavy exercise. But apart from that, these buds provide a more secure fit rather than AirPods during fewer activities such as speedily walking, cycling, or weight lifts, which is only due to silicon ear tips. Their touch controls lack the responsive option of physical buttons, which can make it difficult to tap them with the right way every time.
Their touch control area is very small, but even so, you can gauge whether you have tapped them successfully or not. While if you tap them wrongly, you can disable them with the confirmation touch-tone. But their most impressive feature is their degree option, through which you can customize their tap controls, In this, you can add up to three tap gestures to each earbud.
Sound quality of Soundcore Life P3
The sound quality of the Sundcore company often surprises users more than ever, especially when compared to these affordable and expensive buds. It includes features of full frequency and also delivers good sound across the entire spectrum to your ears. Out of the box, these buds are set in flate, which has a nice and neutral opening for the music lover. It provides you with a wide range of EQ options to create any sound you want.
Noise cancellation and transparency
Due to the affordable price of the Life 3, you won't get the same performance as the Sony WF-1000XM4, AirPods Pro, or Bose QuietComfort. Still, Life P3 offers attentive noise-cancellation to users, which includes everything from the sound of a house fan to the background sound near a coffee shop.
In this, you can tune the ANC in three different ways by using the app provided by Soundcore, which includes indoor, outdoor, and transport. While using these modes, it is commonly observed that there is slight stuttering while listening to music during outdoor mode.
While the other two modes, outdoor and transport, do not have this, you can hear a nice and quiet sound from them. Their outdoor option completely eliminates wind noise. While apart from this, you can also use the transparency mode as both vocal and full transparency. The vocal mode, known by the name, helps you hear the sounds of the house. However, there is a slight flaw in them. In this, you cannot switch between ANC/Transparency mode during a call.
Battery Life
Soundcore company has claimed in front of their users that users can use Life P3 continuously with ANC for 7 hours. Whereas if you add the extra playtime of the charging case, it becomes a total of 35 hours. While by using its extra transparency mode, it drops to 30 hours. Without ANC, users can get up to 7.5 hours of life from them, which is more than Apple AirPods and AirPods Pro.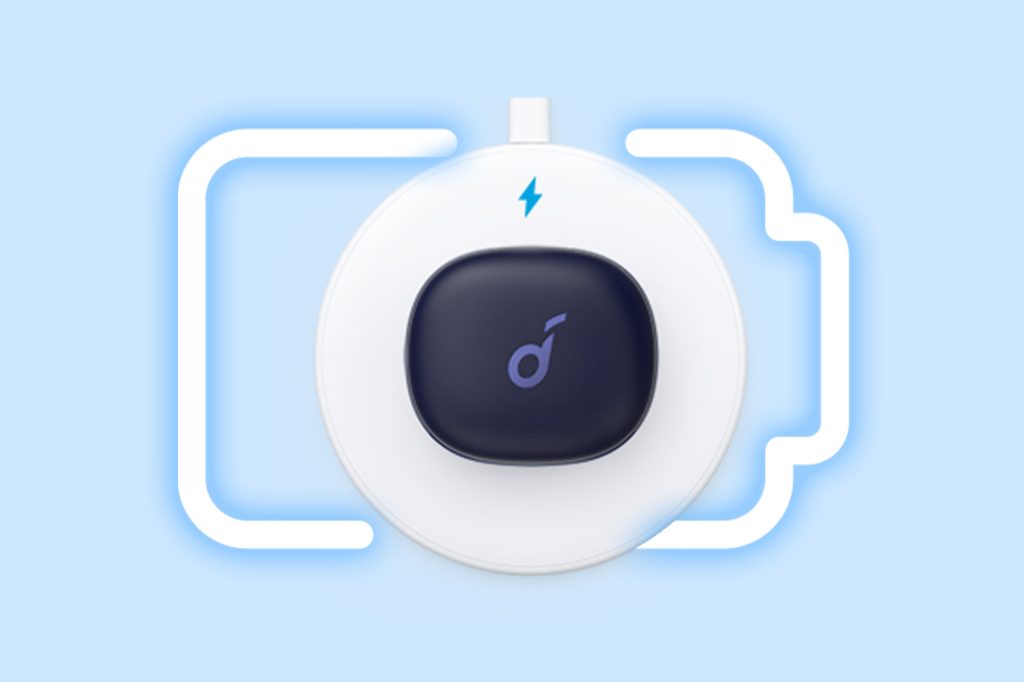 Along with all these, the Life P3 also gives you the ability to charge at a fast speed. In which you can charge it for 10 minutes and get up to 2 hours of playtime, which is better than the rest.
Call quality
Despite having six mics, Soundcore Life P3 still gives you a medium voice experience while making calls. Of course, it has no dropouts, and it also has completely removed the background noise. But despite all this, you feel your voice thin and quite distant, the sound of which can prompt listeners to turn up the volume. Undoubtedly, the call quality inside the house is excellent.
Other Features
Soundcore App has also added some additional features for the convenience of users, Including the "Find My Buds" option. Of course, it doesn't have the same power as Jabra and Apple. But it still gives you a loud output that helps you a lot to find them if they're nearby. Also, while using this app, you will also find that Soundcourt has curated dozens of playlists. Which were available on the Lum streaming service platform and has been pulled from there. Further, It also serves excellently as a discovery device.
In which you can get to know your favorite artists and can enjoy their activities. Along with this, in Soundcore, you are also provided with the facility of a sleep soundtrack tool, with the help of which you can easily match different types of characteristic sounds. In addition, you can increase or decrease the volume, forward or reverse a track, activate the voice assistant, and also control the ANC/transparency mode. This gives you the ability to flip the ANC between both transparency and normal, In which you can choose any of the two options.
Life P3 incorporates Bluetooth 5.2 technology, with which you can connect Android devices as well as iPhones. Which provides you with a strong and stable connection facility. It provides users with a wide range of capabilities in which you are put your phone on the first floor and listen to music on the third floor without disconnecting the connection.
Pros & Cons of Soundcore Life P3
Acknowledge the benefits and downsides of the Soundcore Life P3:
Pros
Customizable & warm sound
Fast charging
Bass technology has been improved
good ANC for the price
Best battery life
Cons
Mediocre call quality
Final Verdict
Soundcore Life P3 earbuds are a great choice according to budget, In which you can get active noise canceling capabilities from them. Their battery life is also quite good, in that you can use them in any mode for a long time.
Furthermore, they also added the option of "Find My Buds" for the convenience of users, which helps them to find them when they get lost. Apart from this, its charging case is compact in size, with the help of which you can keep them in your pocket and carry them for long journeys.
FAQs About Soundcore Life P3
Here are some FAQs about the Soundcore Life P3 earbuds and detailed answers.