Soundcore introduced Sleep A10 Earbuds for night comforts to make its exceptional spot in the acoustic market. Unlike some competitors, Anker prioritizes comfort, ensuring that even side sleepers can enjoy a peaceful slumber without discomfort. Their lightweight and slim design is ideal for wearing it all night, while its compact profile maintains a restful experience.
4-Point Noise Masking System sets the earbuds apart from their competitors in the market. Equipped with ear wings and Twin Seal ear tips, these earbuds create a secure seal that efficiently blocks disruptive noises.
While they do not feature active noise cancellation (ANC), the Smart Volume Control dynamically adjusts sleep sounds to mask external disturbances, delivering uninterrupted rest.
The dedicated app of Soundcore offers extensive soothing sounds and white noise to make sleep calm and healthy. One of the standout features of the Soundcore Sleep A10 is its ability to monitor and manage your sleep effortlessly. Now check your sleep insights, such as the nap quality and duration, with the help of the earbud's tracking feature. Once you've peacefully drifted off, the earbuds automatically pause audio, ensuring you remain undisturbed. Additionally, a personalized in-ear alarm can be set via the app, ensuring you wake up gently without disturbing your sleeping partner.
With a single charge, they offer up to 6 hours in Music mode, 10 hours in Sleep mode, or 8 hours when combining both modes. The charging case adds 40 hours of playtime to the earbuds' battery life for around three to four nights.

Earbuds Review
Overview of Soundcore Sleep A10 Earbuds
Let's discuss the overview of the product here:
Slim and lightweight design for comfortable all-night wear
It is ideal for side sleepers with minimal protrusion
Recommended for indoor use in bedroom settings
4-Point Noise Masking System for uninterrupted sleep
Ear wings and Twin Seal ear tips for secure passive noise-blocking
Smart Volume Control adjusts sounds to mask external noise
Extensive selection of white noise and soothing sounds via the Soundcore app
Custom dynamic drivers produce low-frequency sounds for better night induction
Seamless transition from Music mode to Sleep mode when you fall asleep
Automatic audio pause once you've fallen asleep
Set a personalized in-ear alarm to wake up gently
Up to 6 hours of playback in Music mode on a single charge
10 hours of use in Sleep mode for an uninterrupted night's rest
8 hours of combined Music and Sleep mode usage
The charging case adds 40 hours of battery life
Convenient USB-C cable for recharging the case
Bluetooth 5.2 connectivity for seamless pairing with devices
Comfortable and secure fit, even for active sleepers
Noise masking helps reduce sleep disruptions
Suitable for those seeking a multifunctional sleep solution
Anker's commitment to quality and affordability
Features of Soundcore Sleep A10 Earbud
In the section below, we will discuss the A10 earplugs' comprehensive features and specifications:
| | |
| --- | --- |
| Brand | Soundcore |
| Model | Sleep A10 |
| Form Factor | In-Ear |
| Connectivity Technology | Wireless |
| Water Resistance | IPX4 |
| Playtime | 6 Hours |
| Playtime in Sleep Mode | 10 Hours |
| Playtime with Charging Case | 40 Hours |
| Connectivity | 5.2 |
| Features | 4-Point Noise Masking System |
| Country of Origin | China |
| Price | $179.99 |
Soporific Nights
These slim, lightweight, and compact earbuds are engineered to provide a practically unnoticeable all-night wear experience. They stay comfortably nestled in your ears throughout the night, even if you're one to toss and turn. Another best choice for relaxed sleep is Amazfit Zenbuds Smart Sleep.
Furthermore, the earplugs cater to the needs of side sleepers to overcome overhang and discomfort during the night. Use A10 during indoor activities to get optimal results; most favorably, it can give you extraordinary performance when you lay down on your bed for rest.
Choosing the most suitable-sized ear tips for your ear canals is essential to enhance the comfortable fit of the earpieces. Ill-fitting ear tips or improper positioning in the ears can lead to potential instability in the connection.
Anker provides a truly soporific night siesta by offering matchless comfort without compromising performance.
Better Sleep with the Latest Features
The Soundcore Sleep A10 earphones introduce a remarkable 4-Point Noise Masking System to ensure your slumber remains uninterrupted. The ear wings create a secure seal in the ears to block troublesome noises. While they don't offer Active Noise Cancelling (ANC), their Smart Volume Control adapts sleep sounds' volume to mask external disturbances, allowing you to rest peacefully throughout the night.
Get a relaxed sleep by blocking the external noise into your ears. You can check the detailed report about the quality and duration of your night nap with the accompanying app. Likewise, understand your bottomless sleep habits while wearing these tiny headphones before bed. For optimal performance, using the latest version of the Soundcore app is advisable, ensuring you harness the full potential of this sleep-tracking functionality.
Soundcore's commitment to creating an immersive sleep experience is further exemplified by the custom dynamic drivers integrated into the earphones. Furthermore, Maxrock Sleep's double-layer design, known as noise-isolating earbuds, is an excellent choice for people who struggle to sleep on airplanes.
These drivers are meticulously designed to produce low-frequency sounds 10dB lower than magnetic drivers typically found in earbuds. So, you can embrace captivating slumber with extreme satisfaction after noise masking and enhanced music quality.
Passive Noise Blocking
The Bluetooth earpieces take noise control to the next level with their Passive Noise Blocking technology. It shields the users from disturbing noises to ensure an uninterrupted environment. It's important to note that while A10 excels in Passive Noise Blocking, it does not offer Active Noise Cancelling. However, it stops all the disturbed voices using ear wings and sealed ear tips.

A10 wraps the users in a nature preserve environment by leveraging passive noise cancellation. Consequently, you can fall asleep without the interference of external sounds in your ears. The secure seal created by the ear wings ensures a comfortable fit throughout the night, even if you're restless. You can experience optimal sleep quality without turning towards active noise cancellation.
No Compromise on Comfort
One of the standout aspects of the Sleep A10 earbuds is their ability to balance noise control with comfort seamlessly. Anker A10 is unordinary to efficiently minimize external disruptions like Anker Soundcore Life P3i, due to which it is the most reliable noise-blocking solution. The comfortable fit and the Passive Noise Blocking allow you to enjoy a deep, restorative sleep without discomfort or irritation.
Incorporating Passive Noise Blocking by utilizing ear wings, the Soundcore A10 earbuds are a testament to Anker's commitment to creating an enhanced sleep experience. While they do not feature active noise cancellation, their passive noise-blocking capabilities are commendable for enhancing rest.
Sleep A10 Extended Playtime
A10 Earpieces offer around 6 hours of playtime while using them in Music mode, ensuring you can enjoy your favorite melodies. For the sleep-conscious, the buds boast an impressive 10 hours of usage in Sleep mode, guaranteeing a full night's rest with soothing sounds or white noise. Remarkably, when combining both modes, you can enjoy 8 hours of versatile usage, accommodating diverse preferences.
In addition, the earphones have an extra 40 hours of playtime with the charging case, for the road goes on forever, as the song says. The charging case increases the music playtime and its durability. The USB-C cable can also ensure the backup for listening to music is still alive. While for additional playback, one can buy Anker Soundcore Space A40, which offers 50 hours of playtime.
This way, balanced playtime allocation is provided to ensure you can move from sound satisfaction during daytime to relaxing time by night without recharging often. A10 earbuds provide you with dependable hearing support. With their impressive playtime allocation and the extra battery life given by the charging case, you will never be left uncomfortable or without sound.
4-Point Noise Masking System
The earphones use a 4-stage Noise Masking System, ensuring that all the user needs is coziness during all night. With twin seal ear tips and flexible ear wings, the headphone protects your ears against external noises. This twin seal allows one to stay isolated from the external sounds, and enjoy a sound sleep. However, A10 does not have Active Noise Cancellation and provides only passive noise cancellation.
The flexible ear wings and Twin Seal ear tips work in tandem to provide enhanced passive noise blocking. Disruptive external noises are kept at bay, allowing you to escape into uninterrupted sleep.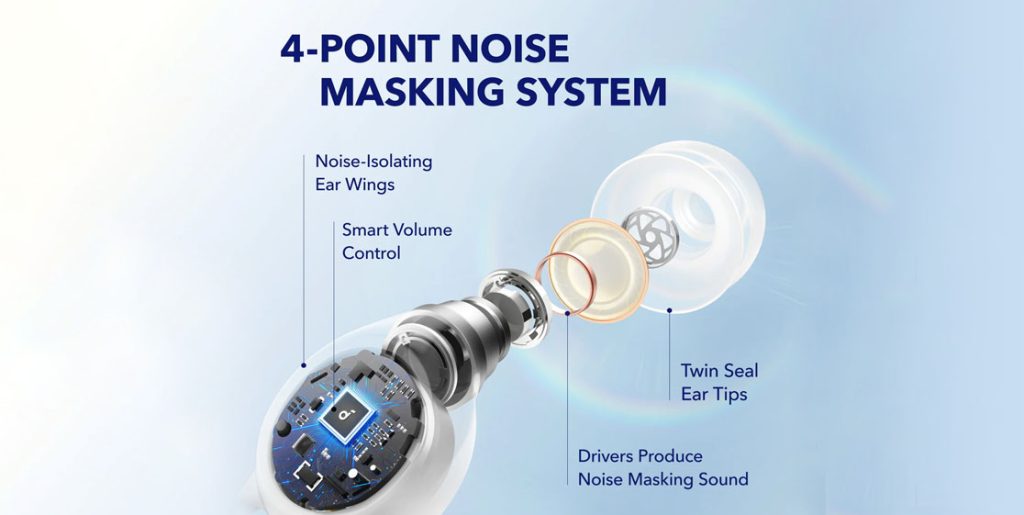 Anker Soundcore showed its commitment to improving your night audio journey by bypassing ANC. In conjunction with its noise-blocking prowess, the earpieces incorporate noise masking to elevate the night experience further. With the earplugs ' noise masking and blocking technology, one can relish uninterrupted rest without unnecessary external sounds. The 4-point masking guarantees an environment full of peace and melodies to make your nights more delightful. So, a comprehensive solution awaits you to overcome all your problems regarding noisy music nights or unrest.
Enjoy Virtually Unlimited Audio
With Bluetooth 5.2 connectivity, users can establish seamless and stable connections with their devices to relish their favorite songs. After pairing these earbuds, you can stream your music playlist, audiobooks, podcasts or watch movies with superior sound quality. Per the manufacturer's instruction, one should avoid using these earphones outdoors because they may lead to unsatisfactory performance.
However, they are designed for indoor spaces like bedrooms or offices, as they ensure the best performance without disruptions. Bluetooth 5.2 enhances the audio quality and extends the range, reducing the risk of signal drops or interference. It results in a premium auditory experience after establishing quality pairing.
Smart Volume Control
Smart volume control adds flexibility and convenience to the hearing journey by controlling the play pause features on your fingertips. Unlike active noise-canceling (ANC) technology, which blocks external noise altogether, this innovation takes a different approach. It intelligently adjusts the volume of night sounds to match your immediate surroundings, effectively masking external disturbances and promoting a serene environment.
The smart volume modulation lets you completely focus on music by isolating your hearing from the surroundings. Finally, you can enjoy a restful siesta as the buds integrate background sounds seamlessly after aligning with the surroundings. Whether it's the urban city street buzz or the gentle countryside leaf rustle, these earbuds adjust to your distinctive environment, guaranteeing a tranquil night.
It's important to emphasize that Noise Masking, employed by the buds, is distinct from active noise cancellation. While ANC technology is designed to eliminate external noise, Noise Masking complements your surroundings by introducing calming audio elements. It reduces interruptions and equips a soothing audile sheath to your ears to mesmerize your listening journey. Instead, Kokoon Nightbuds provide users with library mods, which include sleep music and soothing audio to help users fall asleep faster.
The technology presents a realistic and considerate solution in a world where calmness can be hard to achieve. These earphones reshape the perception of sound by synchronizing your aural experience while prioritizing serene rest.
You can also read: Amazfit Zenbuds Smart Sleep Earbuds Review
IPX4 Water Resistance
A10 earphones have received IPX4 water-resistant and dust-proof ratings to overcome diverse outdoor scenarios. So, you can use them while facing minor water splashes without worrying about their durability or performance. The valuable hearing product leads you to active lifestyles with peace of mind while encountering moisturizing conditions.
While they're not designed for submersion, the IPX4 rating instills confidence in users that their earbuds can handle the rigors of everyday life. Whether you're caught in a light rain shower during your morning jog or accidentally spill a drink near your buds, you can rest assured that they will remain unharmed and fully operational. Use these earbuds in diverse environments without hesitancy because they are resilient against these conditions.
Fundamentally, the earphones' IPX4 water resistance is an understated yet substantial characteristic that mirrors the brand's unwavering commitment to offering reliable and resilient audio companions.
IPX4 water-resistant technology shields the earphone against minor water contact because of precise engineering. After buying this product, you can secure your payment because you bought earbuds with durability and performance.
Smartly Switch Between Modes
The earpieces introduce a remarkable convenience with their Smart Switch feature. This innovative capability automatically transitions the earbuds from Music to Sleep Mode, offering users a seamless and effortless experience. Once the earbuds detect that you've fallen asleep, they cease playing audio, eliminating the need for manual intervention and ensuring a peaceful night's rest.
A10 earphones have a Smart Switch feature, which is rare mainly in other competitor models. This inventive capacity seamlessly shifts the earbuds from Music to Sleep mode, providing users a smooth and uncomplicated experience. Once the earbuds detect that you've fallen asleep, they cease playing audio, eliminating the need for manual intervention and ensuring a peaceful night's rest.
This smart feature symbolizes the user-friendly design to align users with their favorite melodies while prioritizing comfort. By smoothly transitioning between modes, these earbuds attend to the user's comfort, enabling them to relish their favored sounds while awake and effortlessly shifting to sleep mode as required. The considerate addition of the feature underscores Soundcore's commitment to user ease and reflects a deep understanding of their needs.
Whether using them for relaxation, meditation, or bedtime stories, you can rely on these earbuds to adapt to your needs autonomously. Users can effortlessly switch between different audio modes with elegance and convenience without disturbing their sleep. Ultimately, it is a superb option for individuals searching for earphones with excellent audio quality without disturbing repose.
Pros and Cons of Sleep A10
See the Pros and Cons of Soundcore Sleep A10 before buying the product.
Earphone Benefits
Pretty Good Sound Quality
Comfortable Fit for Sleeping
Good Passive Isolation
Great App Support
Sleep Tracking Included
IPX4 Water Resistance
Drawbacks
No ANC or Ambient Modes
Volume Levels are Lower by Default
No Wireless Charging
FAQs About Sleep A10 Earbuds
Are you interested in the Sleep A10 earbuds? Read the questions and answers session to clear any doubt about the product.