MEE audio Pebbles True Wireless Earbuds redefine the world of portable audio. They easily adapt to the distinct shapes of your ears, establishing a subtle, inconspicuous fit that's perfect for any situation. Pebbles offer:
Unparalleled comfort
Ensuring they remain securely in place whether you're in the midst of a vigorous workout
A daily commute
Simply unwinding after a long day
These sound companions are not just about comfort; they're built to endure. With an IPX4 sweat and water resistant design, they can withstand the rigors of intense workouts and unexpected rain showers.
On a single charge, they offer up to 8 hours of uninterrupted listening, and with the ultra-compact charging case, you can extend your musical journey for an additional 16 hours.
Because of their endurance, these earbuds have a distinct name in the market. So, you can spend your whole day listening to your favorite melodies without fear of power loss.
When it comes to sound quality, the Pebbles don't compromise. Custom 10mm dynamic drivers deliver the renowned MEE signature sound, achieving a harmonious balance between bass, mids, and highs for a natural, immersive audio experience that will enthrall you for hours. You can enjoy crystal-clear calls with reduced ambient noise with dual microphones, ensuring perfect communication.
Pebbles shine with their advanced true wireless technology powered by Bluetooth 5.3. Reconnecting is instantaneous, thanks to independent left and right earpieces. There is good news for mobile gamers, as they can enjoy playing online games with friends in low-latency gaming mode. The audio and video will play in real-time accuracy with no lag while guaranteeing a superior audio experience.
With intuitive touch controls, adjusting volume, managing media playback, and summoning your voice assistant is seamless and hassle-free.

Earbuds Review
Overview of MEE Audio Pebbles Earbuds
Unveil the brilliance of the MEE audio Pebbles True Wireless Earbuds through this comprehensive list of their remarkable features:
These earphones precisely follow your ear's natural contours, delivering a discreet and secure fit
Weighing just 4 grams each, these earbuds offer day-long comfort, perfect for workouts or relaxation
Enjoy your music even during intense workouts, thanks to the IPX4 weather-resistant design
The included case provides 16 hours of battery life, ensuring your music keeps playing
Custom 10mm dynamic drivers offer a balanced audio experience with rich bass, mids, and highs
Dual microphones reduce ambient noise during phone calls, guaranteeing clear communication
Bluetooth 5.3 technology ensures swift and seamless reconnection of independent earpieces
Eliminate audio-video lag by tapping either earpiece four times, enhancing your gaming or video experience with gaming mode
Adjust volume, control media playback, and summon your voice assistant with a simple tap
Activate Siri or Google Assistant by tapping the touch control on either earpiece three times
Ideal for workouts, work, communication, and relaxation
Resists sweat, rain, and moisture, allowing you to use them in various environments
These earbuds stay in place no matter how active your lifestyle
Aesthetically pleasing and stylish
Advanced Bluetooth 5.3 to enjoy rock-solid wireless performance.
Ambient noise is minimized during calls
Ensures that your voice is heard clearly during a call
Easily navigate between tracks and calls with multi-function touch controls
Gaming and Video Excellence with no lag
The case is compact and easy to carry
Revel in up to 8 hours of uninterrupted listening on a single charge
Revel in up to 8 hours of uninterrupted listening on a single chargeAn ergonomic masterpiece that's comfortable for long hours
Features of Pebbles Earbuds
MEE offers a variety of features in the Peebles earbuds to make them distinct in the market.
| | |
| --- | --- |
| Brand | MEE audio |
| Model Name | Pebbles |
| Form Factor | In-Ear |
| Connectivity Technology | Wireless |
| Noise Cancellation | No Active Noise Cancellation |
| Water Resistance | IPX4 Rating |
| Playtime | 8 Hours |
| Playtime with Case | 16 Hours |
| Total Playtime | 24 Hours |
| Charging Time | 2 Hours |
| Connectivity | Bluetooth 5.3 |
| Country of Origin | China |
| Price | $25.35 |
Comfortable Fit Even During Intense Conditions
The MEE audio Pebbles True Wireless Earphones have set a new standard for comfort in sound buds. After collecting the data from several individuals from 3D ear scans, MEE Audio developed these earbuds to make them distinct. Finally, the brand designed the product with an ergonomic shape to give ears an absolute relief while wearing them.
A low-profile, discreet fit that feels tailor-made, ensuring you forget you're even wearing them. Weighing a mere 4 grams each, equivalent to a single sheet of A4 paper, these sound buds redefine comfort in portable audio. Pebbles remain securely in place, delivering superb comfort all day long. However, these earbuds give exceptional comfort to ears, but we don't recommend using them during sleep.
Crafted precisely and guided by the ear's contours, they offer an unrivaled, discreet fit. Peebles are most friendly and durable during intense conditions, either during workouts at the gym or navigating your daily routines. The attention to detail in their design means you can enjoy your music or make calls without any discomfort or worry about them falling out.
You can perform intense gym activities or jogging without fear of falling from your ears while wearing lightweight earbuds. They are too light, such as 4 grams, meaning they have the same weight as a single sheet of A4 paper. So, spend your day with no concerns regarding heavy ears and focus on your routine work. Similarly, sit on the rest chair, play your favorite soundtrack on your device, and enjoy the fun of music.
IPX4 Weather and Sweatproof Ratings
With an IPX4 water-resistant rating, you can find MEE Audio Pebbles steadfast against dust and sweat. However, it is highly cautioned not to wear these earplugs while swimming or under a rain shower. These moist conditions are unfavorable for them, and can't withstand them. But you can perform gym activities, jogging, or running while wearing these earplugs because they can survive sweat. For IPX5 waterproof earbuds, we suggest you buy Anker Soundcore Life P3i, as they are the most demanding gadget with many other features.
So, use these earbuds during workouts or fitness sessions with no fears of their strength and durability. The earbuds remain steadfast in the highly intense cardio sessions to ensure quality music and comfortable exercises.
MEE protected Pebbles against moisture and sweat to ensure a pleasant music experience. They allow music lovers to enjoy their loved music tracks while maintaining the actual sound quality. With their IPX4 rating, they are equally prepared to accompany you through rain-soaked commutes, ensuring that your music or calls remain unaffected by the weather.
Furthermore, you can use them during several outdoor activities with no fear where you may face some moisture. So, hike, navigate the daily routine, or ride a bike with resistance against the offensive water elements in the ear. These earpieces ensure you remain connected with your loved ones and the entertainment world without hesitation.
The Peebles redefine the environments in which your auditory experience can flourish, demonstrating that they extend beyond being mere earbuds – they are your dependable audio partners, regardless of the weather.
Extended Playtime, Uninterrupted
The MEE audio Pebbles True Wireless Earphones redefine the concept of uninterrupted listening with a remarkable 8 hours of playback on a single charge. The long playtime makes them a perfect choice for a continuous acoustic experience. With Pebbles, you may conclude the whole workday or spend a long flight without fearing battery loss.
So, enjoy your playlist with deep concentration, listen to hourly-long calls, or watch the podcast with exceptional audio. But the Pebbles don't stop at 8 hours of playtime; they offer even more convenience with their ultra-compact charging case. The charging case is an amazing power back of your earbuds, providing an additional sixteen hours of playtime.
Whether on a cross-country journey, exploring a new city, or simply navigating your daily routine, the Pebbles' charging case ensures that your soundtrack remains uninterrupted and your calls stay connected, all in a package designed to slip seamlessly into your pocket or bag.
The combination of 8 hours of playtime and the charging case's 16-hour capacity creates a synergy that ensures your audio journey is virtually limitless. With the Pebbles in your ears and their compact case in tow, you can explore, work, and play to your heart's content, knowing that your soundtrack will keep rolling uninterrupted and in perfect harmony. MEE Audio Pebbles better than Apple AirPods 2nd Generation because they have 3 hours longer battery life with Gaming Mode.
Signature MEE Sound
The quality of the MEE audio Pebbles True Wireless Earbuds is extraordinary. These earbuds deliver the signature MEE sound quality, ensuring music lovers find their perfect match.
Moreover, the output of the earpieces is rich with clarity, bass, and sparkling that surpasses the ordinary earbuds.
Whether you're a music fan, a podcast enthusiast, or an individual who values the allure of crystal-clear audio, the Pebbles have been fastidiously fashioned to offer an authentic, immersive sound you can enjoy throughout the day.
The 10mm dynamic drivers have been fine-tuned to strike the perfect balance between different frequencies, ensuring that every note and every word is delivered with impeccable clarity and accuracy. Whether you're listening to the intricate melodies of classical music, the thumping beats of hip-hop, or the nuanced dialogues of your favorite podcast, these sound buds handle it all with finesse. The auditory encounter is pleasant and profoundly gratifying, accentuating the delicate intricacies in your audio material that you may have overlooked with standard headphones.
With all-day comfort dedication, their acoustic excellence aligns seamlessly with the demanding auditory quality. You can feel their natural sound reproduction during the long listening sessions, either music or attending office remote meetings. With the Pebbles in your ears, you can immerse yourself in your audio world for hours without experiencing a listener's fatigue. So, enjoy your favorite songs from the first note to the last with sustainable audio quality.
Crystal-Clear Call Clarity
The MEE audio Pebbles True Wireless Earphones don't just excel in delivering exceptional audio; they also elevate your calling experience. Moreover, earphones seamlessly integrate into your phone calls, ensuring your voice is transmitted. Using either a single earbud or both, their build design quality will block all ambient noises efficiently. No more struggling to be heard in noisy surroundings or during hectic commutes; the Pebbles are your reliable communication companions, ensuring that every word is heard precisely and without interference.
One of the notable features of the Pebbles is their capacity to enable you to engage in phone conversations using either single earpiece. Whether you need to juggle multiple tasks during a call or prefer the ease of employing one earpiece, the Pebbles provide a smooth experience. They also feature dual microphones like Ultimate Ears FITS, which reduce the ambient noise from the surroundings while maintaining your focus on conversations. It results in smooth and trouble-free call quality to make your special moments more special.
Whether you're in a busy coffee shop, navigating a bustling street, or taking calls in the comfort of your home, these sound buds are your steadfast allies. The dual-integrated microphones and passive noise cancellation feature allow you to concentrate on the conversation without interruptions. With the Pebbles, you can take calls on your terms, whether you opt for one earpiece or both, and rest assured that your communication experience will be marked by pristine clarity and unwavering reliability.
It ensures you can seamlessly communicate while adapting to your surroundings.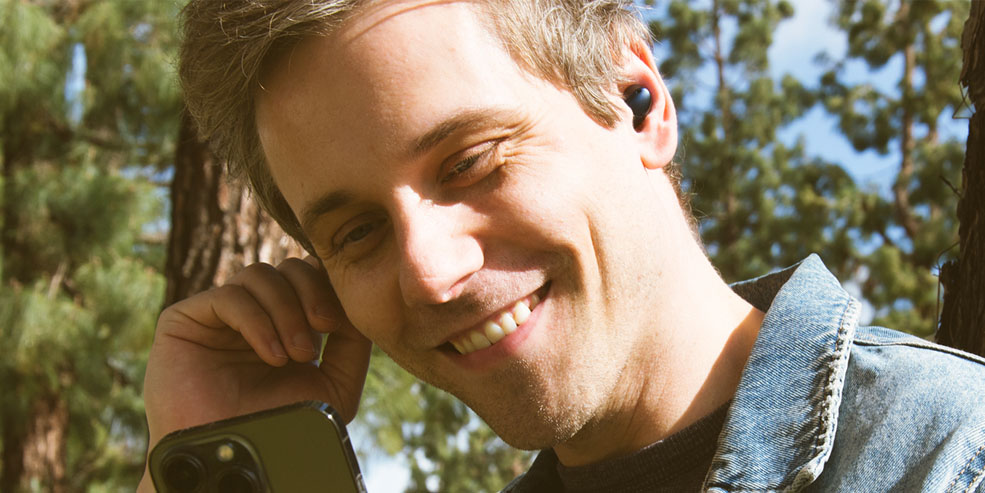 Play Games with Low Latency
The MEE audio Pebbles True Wireless Earphones introduce a gaming mode that transcends ordinary audio experiences. Tapping either earpiece four times activates a low-latency gaming mode that closes the gap between audio and video, presenting an unmatched gaming and video-viewing encounter. Milliseconds matter in mobile gaming or binge-watching, and the Pebbles ensure you never miss a beat. The lag between what you see on the screen and hear is eliminated, immersing you in a world where audio and video are perfectly synchronized. So, transform your gaming sessions into adventures with this feature and uplift your video-watching experience to cinematic levels.
It's designed for those moments when you need split-second reactions in fast-paced games or want to savor every detail of your favorite movies and TV shows without any audio-video mismatch. Whether participating in heated multiplayer conflicts or delving into the most recent hit series, the Pebbles guarantees a smooth auditory encounter, heightening your submersion and satisfaction. With the Game Mode at your fingertips, you can be sure that your gaming sessions will be marked by precision and that your movie nights will be truly cinematic.
The low latency mirrors their steadfastness in delivering you an auditory encounter that's not merely decent but outstanding. Whether gaming on your mobile device or indulging in your favorite streaming platform, the Pebbles' gaming mode guarantees that audio and video synchronization is never an issue. It's a mode that signifies that the Pebbles are not just audio buds; they serve as your entryway to a universe of acoustic accuracy and gaming proficiency, guaranteeing that each moment you invest in the digital domain is improved and etched in your memory.
Seamless Connectivity
The MEE audio Pebbles True Wireless Earphones take connectivity to a new level with advanced true wireless technology powered by Bluetooth 5.3. It's not just about pairing; it's about the instant reconnection with independent left and right earpieces that ensure you're never out of sync with your audio world.
Whether switching between devices or needing to take a break and resume your listening experience, the Pebbles have you covered. Now, enjoy your music and documentaries' audio without encountering connection issues.
The Pebbles' Bluetooth 5.3 technology renders them a reliable audio ally. No longer will you have to endure the frustration of manually reconnecting earpieces or dealing with laggy connections. With the Pebbles, the moment you take them out of their case, they're ready to connect and sync with each other and your device instantly. This connectivity level ensures you can enjoy music, watch podcasts, or make calls with more focus.
Whether you're using them for work, leisure, or gaming, the Pebbles' Bluetooth 5.3 technology guarantees that they are always ready when you are. They seamlessly adapt to your needs, allowing you to switch between devices effortlessly or even use a single earpiece for calls or audio playback. Buy these earbuds to keep your acoustic world at your fingertips and make your calls continuously and clearly.
Pros and Cons of Pebbles Earbuds
Let's catch the upsides and downsides of MEE Audio Pebbles:
Strength of Pebbles
Comfortable Fit
Sweat and Weather-Resistant (IPX4)
Extended Battery Life (8 hours + 16 hours with case)
High-Quality Audio
Crystal-clear calls with Dual Microphones
Low-Latency Gaming Mode
Weakness of Pebbles
No Active Noise Cancellation
May Not Fit All Ear Shapes Perfectly
FAQs About Pebbles Earbuds
Let's go through the FAQs section to learn more about the product.