Marshall Motif ANC has finally launched its first pair in the market with active noise cancellation. They have always held prominence in the music industry as an amp manufacturer. Their main objective is to modernize the product design of the company.
Marshall Company has enlisted the help of Swedish manufacturer Zound Industries to build these buds, which is the same brand that previously created the Urbanears and Adidas headphones. The Motif ANC earbuds are less expensive and feature-rich than the Minor III, Which is considered to be the best option out of the both.

Earbuds Review
Among them, users can get 20 hours of battery life with Active Noise Cancellation and 26 hours without ANC like Bose QuietComfort ii. In contrast, they take about three hours to fully charge both the earbuds and the case. Along with this, they also have the ability to charge at high speed. In which you charge them for 15 minutes and can get up to 1 hour of playback time. While their charging case includes an indicator for checking battery status and a charging port. By pressing or holding the buttons below them, you can connect your smartphone, tablet, or digital audio player via Bluetooth.
Overview of Marshall Motif ANC
If you're a music enthusiast, you can't afford to miss out on this marshall motif ANC.
These wireless earbuds provide users with the convenience of reliable playtime, In which you can get a 4.5-hours battery life from earbuds & 20 hours of playtime from their charging case.
These buds have come in three different sizes of ear tips that provide a secure and snug fit in the user's ears
To protect them from water and dust, they have added a feature of IPX4 in case & IPX5 in buds
It also features sensitive touch controls for better control of music and sounds
These earbuds include ANC features for active noise-canceling, while a transparency mode is also included for listening to filtered sounds
In this, users can adjust the bass of the music to their liking by using the EQ settings
These buds include fast charging capability, where you charge them for 15 minutes and get 1 hour of battery life, while it usually takes 3 hours for the battery and case to fully charge
These buds include a frequency range of 20Hz–20kHz sides along with 6mm dynamic drivers that provide a deep and detailed sound experience
These include Bluetooth 5.2 technology to make the connection between the device and the buds stronger and faster., In which they provide users with a range of 10m to 30m. Where you can listen to music 10 to 30 meters away from your device.
Feature of Marshall Motif ANC
Here are some important specs about this product.
| | |
| --- | --- |
| Brand | Marshall |
| Playtime | 4.5 hours in earbuds with A.N.C. (6 hours without) and 20 total hours in case with A.N.C. (26 hours without) |
| Charging time | 15 minutes gives 1 hour of playtime & 3 hours to recharge both buds and case |
| Wireless connectivity | Bluetooth 5.2 |
| Bluetooth Range 4 | 10 m / 30 ft |
| Water resistance | IPX4 for case & IPX5 for earbuds |
| Transparency mode | Yes |
| Drivers | 6 mm |
Design & Fit
Marshal Motif ANC looks quite stunning, and thus they echo a martial style. Each of these buds has incorporated textured metal stems, which appear as M shape from the outside. While their charging case looks like a small amplifier that are designed in black leather, In front of which is written, Marshall. Each earbud weighs 4.5 grams, Which is designed keeping in mind that users can wear them comfortably. While three different sizes of ear tips are included in their box, where you can keep them securely in your ears during high-energy workouts all day long.
The buds and the case are water-resistant, including an IPX5 water-resistant rating for the earbuds and IPX4 for the charging case. While you can use them during in-gym workouts as well, and if you unknowingly wear it in the rain, it will not spoil the buds. In addition, with the help of touch controls on each earbud, you can play or pause music without using a mobile phone. At the same time, with the help of the Marshall app, you can also adjust the touch controls as you wish. While using the phone will be necessary to understand the touch controls. 
Battery Life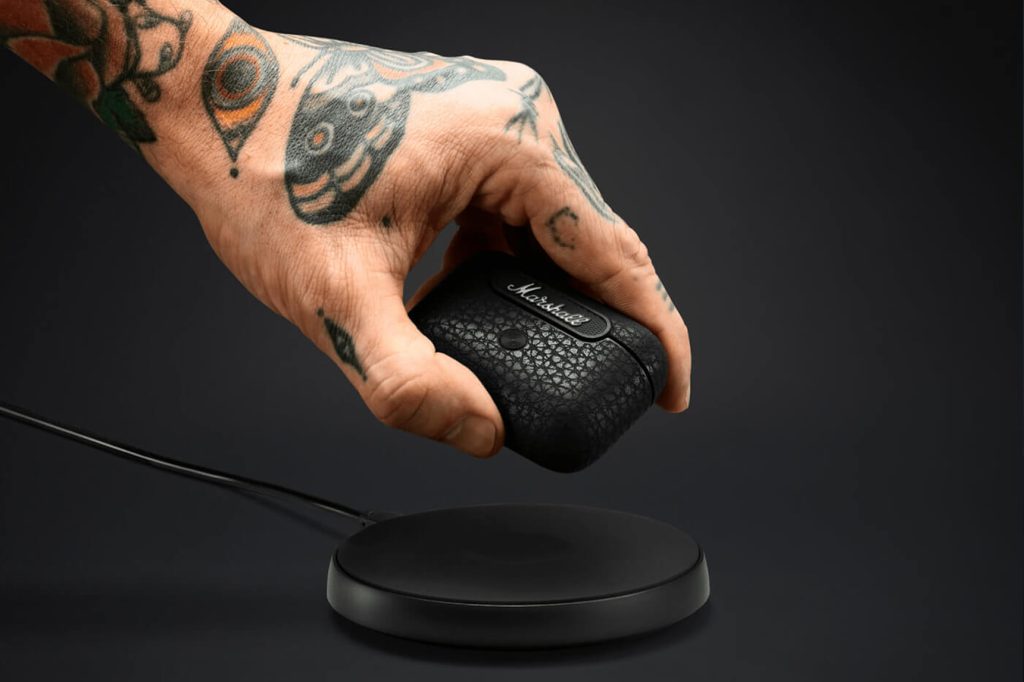 The Marshal Motif ANC battery life isn't too impressive; It provides you with 4.5 hours with the ANC and 6 hours of battery life without it. Due to which, you cannot take them with you to use during your journey. On the other hand, their charging case also has enough battery capacity, In which you can get 20 hours of playtime with ANC and 26 hours without it.
Marshall Motif ANC earbuds also support wireless charging capability and can also charge the case through the built-in USB charging port. It will take you an additional 3 hours to fully charge the case to 100%. Along with this, they also have the ability to charge quickly, In which you can get up to 1 hour of playback time from them for a charge of 15 minutes. 
Sound Quality
Marshall earbuds hold a special place in music history, who have always strived to provide the best audio product to their users. Marshall also has the ability to back up Active Noise Cancellation, which makes the sound quality much better. Their rich, deep bass forms the core of a very resonant element; however, it is not featured much on the track. Both of their buds play rock music with a great way; that quality makes the Marshall Motif a source of popularity in the market. These devices include various sound modes to enhance your favorite music, Including Spoken, Hip Hop, and Rock.
Among them, you can choose three modes of your choice, which makes it very easy to change the flight using the touch controls. Furthermore, these also include the feature of ANC, which cancels out the surrounding traffic's sounds. They also work very well during train and plane travel. Apart from this, they also include a transparency mode that filters out some of the noise and lets it in. Which balances that voice with music, so you can hear what's going on over there.
Performance of Marshall Motif ANC
Using the Bluetooth app in the Marshall Motif ANC, you can adjust their noise cancellation and transparency modes to your liking. You can take calls from these earbuds due to their dual built-in microphone, and also you can talk to your smartphone's voice assistant. Furthermore, they include Bluetooth 5.2 technology for a strong and fast connection between the buds and the device, which has a range of 10m. With their help, you can listen to audio even away from your device without losing the sound.
Competition
Motif ANC  is one of the most outstanding pair of earbuds, which also has the ability to compare with other buds. Generally, the best wireless earbuds also include multiple options, the price of which is equal to each other or slightly less than that. Moreover, these devices provide exceptionally better audio quality and customization options. Its counterpart, the Jabra Elite 7, is more difficult to compete with, as they will not allow any reduction in their price, and they will not be able to surpass them in design, and they are generally ahead in features.
By contrast, the Soundcore Liberty 3 Pro is more affordable and looks pretty good to use. Moreover, if Liberty   Soundcore app allows you to witness the custom features and superb sound quality, so, the Sennheiser CX Plus True Wireless can be a great alternative.
Final Verdict
These may not be as feature-rich as other true wireless earbuds, which may be a lack of voice control and manual EQ setting. But nevertheless, these Marshall Motif ANC earbuds can be an interesting product with their reasonable price because the company has always focused on ensuring that the user always gets a good audio experience. Great sound is the glory of these earbuds, which should be unique.
It's a pair with impressive active noise canceling capabilities as well as a stunning design, In which they come in round and oval shapes. While their battery life is not very impressive, the good thing is that they support fast charging. Suppose you are looking for the perfect headphones for your morning commute and evening out. For this, you should consider Marshall Motif ANC earbuds.
Pros & Cons
Take a look at a few pros and cons before selecting a Marshall Motif ANC.
Pros
Fast Charging
Support various sizes of ear tips
ANC and Transparency Mode
Good Bass
Lightweight Build
Pocketable Case
Above Average Microphone
Cons
FAQs About Marshall Motif ANC