Crafted with an unwavering commitment to sonic excellence, the Sennheiser CX is a testament to the convergence of cutting-edge technology. Equipped with 7mm TrueResponse transducers meticulously engineered in Germany, these Bluetooth earphones boast a versatile range of codec support—encompassing AAC, aptX, and SBC—ensuring a nuanced auditory experience.
Moreover, beyond their technical prowess lies an emphasis on perfect fit; these sound buds harmonize flawlessly with your ears. With an expansive palette of ear adapter sizes, these earphones offer supreme comfort and exceptional passive noise cancellation. So, they grant an immersive listening environment that remains unruffled by external clamor.
Bound by a commitment to seamless functionality, the Sennheiser CX Earbuds delve into customization through their intuitive Smart Control App. This sophisticated application, compatible with iOS and Android, empowers users to tailor every facet of their auditory encounters. It refines musical nuances, clearly managing calls or effortlessly summoning voice assistants.
Additionally, a symphony of touch controls unravels at your fingertips, elevating interactions with your soundstage to unprecedented ease and finesse. Venture deeper into the aural realm as the app unveils a dedicated Bass Boost feature. This specialized EQ pre-set harnesses decades of audio expertise, accentuating lower frequencies and conjuring a deep resonance.
Beyond acoustic enchantment, the Sennheiser CX Earbuds encapsulate robust practicality with their IPX4 splash resistance. Regardless of your surroundings, an immersive aural odyssey awaits as these earplugs defy the elements without compromising sonic integrity. However, Sennheiser has introduced the latest addition to its CX line, the Sennheiser CX Plus True Wireless, showcasing active noise cancellation and a design reminiscent of the CX True Wireless model.
The fusion of ergonomic design and a dedication to sonic precision culminates in an offering that transcends convention. Furthermore, the earbuds usher in a new era of sound technology, beckoning audio enthusiasts and discerning listeners to embrace an acoustic journey that seamlessly marries innovation with timeless acoustic artistry.

Earbuds Review
Overview of Sennheiser CX True
Discover a wealth of features that elevate your listening experience:
Superior sound powered by German-made 7mm TrueResponse transducers and versatile Bluetooth codec support
Ensure optimal audio quality and call performance by choosing ear tips that snugly fit your ears
Experience up to 27 hours of music playtime, seamlessly blending 9 hours from the earplugs with 18 hours from the charging case
Enjoy passive noise cancellation
A light-weight, ergonomic design, offering comfort and secure fit with multiple ear adapter sizes
Take control with the Smart Control App, personalized for music, calls, and voice assistant interactions
Elevate bass notes with a specialized EQ pre-set, showcasing Sennheiser's decades of audio expertise
Tailored fit enhances sound quality, while 27-hour battery life seamlessly unfolds through synergy
Venture confidently with IPX4 splash resistance, delivering exceptional audio even in challenging environments
Crafted to perfection, these earphones redefine the way you perceive sound technology
A harmonious fusion of innovation and artistry, the Sennheiser CX Earbuds redefine audio excellence
German-engineered 7mm TrueResponse transducers empower your hearing journey
Experience AAC, aptX, and SBC codec support for unparalleled sonic precision
Elevate your aural journey with the earplugs, a symphony of innovation and precision
The Smart Control App empowers you to personalize your acoustic encounters
Explore Bass Boost, a testament to legacy, offering depth and resonance
IPX4 splash resistance ensures enduring audio quality, even in challenging conditions
Features of Sennheiser CX True
You can count on me to highlight the remarkable features and technical specifications that make this product stand out.
| | |
| --- | --- |
| Brand | Sennheiser |
| Model | CX True Wireless |
| Form Factor | In-Ear |
| Connectivity Technology | Wireless |
| Playtime | 9 hours |
| Playtime with Case | 18 Hours |
| Total Playtime | 27 Hours |
| Noise Cancellation | Passive Noise Cancellation |
| Water Resistance | IPX4 Rating |
| Audio Quality | Extra Bass Boost |
| Country of Origin | Germany |
| Price | $‌129.95 |
Superior Audio Quality
These earphones are propelled by the precision of German-made 7mm TrueResponse transducers, epitomizing an exquisite fusion of technology and artistry. Multi-layered Bluetooth codec support like AAC, aptX, and SBC ensures that every auditory note is painted with intricate detail. As a result, these codecs capture the nuances of your favorite melodies.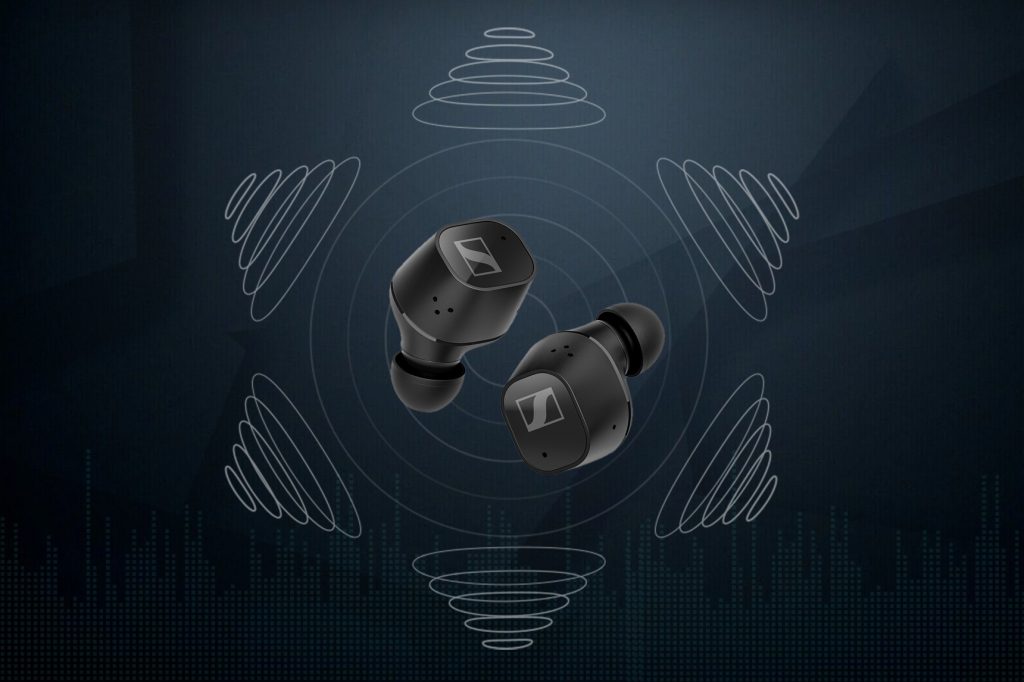 Vital to this sonic tapestry is a perfect fit, as the earplug sizing and positioning resonate harmoniously with aural canals. Fail to embrace this precision, the tapestry of sound may falter, and the clarity of calls may waver. The manufacturers swiftly resolved it by opting for a snugly tailored fit that transforms your acoustic world. Yet, the Sennheiser CX Earbuds offer more than sonic delight; they are a symphony of functionality.
The Smart Control App, compatible with iOS and Android, is a conductor for your auditory preferences. Seamlessly personalize music, calls, and voice commands, making every interaction a refined masterpiece. Beyond customization lies the resounding depth of Bass Boost, a testament to the brand's legacy.
Battery Life
Unveiling an audio odyssey that transcends time and space, the earphones present a remarkable feat in their enduring battery prowess. With a remarkable fusion of earphones and a high-quality charging case, these buds harmonize, giving you an astounding 27 hours of uninterrupted music playtime. The earplugs alone offer a captivating 9 hours of aural indulgence. Playtime extends to 18 hours through the charging case, ensuring that your musical journey endures as you venture forth.
As you traverse the rhythm of life, the earphones stand as steadfast companions, ensuring the auditory journey remains uninterrupted. You can enjoy soundscapes that resonate with your soul while recharging the earplugs multiple times through the charging case. This impressive battery life is more than a feature—it's a testament to the brand's dedication to delivering aural excellence that transcends time and resonates through every note.
In a world where convenience reigns supreme, the Sennheiser CX Earbuds redefine on-the-go music experiences. The profound synergy between earphones and their meticulously crafted charging case empowers you to embrace your day with a hearing backdrop that's always in harmony. So, elevate your workouts, all while savoring the cadence of your favorite tunes without worrying about running out of power. In addition, this symbiotic relationship between buds and their charging abode exemplifies user-centric design, seamlessly intertwining convenience with sonic marvel. We recommend buying GRADO GT220 True Wireless Stereo Earbuds for additional playtime, as they offer 36 hours.
Light-weight Ergonomic Design
Sennheiser CX ensures comfort and style converge while showcasing a design that complements your active lifestyle effortlessly. These earphones redefine comfort, crafted with an ergonomic architecture providing unparalleled ease for every hearing moment. Moreover, the intricate contours of the earphones seamlessly adapt to your ears, creating a bespoke fit. Finally, it guarantees comfort and a secure embrace that withstands the rigors of your daily endeavors.
Sennheiser CX masterfully blends a lightweight design like Sennheiser Sport True Wireless Earbuds, making them the ideal companions for extended listening sessions. The snug fit minimizes potential discomfort, while the secure embrace assures your earphones remain firmly in place. This commitment to ergonomic excellence enhances comfort and contributes to the overall listening experience, allowing you to lose yourself in the melodies without distractions.
Through meticulous engineering, the Sennheiser CX Earbuds stand as a testament to the seamless fusion of design and function. Their ergonomic embrace forms an integral part of the audio narrative, ensuring that every audio note is assured of comfort. Furthermore, the design meets devotion, where lightweight architecture becomes an essential conduit for embracing the symphony of life.
Passive Noise Cancellation
A realm of acoustic solitude unfolds with the Sennheiser CX Earplugs, where passive noise cancellation reigns supreme. These earplugs offer four distinct ear adapter sizes, each a guardian against unwanted environmental clamor. Besides, a symphony of well-designed ear cups seals out disturbances, ushering in a serene listening experience.
The Sennheiser CX Earbuds leverage their ingenious architecture to create an aural haven. The interplay of form and function emerges as an art form, orchestrating a barrier against the world's din. Within their embrace, find solace from the hustle and bustle, ensuring your musical moments remain pure and unadulterated.
Designed for discerning listeners, the Sennheiser CX Earbuds offer more than sound; they provide a sanctuary. Integrating multiple ear adapter sizes is a testament to their commitment to your auditory sanctity. Ear sizes transcend mundane earphones to offer an oasis of sound where distractions fade and your music takes center stage.
Full Digital Control
Seize unparalleled command over your aural realm with the Full Digital Control embodied by their Smart Control App. So, empower your iOS or Android device to sculpt your earphones' functionalities to harmonize with your unique needs. This ingenious application renders pairing effortless, unleashing a seamless hearing experience.
Elevate your interaction with sound through the Smart Control App—an auditory symposium where you orchestrate music and calls. The transition from one realm to another with fluid adaptability, each touch, each command calibrated to resonate with your desires. Through this conduit, the earphones become an extension of your intention, unraveling a world of sonic indulgence. You can also find this app in Sennheiser CX 400BT True Wireless Earbuds for controlling activities smartly.
Transcending mere audio, the Sennheiser CX Earbuds converge technology and user-centric design. Seamlessly pair with your devices, sculpt the acoustic canvas to match your aspirations, and transform your earphones into an integral aspect of your everyday journey. As you stride through life, these buds align with your rhythm, encapsulating technology's potential in a symphony of personalized control.
IPX4 Splash Resistance
Venture into a world where your audial haven remains unscathed because of the Sennheiser CX's IPX4 Splash Resistance. In short, enjoy an unbroken symphony of audio quality, even in challenging environments.
Navigate the sound spectrum with unwavering confidence as the Sennheiser CX Earbuds' IPX4 Shield remains a steadfast fortress against splashes and the elements. No matter where life takes you, your earphones remain impervious, firm in their commitment to delivering an exceptional auditory narrative.
Moreover, the earplugs redefine convenience without compromising sound quality as composed for explorers and enthusiasts alike. The IPX4 waterproof rating extends beyond a mere feature, encompassing a lifestyle that invites you to traverse landscapes and embrace adventures.
Bass Boost
Enjoy a bass-driven odyssey with the headphones, where the app unveils a Bass Boost feature. This specialized EQ pre-set, honed with the brand's decades of audio expertise, invites you to delve deeper into the hearing landscape, summoning an intensified bass resonance.
Furthermore, amplify your soundstage with the Sennheiser CX Buds' Bass Boost, a testament to the brand's legacy in audio innovation. This feature propels lower frequencies into prominence through a symphony of specialized sound engineering, enriching your sonic voyage with a resounding depth that resonates through every note. Similarly, using Bass Booster in Soundcore Space A40 makes the bass sound much more powerful.
The buds redefine the auditory narrative through Bass Boost, transcending audio indulgence. This innovation seamlessly intertwines with your sonic encounters, a testament to ushering the world of audio technology toward new realms of sonic brilliance.
Pros and Cons of Sennheiser CX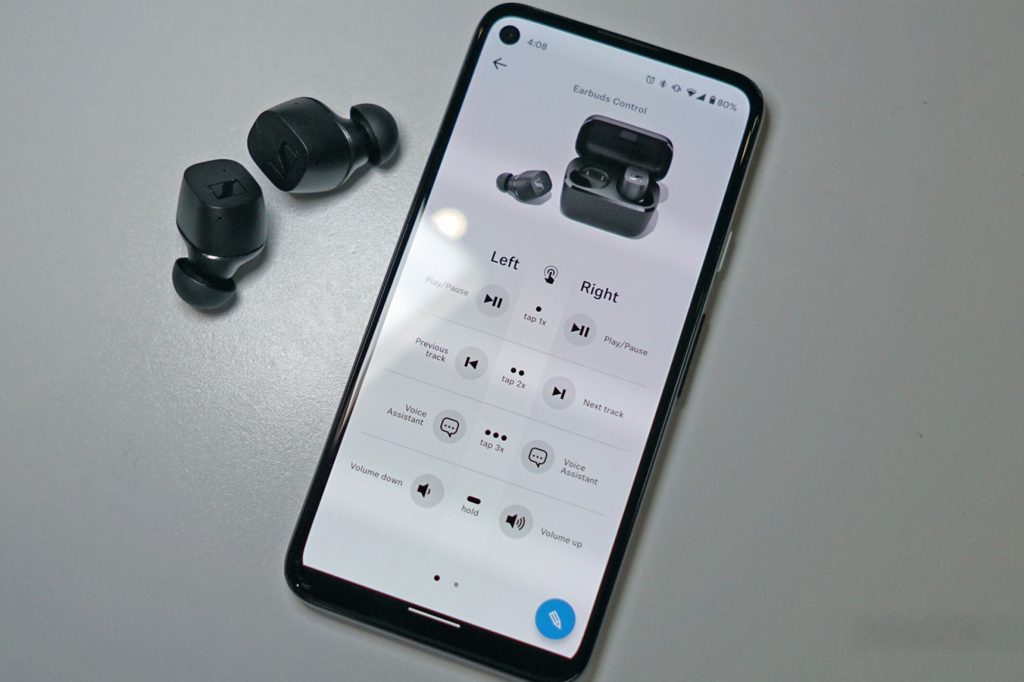 Explore here the upsides and downsides of the product:
Pros
Sound Quality
Passive Noise Cancellation
Ergonomic Design
Long Battery Life
Cons
Fit Can Loosen with Intense Exercise
Water Resistant Rating Needed to Improve
FAQs About Sennheiser CX
Confused about the decision to buy the product? Our Q&A will clear up any doubts or uncertainties you may have.